UPDATE Nelson County Life Magazine HERE
DON'T WANT TO READ THE FORECAST? SIT BACK AND
LISTEN TO OUR AUDIO VERSION BY CLICKING THE RED PLAY BUTTON BELOW!
(Mac users may need to have Safari open to see the play button if you are using Firefox browser)

Older version of audio player:


Photography By Tommy Stafford
Nelson County Life Magazine ©2008
Skies at Pharsalia
Tyro, Virginia


Click the image above for the ski and slope conditions at Wintergreen Resort.
Weathercast by Tommy Stafford, Nelson County Life Magazine
Tuesday's High / Low Temp at NCL-Nelson County Life Magazine in the Rockfish Valley : 73.8° / 58.6° – Rainfall through 9 AM – .06″
Tuesday's High / Low Temp at NCL-Wintergreen Nature Foundation on Devil's Knob @ Wintergreen Mountain : 68.9° / 51.4° – Rainfall through 9 AM – 0.00″
Tuesday was another nice day for the record books in Virginia. Mild temperatures again reaching the 70's gave the thermostats and the pocketbook a break. By late afternoon winds began kicking up and continued through last night. Look for breezy conditions again today. Overnight Tuesday into this morning showers were scattered about the area, even a clap of thunder here and there. As I mentioned yesterday, lots of severe weather in the country's mid-section. Back in Memphis where I once did on air television weather, tornado warnings were popping like firecrackers Tuesday afternoon. There was lots of widespread damage, but no major injuries in TN, tough a woman died in Arkansas before the storms moved across the Mississippi River. As the severe weather headed east, it lost much of it's punch heading toward Virginia.
Wednesday will be another fairly mild day, though temps will be in the 60's vs 70's for afternoon highs. We'll continue to see gusty winds on occasion to near 30 MPH. A better chance of rain is in the forecast Thursday and Thursday night. That one looks to be a pretty good rain maker. By the second half of the weekend on Sunday evening the forecast gets a little interesting. We could see snow and rain mixing, continuing into Monday. All in all the temperatures are headed back downward over the next few days, but no extremely cold weather on the horizon just yet.
Don't forget we continue our local music artists promotion today. Read lots more below and listen as we head out of today's weather.
The National Current Surface Map via wunderground

Over the next 24 hours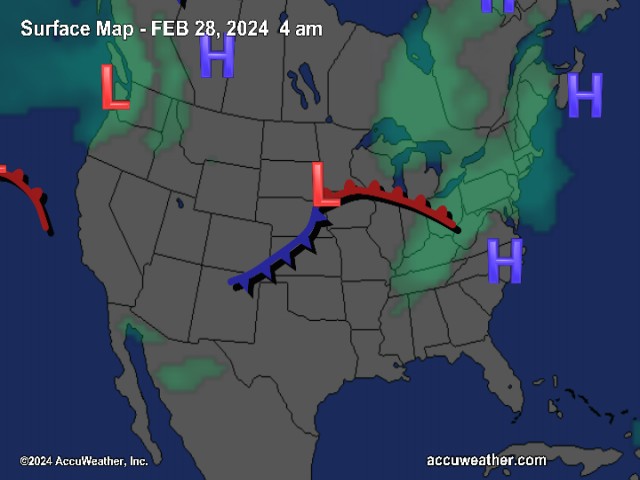 And for those of you keeping score at home check the detailed numbers at any of our reporting NCL-Weathernet Stations for real up to the minute live weather data and detailed information including highs, lows, wind speeds, rainfall and much, much more, simply use the handy drop down menu on the upper left hand side of your screen.
Your Nelson County Life custom area forecast including: Tyro, Shipman, Avon & Nellysford
Wednesday: Partly sunny early morning with lingering showers, then mostly sunny & breezy. Mild.
* Highs Valley: 63-66°
*On the mountains: 53-56°
*Winds: SW 10-20 with gusts to 30 MPH
*OVERNIGHT: Mostly clear & cooler. Lows valley: 33-36° : Mountains: 29-32° Winds becoming L & V.
Thursday: Partly cloudy early morning then cloudy with showers developing afternoon, cooler.
* Highs Valley: 46-49°
*On the mountains: 42-45°
*Winds: SE-5 MPH
*OVERNIGHT: Rain likely. Lows valley: 40-43° : Mountains: 38-41° Winds: S 10-15 MPH
In the extended period: Friday Rain showers early morning then mostly cloudy. Temps in the upper 50's valley – near 50° mountains. Weekend Saturday partly sunny with high near 50° valley, and mid 40's mountains. – Sunday, becoming cloudy with rain – rain changing to snow or mixing with rain Sunday night.

Monday, the rain snow mix continues with highs in the mid 40's
Jan Smith again takes us out, with a cut from her latest CD 29 Dances. This one is called All Around This Town.
Have a great Wednesday!
Know your Nelson.COM

Today's cut is All Around This Town from the CD 29 Dances.
Visit Jan's Homepage by clicking right here to learn more about her CD.
Louisville, Kentucky native Jan Smith writes songs rooted in vibrant imagery and sincere, stark emotion. The artists whose music she grew up with — Merle Haggard, Nina Simone, and Townes Van Zant among many others – influence her work, as does the traditional bluegrass music of her new home in the mountains of central Virginia.
On April 4, 2006, Landslide Records released "29 Dances," produced in Nashville by Bil VornDick (Alison Krauss, Ralph Stanley). The record features Johnny Hiland, Byron House (Sam Bush, Nickel Creek), Pat McInerney (Nanci Griffith), Randy Kohrs, David Talbot (the Grascals), Mark Fain (Ricky Skaggs), Robert Bowlin (Bill Monroe), Patty Mitchell, and Smith's partner, Jeff Vogelgesang.