UPDATE Nelson County Life Magazine HERE
Yvette does, Stevie Nicks, guest weather today!
DON'T WANT TO READ THE FORECAST? SIT BACK AND
LISTEN TO OUR AUDIO VERSION BY CLICKING THE RED PLAY BUTTON BELOW!
(Mac users may need to have Safari open to see the play button if you are using Firefox browser)

Older version of audio player:


Photography By Ann Strober
For Nelson County Life Magazine ©2008
Sunset at Nellysford
Nellysford, Virginia


Click the image above for the ski and slope conditions at Wintergreen Resort.
Weathercast by Tommy Stafford, Nelson County Life Magazine
Tuesday's High Temp at NCL-Nelson County Life Magazine in the Rockfish Valley : 73.8°
Tuesday's High Temp at NCL-Wintergreen Nature Foundation on Devil's Knob @ Wintergreen Mountain : 68.9°
What an early peek at Spring we had Monday! Check out those high temps for the valley and mountains yesterday. Mid 70's down below and mid 60's on the mountains! While we were dealing with nice warm temps here in Central Virginia, much of the Midwest & Central US were dealing with tornadoes and severe weather.
We've been getting several nice comments about our addition of local music artists to our site last week. Jan Smith is currently our featured artist for the week. Here's two of the most recent comments we got yesterday:
At: 12:31 PM EST Susan Viemeister of Garden Trade wrote:
"NCL website: I LOVE the new music on your web audio! Fabulous idea. And
we are fans of Jan's too. Great work."

At 6:44 PM EST Greg Heuer wrote:
"Thanks for all you do for us. Jan's music is wonderful. I'm going download the album from iTunes. What a bargain! [gh]"
Appreciate the nice comments and we love Jan as well, she's a great singer!
Tuesday will be another nice one folks! Look for temperature back in the 70's once again. The only difference Tuesday will be increasingly gusty winds throughout the afternoon. By evening Tuesday some of the winds gusts will be kicking up to 25-30 MPH with gusts to near 40 overnight. Over the next several days our chances for rain will increase as well. We start off Tuesday night with rain continuing into Wednesday morning. A much better organized system make a run at us Thursday afternoon into Friday. By the weekend we are still looking at chances for snow by Sunday. That's several days out, but we'll continue to see how it develops. Temperatures begin to drop to seasonal normals by the weekend as well with overnight lows in the mid 20's.
The National Current Surface Map via wunderground

Over the next 24 hours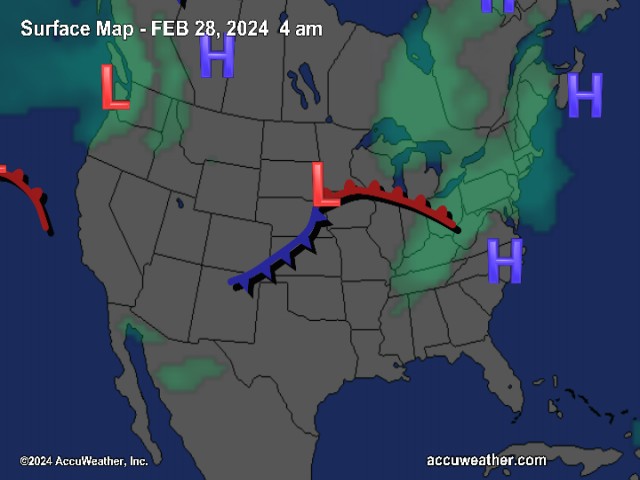 And for those of you keeping score at home check the detailed numbers at any of our reporting NCL-Weathernet Stations for real up to the minute live weather data and detailed information including highs, lows, wind speeds, rainfall and much, much more, simply use the handy drop down menu on the upper left hand side of your screen.
Your Nelson County Life custom area forecast including: The Rockfish Airpark, Love, Massies Mill and Schuyler.
Tuesday: Patchy morning fog, then mostly sunny & very warm. Increasing winds by afternoon.
* Highs Valley: 74-77°
*On the mountains: 63-66°
*Winds: SW-5 MPH increasing to 15-25 MPH between 1PM & 6PM
*OVERNIGHT: Mostly cloudy with showers developing across 50% of the area. Lows valley: 50-53° : Mountains: 47-50° Winds gusting SW 35-40 MPH late night.
Wednesday: Mostly cloudy early morning with lingering showers, then mostly sunny afternoon. Continued breezy & mild.
* Highs Valley: 60-63°
*On the mountains: 51-54°
*Winds: W 10-15 MPH with gusts near 40 MPH in the morning diminishing in the afternoon.
*OVERNIGHT: Mostly clear early evening then partly cloudy. Cooler. Lows valley: 33-36° : Mountains: 29-32° Winds: Becoming L & V
In the extended period: Thursday Cloudy and cooler with rain showers developing & continuing into Thursday night. Temps in the upper 40's valley – mid 40's mountains. Friday, rain continues through afternoon, highs mid 50's valley & upper 40's mountains.
Chances for rain and snow enter the forecast again by Sunday evening. Temps generally cooling to the 40's for highs and mid 20's for overnight lows by weekend.
Jan Smith again takes us out, with a cut from her latest CD 29 Dances. This one is called Half The Treasure.
Have a great Tuesday!
Know your Nelson.COM

Today's cut is Half The Treasure from the CD 29 Dances.
Visit Jan's Homepage by clicking right here to learn more about her CD.
Louisville, Kentucky native Jan Smith writes songs rooted in vibrant imagery and sincere, stark emotion. The artists whose music she grew up with — Merle Haggard, Nina Simone, and Townes Van Zant among many others – influence her work, as does the traditional bluegrass music of her new home in the mountains of central Virginia.
On April 4, 2006, Landslide Records released "29 Dances," produced in Nashville by Bil VornDick (Alison Krauss, Ralph Stanley). The record features Johnny Hiland, Byron House (Sam Bush, Nickel Creek), Pat McInerney (Nanci Griffith), Randy Kohrs, David Talbot (the Grascals), Mark Fain (Ricky Skaggs), Robert Bowlin (Bill Monroe), Patty Mitchell, and Smith's partner, Jeff Vogelgesang.