REFRESH Nelson County Life Magazine HERE for the latest updates:
Weathercast by Tommy Stafford
Regular Audio Version of Weathercast returns later Sunday and Monday.

Predicted snowfall map area for Sunday, via www.accuweather.com
Saturday was a fairly calm day across Nelson County. We started mostly cloudy and ended with plenty of sun and temps in the upper 50's for afternoon highs. That won't be the case Sunday as a wintry system approaches Central Virginia promising a mix of rain, freezing rain. sleet, and snow. There is a chance for some accumulating snow winter precip in the mountains in places such as Wintergreen, Montebello, Love and other spots along the Blue Ridge Parkway.
We'll started the day mostly cloudy with some patchy dense fog. As the day wears on, look for rain to spread into the area from the south. There's chances for scattered showers around noon, but more steady and widespread rain enters the picture by afternoon & evening. As we enter Sunday night the rain may change and mix with freezing rain, sleet, and snow in the valley. On the mountains look for more snow and sleet. Latest models show there may be more freezing rain vs sleet or snow. At this point it doesn't look as though this will be a significant major winter storm, but general winter advisories may be issued later today. There is the potential for some ice accumulation as temperatures dip below freezing tonight.
They exact type of wintry mix we'll get will be very tricky with this system since temps will be very near or slightly above freezing. A degree or two would make all of the difference in this case between freezing rain, snow, sleet or freezing rain.
There is some general reference to the system in Sunday's Hazardous Weather Outlook from NWS:
A STORM SYSTEM WILL BRING THE THREAT OF MIXED PRECIPITATION TO THE
REGION THIS AFTERNOON AND EVENING. ALTHOUGH THE PREDOMINANT
PRECIPITATION TYPE WILL BE RAIN…COMMUNITIES ALONG THE
PENNSYLVANIA BORDER AND IN THE POTOMAC HIGHLANDS MAY SEE THE
PRECIPITATION START MIXED WITH SNOW AND SLEET. IN ADDITION…
HIGHER ELEVATIONS IN THE POTOMAC HIGHLANDS AND ALONG THE BLUE
RIDGE MAY SEE FREEZING RAIN INSTEAD OF RAIN. THE EXACT FREEZING
LEVEL WILL DEPEND UPON HOW TEMPERATURES WARM TODAY AND WHEN THE
PRECIPITATION STARTS THIS AFTERNOON…BUT IT IS LIKELY TO BE NEAR
1500 FEET. SOME ICE ACCUMULATION MAY BE POSSIBLE ABOVE THIS
HEIGHT. A WINTER WEATHER ADVISORY MAY BE REQUIRED IF THE THREAT
BECOMES MORE CERTAIN. AS THE STORM PULLS OFFSHORE TONIGHT…THE
PRECIPITATION MAY MIX WITH A BRIEF PERIOD OF WET SNOW PRIOR TO
ENDING.

The National Current Surface Map via wunderground

Over the next 24 hours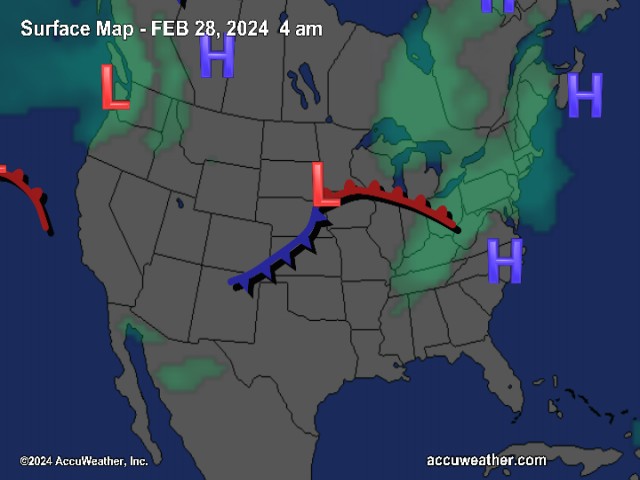 Your Nelson County Life custom area forecast including: Wintergreen, Wingina, Tryo, & Taylor Creek
Sunday Mostly cloudy with rain in the afternoon across nearly 100% of the area.
* Highs Valley: 40-43°
*On the mountains: 37-40° Rain, freezing rain, sleet or wet snow possible late afternoon
*Winds: E 5-10 MPH
Sunday Night Cloudy with rain, freezing rain, sleet & snow over 90% of the area, ending after midnight and clearing. Slight accumulations in the valley.
* Lows Valley: 30-33°
*On the mountains: 28-31° Some significant ice accumulation possible along the Blue Ridge Parkway.
*Winds: N-5 MPH becoming W after midnight
Next week New Year's Eve look for partly sunny skies and high in the lower 50's valley, mid 40's mountains.
New Year's Day Mostly cloudy with highs in the upper 40's valley and mid 40's mountains.
Much colder weather moves in by Wednesday with daytime highs in the upper 30's valley and mid 20's mountains. Lows around 10-15 degrees valley & on the mountains. Temps moderate toward the end of thee week.
Breaking News, Breaking Weather we'll have it all here!
Have a great Weekend & we'll update as necessary throughout the day and night Sunday.
Know your Nelson.COM
-T-