REFRESH Nelson County Life Magazine HERE for the latest updates:
Weathercast by Tommy Stafford, Nelson County Life Magazine
Forecast Text Updated 9:45 AM EST for rain chances and cloud cover
PRESS THE PLAY ARROW BELOW FOR AUDIO VERSION OF FORECAST (some users may need to click play button twice)

Photography by Tommy Stafford
Nelson County Life Magazine ©2007
Nick Celebrates Post Christmas
Greenfield / Afton, Virginia

Christmas 2007 is in the history books and Santa is on his way back to the North Pole for another year. One of our beagles, Nick, shown above, celebrated in style with his Christmas candy cane, actually rawhide chew! Christmas is significant for Nick since it was exactly a year ago on Christmas Eve when he was pitched over the fence at Almost Home Adoption Center just north of Lovingston. Since we'd recently had to put down Millington our other beagle about a month before, we decided to give Nick a new home. Think he's adjusted well over the past year!
Tuesday didn't seem very much like Christmas weather wise across Virginia. The afternoon temperature reached a high of 56° here at NCL-Nelson County Life Magazine in the Rockfish Valley. You jump a few thousand feet up at NCL-Wintergreen Nature Foundation on Devil's Knob and the high temperature on Christmas Day was still pretty warm at 52°.
Regardless, it's been a good holiday for sking on the mountain at Wintergreen. Wintergreen Resort's latest report shows several slopes open with snow making underway as of Tuesday night. You can click here to get the latest slope conditions and openings from the resort.
Wednesday will be more or less a cloudy day. We'll have the chance for light showers as a weak low pressure area passes nearby. I can't even rule out some sleet in the mountains, perhaps a little wet snow, but with all of the sunshine and warmth from yesterday, just don't think it's going to be a factor. We might see some sunshine by late afternoon just before dark, but most of the day will be cloudy with scattered showers developing.
By Friday night look for rain chances to increase with chances continuing into the weekend. There is a slight chance for snow overnight in the higher elevations over the weekend. We'll just have to see how that shakes out, right now I am not impressed with the chances.
Regional Radar look via Wundergound.com


The National Current Surface Map via wunderground

Over the next 24 hours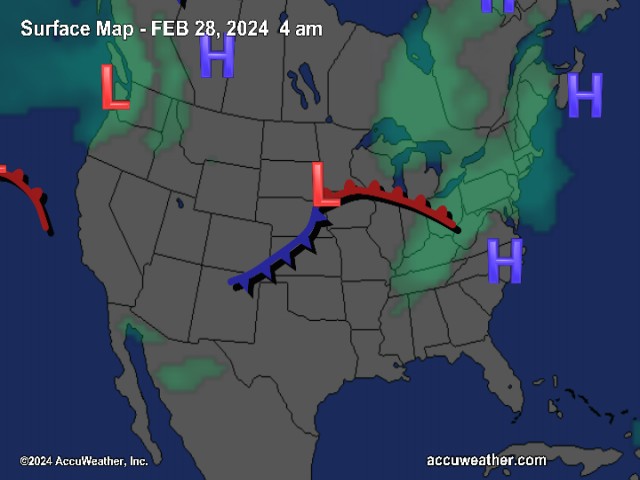 And for those of you keeping score at home check the detailed numbers below at any of our reporting NCL-Weathernet Stations for real up to the minute live weather data and detailed information including highs, lows, wind speeds, rainfall and much, much more.
*NCL-Nelson County Life Magazine : Greenfield / Afton, VA
*NCL-Wintergreen Nature Foundation : Devil's Knob, VA
*NCL-Wintergreen Winery @ the foot of Wintergreen Mountain in Beech Grove, VA
*NCL-Hatcreek Farm on Horseshoe Mountain : Roseland, VA
*NCL-Delfosse Winery & Vineyard : Faber, Va
*NCL-Tiger Fuel : Lovingston, VA
*NCL-Mini Tara Vineyards : Arrington, VA
*Covesville Store : Covesville, VA
Your Nelson County Life custom area forecast including: Greenfield, Greenwood, Shipman, & Montebello
Today Mostly cloudy with scattered showers over 50% of the area, possible light sleet or light snow on mountains early.
* Highs Valley: 47-50°
*On the mountains: 45-48°
*Winds: NE 5-10 MPH
Tonight Becoming partly cloudy.
* Lows Valley: 30-33°
*On the mountains: 28-31°
*Winds: W-5
Tomorrow Mostly sunny.
* Highs Valley: 46-49°
*On the mountains: 42-45°
*Winds: SW-5 MPH
The remainder of the week Friday, clouds move in with chances for rain on through the weekend. Temps will be in the upper 40's to mid 50's valley by next weekend, mid 40's mountains. Night time lows generally mid 30's mountains and valley.
Breaking News, Breaking Weather we'll have it all here!
Have a great Wednesday!
Know your Nelson.COM
-T-