REFRESH Nelson County Life Magazine HERE for the latest updates:
Weathercast by Tommy Stafford, Nelson County Life Magazine
PRESS THE PLAY ARROW BELOW FOR AUDIO VERSION OF FORECAST (some users may need to click play button twice)

Photography by Tommy Stafford
Nelson County Life Magazine ©2007
Sunset Over The Mountains
Afton, Virginia

The great thing about living in Nelson County in the shadows of the Blue Ridge is the wonderful views you have just about daily. Beautiful sunsets like this one toward Devil's Knob from the valley. The last week of year is always a weird one to me. You can't really get much done, nor do most folks, including me, want to do anything. You're just kind of decompressing from Christmas and waiting for New Years!
Wednesday started out cloudy and cold, it stayed that way for most of the day until late afternoon when the sun finally started coming out and eventually warmed things up 46° here at NCL-Nelson County Life Magazine in the Rockfish Valley. Upon the mountain at NCL-Wintergreen Nature Foundation they reached a chilly high of only 34° degrees and were back below freezing before sunset yesterday. The rain that was in the area for most of the day stayed to our southeast and since the air here was so dry, none of it reached the ground for the most part. Though SE we did see some scattered showers.
Skiing & snow sports continue at Wintergreen Resort. Though they have not been able to make snow during some of the daylight hours, the temps have been cooperating at night, really a perfect mix! I spoke to our friend Bruce Flight from Richmond Wednesday afternoon. He was on the mountain with friends skiing and boarding. Bruce said it was pretty cold and windy, with lots of folks arriving. You can get the latest slope conditions from the resort by clicking right here.
Thursday will be a day of transition a day in the weather office. Though the day starts off with some clouds, we'll see mostly sunny skies by afternoon. Thursday night clouds beging increasing in advance of a new system that promises rain Friday, a lull Saturday, and more rain Sunday. I cannot rule out some of the rain falling as a wintry mix up in the mountains over the weekend, but as I said earlier this week, not impressive right now. To the west in the Highlands and WV there is a better chance, but not impossible here, again we'll have to watch closer as the weekend arrives. Right now it's more of a rain event.
By next week as we head into the new year, look for colder temps settling into the region.
Regional Radar look via Wundergound.com


The National Current Surface Map via wunderground

Over the next 24 hours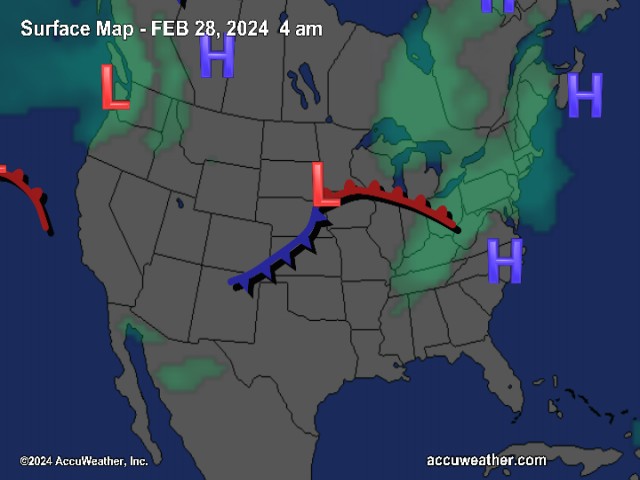 And for those of you keeping score at home check the detailed numbers below at any of our reporting NCL-Weathernet Stations for real up to the minute live weather data and detailed information including highs, lows, wind speeds, rainfall and much, much more.
*NCL-Nelson County Life Magazine : Greenfield / Afton, VA
*NCL-Wintergreen Nature Foundation : Devil's Knob, VA
*NCL-Wintergreen Winery @ the foot of Wintergreen Mountain in Beech Grove, VA
*NCL-Hatcreek Farm on Horseshoe Mountain : Roseland, VA
*NCL-Delfosse Winery & Vineyard : Faber, Va
*NCL-Tiger Fuel : Lovingston, VA
*NCL-Mini Tara Vineyards : Arrington, VA
*Covesville Store : Covesville, VA
Your Nelson County Life custom area forecast including: Afton, Crozet, Schuyler, & Love
Today Early morning clouds. Becoming mostly sunny by afternoon.
* Highs Valley: 52-55°
*On the mountains: 46-49°
*Winds: SW-5 MPH
Tonight Mostly clear early evening, becoming partly cloudy late night.
* Lows Valley: 31-34°
*On the mountains: 29-32°
*Winds: SW 5-10 MPH
Tomorrow Cloudy with rain developing.
* Highs Valley: 46-49°
*On the mountains: 40-43°
*Winds: SE 5-10 MPH
The weekend Saturday look for the rain to diminish briefly with partly sunny skies, before rain moves back in Sunday. Temps will be in the mid 50's valley Saturday dropping to the lower 40's valley for highs. On the mountains mid 40's Saturday and upper 30's Sunday – Night time lows generally low & mid 30's valley, dropping to mid 20's Sunday night.
Breaking News, Breaking Weather we'll have it all here!
Have a great Thursday!
Know your Nelson.COM
-T-