REFRESH Nelson County Life Magazine HERE for the latest updates:
Weathercast by Tommy Stafford, Nelson County Life Magazine
PRESS THE PLAY ARROW BELOW FOR AUDIO VERSION OF FORECAST (some users may need to click play button twice)

Photography by Tommy Stafford
Nelson County Life Magazine ©2007
Christmas Time at The Afton Group
Greenfield / Afton, Virginia

No it didn't snow last night and you missed it! We just wanted to put something up to keep everyone in the Christmas spirit as we head toward Santa's arrival! First Yvette and I want to say thank you to everyone who's been our faithful readers & supporters of the magazine over the past three years. Can you believe it? This coming year marks our third year! We'll celebrate that on April 1st, how fitting! We want to thank all of the advertisers in our magazine as well. And especially those guys who have been with us from day one back in 2005. You took a chance and we hope we've never let you down.
Christmas is such a special time here in Nelson. It's a beautiful place filled with wonderful people. Yvette and I are proud to call this our home and proud of the wonderful friends we have made since moving to Nelson a few years ago. I was raised in a special place during my childhood as well. Back in West Tennessee, Christmas was always special. We lived on a wide open farm, though flat, no mountains in West Tennessee near the Mississippi River, it was a such a wonderful place to grow up. Cows grazing in the pasture, horses , and just wide open space like here in Nelson. Every Christmas my mother would bake cookies and make a Christmas supper like none other. We always had a live tree in the house, a tradition we carry on here in Virginia. I never could get use to the artificial ones. Though my folks do have one now. It is much easier! On a rare occasion we'd get a Christmas snow, those were the really special.
Today my folks live in that very same house on the farm I was raised in from birth. Though Nelson has become our home, Christmas always reminds you of how special those past Christmas memories are. Yvette and I hope each of you have a very special Christmas this year with many memories too!
Weatherwise, just look at the picture above of our office and dream of a white Christmas, that's about as close as we'll get! No promise of snow here in Central Virginia, not even a chance for rain until we get toward the end of the week. This past weekend was pretty nasty, and though the possibility of severe weather never developed, the fog hung in there until late Sunday when skies cleared and the winds picked up. We did get some much needed rain with amounts varying from .63″ here at our office in Greenfield to 1.43″ inches upon the mountain at NCL-Wintergreen Nature Foundation.
Christmas Day will seasonal. By the time we get to the weekend, rain renters the forecast. There was a chance for snow in earlier models Wednesday night, but that's off the table now and it looks too warm for the weekend to be snow, though it is possible in the mountains at night. We just have to keep an eye on that between now and then, you know my saying about those extended forecasts! Don't believe em'

The National Current Surface Map via wunderground

Over the next 24 hours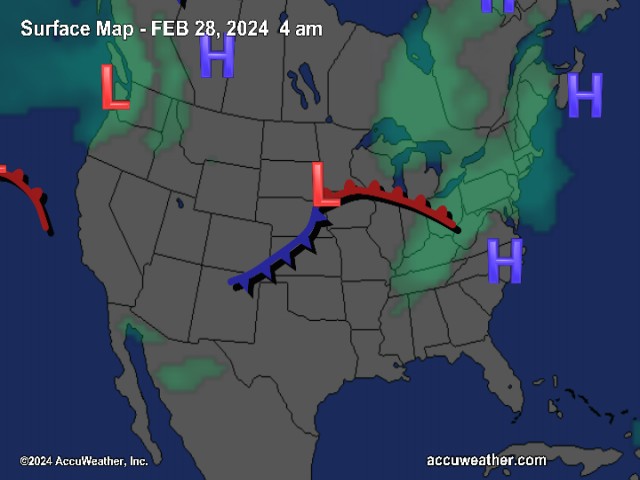 And for those of you keeping score at home check the detailed numbers below at any of our reporting NCL-Weathernet Stations for real up to the minute live weather data and detailed information including highs, lows, wind speeds, rainfall and much, much more.
*NCL-Nelson County Life Magazine : Greenfield / Afton, VA
*NCL-Wintergreen Nature Foundation : Devil's Knob, VA
*NCL-Wintergreen Winery @ the foot of Wintergreen Mountain in Beech Grove, VA
*NCL-Hatcreek Farm on Horseshoe Mountain : Roseland, VA
*NCL-Delfosse Winery & Vineyard : Faber, Va
*NCL-Tiger Fuel : Lovingston, VA
*NCL-Mini Tara Vineyards : Arrington, VA
*Covesville Store : Covesville, VA
Your Nelson County Life Christmas forecast including: Devil's Knob, Afton, Massies Mill, & Roseland
Christmas Day Partly sunny and fair.
* Highs Valley: 50-53°
*On the mountains: 43-46°
*Winds: NE-5 MPH becoming SE in the afternoon
Christmas night Mostly cloudy.
* Lows Valley: 31-34°
*On the mountains: 24-27°
*Winds: E-5 becoming W after midnight
The remainder of the week looks much the same until we reach Friday when clouds move in with chances for rain on through the weekend. Temps will be in the upper 40's to mid 50's valley by next weekend, low & mid 40's mountains. Night time lows generally mid and upper 20's mountains and mid 30's valley.
We'll be updating the forecast as needed over Christmas, but again want to wish you all a very Merry Christmas. Be safe out there and have a great time and we'll talk to you again on Wednesday!
Know your Nelson.COM
-T-
Outro music bed: Christmas Time is Here, A Charlie Brown Christmas, Vince Guaraldi Trio – Fantasy Records – Berkley, California – 1988 – 1950, 1952