REFRESH Nelson County Life Magazine HERE for the latest updates:
Weathercast by Tommy Stafford, Nelson County Life Magazine
AUDIO VERSION OF FORECAST (some users may need to click play button twice)

Photography by Ann Strober
For Nelson County Life Magazine : © 2007
Nellysford, Virginia

Today's weather photo sent by faithful reader and photographer, Ann Strober of Nellysford, is fitting. Looks more like something we'd have up in the Spring! Today will feel like Spring for one last time, then we're going to go back to late Fall and early Winter. Before I get way off into the upcoming Thanksgiving Day forecast, I have to thank Chuck Strauss for his nice comments he sent along about our NCL site here and accompanying Nelson County Life Magazine. Chuck also had a little fun with my hawk vs turkey vulture comments. You can read it all by clicking here. But again Chuck thank you for sending along your kind remarks, it's nice to hear!
Wednesday will be way above normal temperature wise, for that fact so was Tuesday. The sun came out and warmed many areas into the lower 70's. Today will make the mid 70's in many locations. By tonight changes will be on the way for Thanksgiving Day. Rain is in the forecast for a large portion of the Eastern U.S. Thursday, including Central Virginia and Nelson. This rain doesn't look very impressive, but everyone should see some showers. We may even hear an isolated clap of thunder early Thursday. A rain / snow mix is possible on the back side in the higher elevations say above 2500 feet as the colder air comes in behind the front Friday morning. But nothing to be concerned over at this point. A much more impressive rain looks to be on the way Sunday into Monday with generous amounts. Points south of Nelson may actually see some freezing rain on Saturday night into Sunday morning as moisture moves into the area there from the south. Warm air will eventually move in turning it all to rain. Hard to predict this far out, but worth watching.
By next week rain continues into Tuesday with slowly warming temperatures by mid-week.
The National Current Surface Map via wunderground

Over the next 24 hours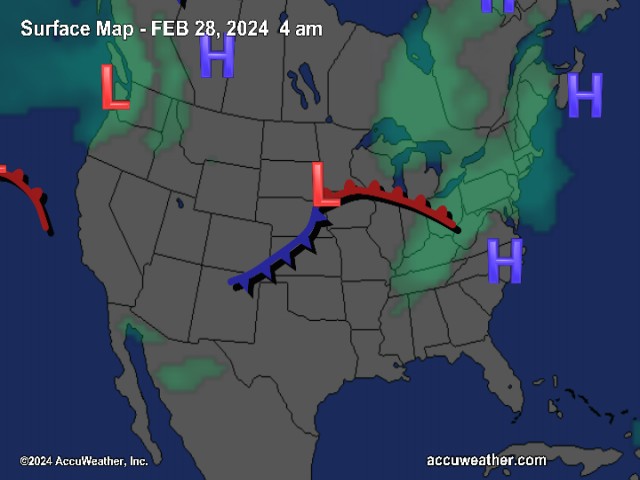 Regional Radar look via Wundergound.com

And for those of you keeping score at home the numbers as of 11:59 PM last night Low temperature readings from the night before are generally posted no later than 12 noon when there's something to really look at.
*NCL-Nelson County Life Magazine : Greenfield / Afton, VA
Tuesday High: 72.1°
0.00″ of rain
*NCL-Wintergreen Nature Foundation : Devil's Knob, VA
Tuesday High: 57.6°
0.00″ of rain
*NCL-Wintergreen Winery @ the foot of Wintergreen Mountain in Beech Grove, VA
Tuesday High: 73.6°
0.00″ of rain
NCL-Hatcreek Farm on Horseshoe Mountain : Roseland, VA
Tuesday High: 67.8°
0.00″ of rain
*NCL-Delfossee Winery & Vineyard : Faber, Va
Tuesday High: 73.9°
0.00″ of rain
*NCL-Tiger Fuel : Lovingston, VA
Tuesday High: 72.3°
0.00″ of rain
*NCL-Mini Tara Vineyard : Arrington, VA
Monday High: 70.7°
0.00″ of rain
Your local forecast including: Stoney Creek, Faber & Piney River
*Today Patchy morning fog, then mostly sunny & warm. Breezy from time to time.
*Valley : High 75°
*On the mountains above 2000 feet along the BRP, Montebello, Wintergreen, Devil's Knob, and Love. Mostly sunny, warm, & breezy
Highs around 68°
Winds: SW 10-15 MPH with higher gusts
*Tonight Becoming mostly cloudy with showers possible after midnight.
*Lows valley: 52°
*On the mountains: around 45°
*Winds: SW 5-10 MPH
Thanksgiving Day Cloudy with rain likely. Breezy.
* Valley: 65-68°
*On the mountains: 52-55°
Winds: SW 10-20 MPH shifting NW by night
*Thanksgiving Night Lingering showers, colder & windy – Low 30° valley – around 27° mountains with snow showers possible above 2500 feet.
Winds: NW 10-20 MPH gusts to 30 MPH
By Friday look for skies clearing and colder with gusty NW winds. High temps mid 40's valley and low 30's mountains.
The weekend looks dry and very cold Friday night with upper teens possible in the mountains and mid 20's valley. Daytime highs generally mid to upper 40's to valley and upper 30's to lower 40's mountains. Look for showers returning by Sunday into Monday.
Breaking news, breaking weather, or even if it's not broken , we'll still have it here.
Have a great Wednesday, and travel safely!
Know your Nelson.COM
-T-