REFRESH Nelson County Life Magazine HERE for the latest updates:
Weathercast by Tommy Stafford, Nelson County Life Magazine
AUDIO VERSION OF FORECAST (some users may need to click play button twice)

Photography by Ann Strober
For Nelson County Life Magazine : © 2007
Turkey Vulture over Nellysford, Really!
Nellysford, Virginia

Ok, if you have been reading any of the comments from last week about me calling a turkey vulture a hawk, you know we've had lots of fun here with it. The story continues today. Ann Strober, who's work you see here often sent this picture above Monday. This one is up close and personal, and she says, a turkey vulture. She was able to zoom in enough to get a really nice shot! Though Christina did say in her comment that it was kind of hard to tell for sure in that first picture from that angle….ahhh some redemption, thanks for bailing me out a little Christina!
Monday started out pretty gloomy but the sun did manage to finally make it out by afternoon in most places. Oddly, the afternoon high on the mountain was the same as the valley due to cloud cover. Today will start much like yesterday. A warm front to our south is moving north over the area and just how far north it gets determines who see more sun than not. If we can get it to scoot through the area, this will allow warm temps and more sun to filter in. Right now we'll call it partly sunny by afternoon. We talked about cold air damming in yesterday's weather (scroll below) and that's exactly what's taking place today. Tomorrow will be a really warm day with low & mid 70's across the area. Normal highs and lows for this time of the year are around 50 & 30. Not to worry the freezer door is about to open again very soon!
Showers will move in by Thanksgiving Day continuing into Thursday night before clearing and becoming colder by the weekend. Chances for rain are back in the forecast by Sunday night. I can't rule out a rain / snow mix with either of these systems in the mountains as the rain exits, but right now, nothing much to talk about.
By next week rain chances stay in the forecast with again a rain / snow mix possible in higher elevations.
The National Current Surface Map via wunderground

24 hour look ahead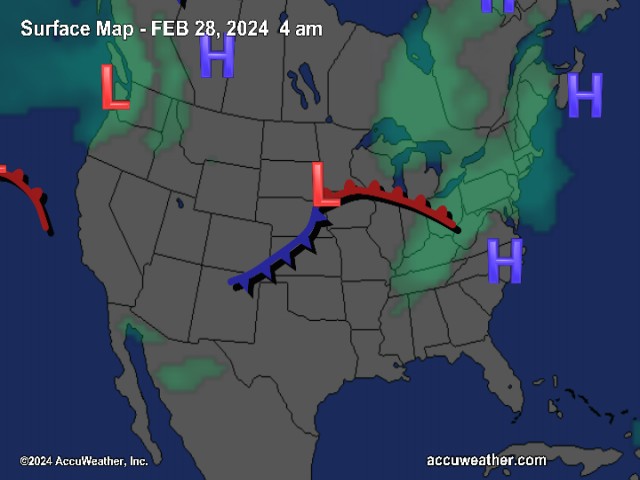 Regional Radar look via Wundergound.com

And for those of you keeping score at home the numbers as of 11:59 PM last night Low temperature readings from the night before are generally posted no later than 12 noon when there's something to really look at.
*NCL-Nelson County Life Magazine : Greenfield / Afton, VA
Monday High: 55.6°
0.00″ of rain
*NCL-Wintergreen Nature Foundation : Devil's Knob, VA
Monday High: 55.6°
0.00″ of rain
*NCL-Wintergreen Winery @ the foot of Wintergreen Mountain in Beech Grove, VA
Monday High: 54.3°
0.00″ of rain
NCL-Hatcreek Farm on Horseshoe Mountain : Roseland, VA
Monday High: 57.6°
0.00″ of rain
*NCL-Delfossee Winery & Vineyard : Faber, Va
Monday High: 55.2°
0.00″ of rain
*NCL-Tiger Fuel : Lovingston, VA
Monday High: 54.1°
0.00″ of rain
*NCL-Mini Tara Vineyard : Arrington, VA
Monday High: 50.9°
0.00″ of rain
*Covesville Store : Covesville, VA
Monday High: N/A°
0.00″ of rain
Your local forecast including: Nellysford, Tyro & Lovingston
*Today Mostly cloudy with patchy fog early, more clouds near the foot of BRP, warming and partly by sunny afternoon.
*Valley : High temps near 63°
*On the mountains above 2000 feet along the BRP, Montebello, Wintergreen, Devil's Knob, and Love. Mostly cloudy & milder.
Highs around 60°
Winds: SW 10-15 MPH
*Tonight Partly cloudy.
*Lows valley near: 46°
*On the mountains: around 43°
*Winds: SW-5 MPH
Tomorrow Mostly sunny & much warmer.
* Valley: 73-75°
*On the mountains – 65-68°
Winds: SW 5-10 MPH
*Tomorrow night: Becoming mostly cloudy, mild – Low 51° valley – around 50° mountains.
Winds: SW 5-10 MPH
Thanksgiving Day Cloudy & rainy – Highs mid 60's valley & upper 50's mountains. Showers end overnight with cooler temps spilling in Friday.
By Friday and beyond look for skies clearing and becoming colder with gusty northerly winds. High temps upper 40's valley and upper 30's mountains.
The weekend looks dry and very cold Saturday night with upper teens possible in the mountains and upper 20's valley. Daytime highs generally upper 40's to near 50 in the valley and upper 30's mountains. look for showers to return by Sunday.
Breaking news, breaking weather, or if it's not broken, we'll still have it here whenever it happens.
Have a great Tuesday!
Know your Nelson.COM
-T-