REFRESH Nelson County Life Magazine HERE for the latest updates:
Weathercast by Tommy Stafford, Nelson County Life Magazine
AUDIO VERSION OF FORECAST (some users may need to click play button twice)

Photography by David Munn
For Nelson County Life Magazine : © 2007
Wintergreen Nature Foundation
Devil's Knob, Virginia

A quick congratulations to all of the recent graduates of The Central Blue Ridge Chapter of the Virginia Master Naturalist Program. Peter Agelasto pictured on the far right along with his wife Betsy and all of the others recently completed the course. He passed this on to us. They are all now Master Naturalists in training! Think I even see Linda Heuer in the group too!
Peter also adds:
Graduation was Nov 17. The next step is 8 hours of advanced training and 40 hours of volunteer service on projects offered by the partners. Rockfish Valley Foundation will be offering an invasive plant removal project followed by a native plant installation project.

The local partners in our Blue Ridge Chapter are Rockfish Valley Foundation, Friends of Rockffish Watershed, Wintergreen Nature Foundation, Wildlife Center of Virginia, nature Camp, USDOF- Blue Ridge parkway and USDOF -Sherando. Michael Lachance is the chapter advisior . He is the Nelson Extension agent.
Anyone interested in the program can contact:
Charlotte Rea
Course Coordinator
Central Blue Ridge Chapter
Virginia Master Naturalist Program
thecreac1 – at – earthlink.net
Again, a big congrats to all of the recent graduates!
A quick look at the next 24-36 hours. Showers began in some portions of the area overnight, mainly south. As the day wears on look for scattered showers to move into Central Virginia. Like I mentioned in Wednesday's cast, this is not going to be a big rainmaker. We have a much better organized system headed our way by early next week, that promised better chances. But we'll certainly see showers early today as a cold front works through. The big story will be the falling temperatures and windy conditions later today.
We'll start out the day fairly mild with showers, but the afternoon brings gusty winds along with falling temperatures. This evening will be a great time to be inside by the fire!
The National Current Surface Map via wunderground

Over the next 24 hours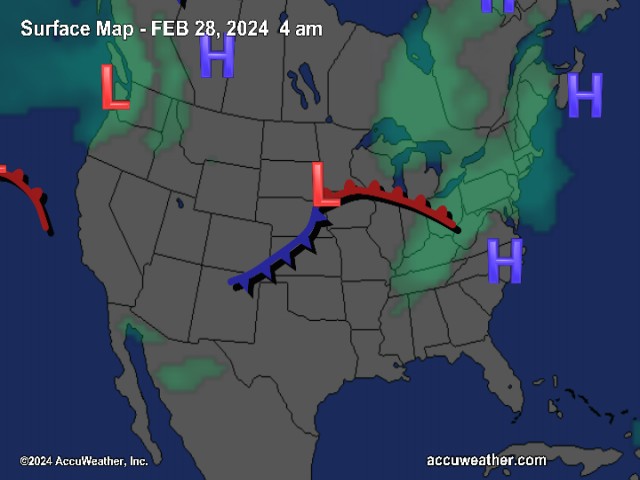 Regional Radar look via Wundergound.com

And for those of you keeping score at home simply click on any of the hyperlinks below to get real live time weather conditions from the NCL-Weathernet Stations. You can look at lows, highs, rain amounts and much, much more! You can also use the handy drop down menu on the upper left hand side of your screen to navigate to any of the stations in the NCL network.
*NCL-Nelson County Life Magazine : Greenfield / Afton, VA
*NCL-Wintergreen Nature Foundation : Devil's Knob, VA
*NCL-Wintergreen Winery @ the foot of Wintergreen Mountain in Beech Grove, VA
NCL-Hatcreek Farm on Horseshoe Mountain : Roseland, VA
*NCL-Delfossee Winery & Vineyard : Faber, Va
*NCL-Tiger Fuel : Lovingston, VA
*NCL-Mini Tara Vineyard : Arrington, VA
Your local forecast including: Wintergreen, Schuyler & Crozet
*Today Cloudy with morning showers, tapering off by early afternoon with falling temperatures and windy.
*Valley : High near 70° early then falling into the upper 50's by dusk
*On the mountains above 2000 feet along the BRP, Montebello, Wintergreen, Devil's Knob, and Love. Cloudy with morning showers then falling temps afternoon.
Highs around 67° then falling
Winds: SW 10-15 MPH with gusts to 30 MPH
*Tonight Clearing skies and colder.
*Lows valley: 34°
*On the mountains: around 28°
*Winds: NW 5-10 MPH with gusts to 25 MPH
Friday Sunny and very cool.
* Valley: 42-45°
*On the mountains: 33-35°
Winds: NW 10-15 MPH
*Friday Night Clear & much colder – Low 22° valley – around 19° mountains – if winds completely subside, look for lower temps
Winds: NW 5-10 MPH
The weekend Looks dry & chilly, with warming temps by Sunday. Daytime highs generally low 40's valley and mid 30's mountains. Warming to 50's valley & mid 40's mountain by Sunday. Overnight lows – lower 30's valley and mountains.
Rain enters the forecast by Monday into Monday night.
Breaking news, breaking weather, or even if it's not broken , we'll still have it here.
Don't be a turkey ….
Have a great Thanksgiving!
Know your Nelson.COM
-T-