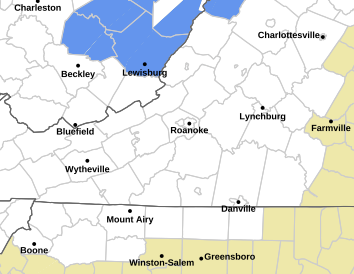 Flood Watch
National Weather Service Blacksburg VA
241 PM EDT Mon Apr 24 2017
…Periods of rain, heavy at times into tonight…
.Slow moving storm system will track from the southern
Appalachians to the coastal Carolinas by Tuesday. This will
result in a prolonged periods of rain, which will be heavy at
times especially east of the Blue Ridge.
Surry-Stokes-Rockingham-Caswell-Wilkes-Yadkin-Roanoke-Botetourt-
Rockbridge-Patrick-Franklin-Bedford-Amherst-Henry-Pittsylvania-
Campbell-Appomattox-Halifax-Charlotte-
Including the cities of Dobson, Danbury, Eden, Yanceyville,
Wilkesboro, Yadkinville, Roanoke, Salem, Fincastle, Lexington,
Buena Vista, Stuart, Rocky Mount, Bedford, Amherst, Martinsville,
Danville, Lynchburg, Appomattox, South Boston, and Keysville
241 PM EDT Mon Apr 24 2017
…FLOOD WATCH NOW IN EFFECT THROUGH TUESDAY MORNING…
The Flood Watch is now in effect for
* Portions of North Carolina and Virginia, including the
following areas, in North Carolina, Caswell, Rockingham,
Stokes, Surry, Wilkes, and Yadkin. In Virginia, Amherst,
Appomattox, Bedford, Botetourt, Campbell, Charlotte, Franklin,
Halifax, Henry, Patrick, Pittsylvania, Roanoke, and
Rockbridge.
* Through Tuesday morning
* Moderate to heavy rain will take place, with an additional 1 to
2 inches of rain likely through tonight, in some cases this
rain falling on-top of the 2 to 4 inches of rain that has
already occurred. The heaviest rain thus far has fallen south of
Roanoke along the Blue Ridge and into North Carolina. This
particular region will be most susceptive to flooding.
* The duration and widespread nature of the heavy rainfall is
expected to result in significant rises and potential flooding
on area streams, with flooding also possible along some main
stem rivers into Tuesday. Additionally, heavier short term
rainfall rates associated with bands of heavy rain showers could
result in localized flash flooding along small streams and in
urban areas. Saturated ground may also result in downed trees
and rock or mud slides. Water will likely inundate poor drainage
areas.
PRECAUTIONARY/PREPAREDNESS ACTIONS…
A Flood Watch means there is a potential for flooding based on
current forecasts.
You should monitor later forecasts and be alert for possible
Flood Warnings. Those living in areas prone to flooding should be
prepared to take action should flooding develop.