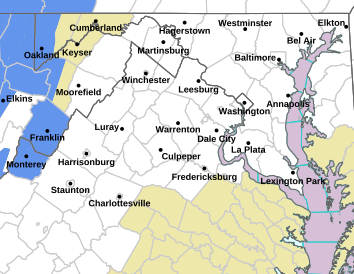 Flood Watch / Flood Statement
Statement as of 10:40 PM EDT on July 03, 2014
…Flash Flood Watch is cancelled…
The Flash Flood Watch for portions of central Virginia and
northwest Virginia has been cancelled.
FLOOD WATCH
FLOOD WATCH
NATIONAL WEATHER SERVICE BALTIMORE MD/WASHINGTON DC
804 PM EDT THU JUL 3 2014
DCZ001-MDZ004>007-009>011-VAZ036>040-042-050>056-501-502-040600-
/O.CON.KLWX.FF.A.0006.000000T0000Z-140704T0600Z/
/00000.0.ER.000000T0000Z.000000T0000Z.000000T0000Z.OO/
DISTRICT OF COLUMBIA-FREDERICK MD-CARROLL-NORTHERN BALTIMORE-
HARFORD-MONTGOMERY-HOWARD-SOUTHERN BALTIMORE-NELSON-ALBEMARLE-
GREENE-MADISON-RAPPAHANNOCK-LOUDOUN-ORANGE-CULPEPER-
PRINCE WILLIAM/MANASSAS/MANASSAS PARK-FAIRFAX-
ARLINGTON/FALLS CHURCH/ALEXANDRIA-STAFFORD-SPOTSYLVANIA-
NORTHERN FAUQUIER-SOUTHERN FAUQUIER-
INCLUDING THE CITIES OF…WASHINGTON…FREDERICK…WESTMINSTER…
GAITHERSBURG…COLUMBIA…BALTIMORE…CHARLOTTESVILLE…
LEESBURG…CULPEPER…MANASSAS…MANASSAS PARK…FAIRFAX…
ALEXANDRIA…FALLS CHURCH…FREDERICKSBURG…WARRENTON
804 PM EDT THU JUL 3 2014
…FLASH FLOOD WATCH REMAINS IN EFFECT UNTIL 2 AM EDT FRIDAY…
THE FLASH FLOOD WATCH CONTINUES FOR
* PORTIONS OF MARYLAND…THE DISTRICT OF COLUMBIA AND VIRGINIA…
INCLUDING THE FOLLOWING AREAS…IN MARYLAND…CARROLL…
FREDERICK MD…HARFORD…HOWARD…MONTGOMERY…NORTHERN
BALTIMORE AND SOUTHERN BALTIMORE. THE DISTRICT OF COLUMBIA. IN
VIRGINIA…ALBEMARLE…ARLINGTON/FALLS CHURCH/ALEXANDRIA…
CULPEPER…FAIRFAX…GREENE…LOUDOUN…MADISON…NELSON…
NORTHERN FAUQUIER…ORANGE…PRINCE WILLIAM/MANASSAS/MANASSAS
PARK…RAPPAHANNOCK…SOUTHERN FAUQUIER…SPOTSYLVANIA AND
STAFFORD.
* UNTIL 2 AM EDT FRIDAY
* TROPICAL MOISTURE WILL REMAIN OVER THE AREA THIS EVENING AND
MOST OF TONIGHT. SHOWERS AND SCATTERED THUNDERSTORMS ARE LIKELY
THROUGH LATE THIS EVENING. RAINFALL RATES IN HEAVIER SHOWERS AND
THUNDERSTORMS MAY EXCEED 2 INCHES PER HOUR.
* IN TARGETED AREAS THAT RECEIVE TORRENTIAL RAIN FOR LONGER THAN
30 MINUTES…FLASH FLOODING MAY BEGIN QUICKLY. BE AWARE OF LOW
AREAS THAT MAY FLOOD. NEVER CROSS ROADS THAT ARE FLOODED. TURN
AROUND DON`T DROWN.
PRECAUTIONARY/PREPAREDNESS ACTIONS…
A FLASH FLOOD WATCH MEANS THAT CONDITIONS MAY DEVELOP THAT LEAD
TO FLASH FLOODING. FLASH FLOODING IS A VERY DANGEROUS SITUATION.
YOU SHOULD MONITOR LATER FORECASTS AND BE PREPARED TO TAKE ACTION
SHOULD FLASH FLOOD WARNINGS BE ISSUED.