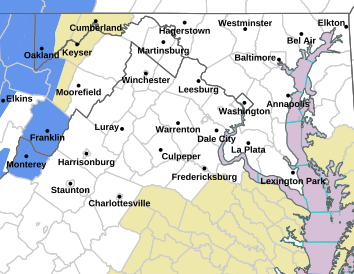 WINTER STORM WATCHES / WARNINGS IN EFFECT FROM SUNDAY MORNING THROUGH MONDAY MORNING
SIGNIFICANT WINTER STORM LIKELY THIS WEEKEND
URGENT – WINTER WEATHER MESSAGE
NATIONAL WEATHER SERVICE BALTIMORE MD/WASHINGTON DC
555 PM EST SAT DEC 7 2013
WASHINGTON-EXTREME WESTERN ALLEGANY-CENTRAL AND EASTERN ALLEGANY-
AUGUSTA-ROCKINGHAM-SHENANDOAH-FREDERICK VA-PAGE-WARREN-CLARKE-
NELSON-ALBEMARLE-GREENE-WESTERN HIGHLAND-EASTERN HIGHLAND-
HAMPSHIRE-MORGAN-BERKELEY-JEFFERSON-HARDY-WESTERN GRANT-
EASTERN GRANT-WESTERN MINERAL-EASTERN MINERAL-WESTERN PENDLETON-
EASTERN PENDLETON-
INCLUDING THE CITIES OF…HAGERSTOWN…FROSTBURG…CUMBERLAND…
STAUNTON…WAYNESBORO…HARRISONBURG…WINCHESTER…FRONT ROYAL…
CHARLOTTESVILLE…HIGHTOWN…MONTEREY…MARTINSBURG…
CHARLES TOWN…MOOREFIELD…BAYARD…MOUNT STORM…PETERSBURG…
ELK GARDEN…KEYSER…FORT ASHBY…CIRCLEVILLE…FRANKLIN
555 PM EST SAT DEC 7 2013
…WINTER STORM WATCH REMAINS IN EFFECT FROM SUNDAY MORNING
THROUGH MONDAY MORNING…
* PRECIPITATION TYPE…SNOW AND SLEET…EVENTUALLY CHANGING OVER
TO FREEZING RAIN.
* ACCUMULATIONS…1 TO 3 INCHES OF SNOW AND SLEET…FOLLOWED BY
THE POTENTIAL FOR A QUARTER INCH OR MORE OF ICE. THE HIGHEST
ACCUMULATIONS OF ICE WILL BE AT ELEVATIONS BELOW 1500 FEET.
* TIMING…SNOW AND SLEET WILL BEGIN SUNDAY MORNING…THEN WILL
CHANGE TO FREEZING RAIN SUNDAY AFTERNOON. FREEZING RAIN WILL
CONTINUE SUNDAY NIGHT…EVENTUALLY CHANGING TO RAIN MONDAY
MORNING.
* TEMPERATURES…MID TO UPPER 20S.
* WINDS…NORTH 5 TO 10 MPH.
* IMPACTS…HAZARDOUS TRAVEL CONDITIONS ARE PROBABLE DUE TO SLICK
ROADS AND ICY CONDITIONS ESPECIALLY ALONG INTERSTATE 81 AND IN
VALLEY LOCATIONS. DOWNED BRANCHES AND LIMBS ALONG WITH POWER
OUTAGES WILL BE POSSIBLE.
PRECAUTIONARY/PREPAREDNESS ACTIONS…
A WINTER STORM WATCH MEANS THERE IS A POTENTIAL FOR SIGNIFICANT
SNOW…SLEET…OR ICE ACCUMULATIONS THAT MAY IMPACT TRAVEL.
CONTINUE TO MONITOR THE LATEST FORECASTS.

URGENT – WINTER WEATHER MESSAGE…CORRECTED
NATIONAL WEATHER SERVICE BLACKSBURG VA
424 PM EST SAT DEC 7 2013
…SIGNIFICANT WINTER STORM TONIGHT INTO MONDAY…
LOW PRESSURE WILL DEVELOP ALONG THE GULF COAST LATE TONIGHT AND
MOVE OFF THE MID ATLANTIC COAST BY MONDAY MORNING. THIS LOW WILL
TRANSPORT DEEP MOISTURE OVER COLD AIR HELD OVER THE APPALACHIANS
BY STRONG HIGH PRESSURE. THIS WILL RESULT IN WIDESPREAD SLEET AND
FREEZING RAIN. SOME SNOW IS POSSIBLE AT THE ONSET…MAINLY NORTH
OF THE ROANOKE VALLEY…IN THE VIRGINIA AND WEST VIRGINIA
HIGHLANDS…BEFORE PRECIPITATION CHANGES TO FREEZING RAIN THERE AS
WELL.
GILES-PULASKI-MONTGOMERY-FLOYD-CRAIG-ALLEGHANY VA-BATH-ROANOKE-
BOTETOURT-ROCKBRIDGE-FRANKLIN-BEDFORD-AMHERST-CAMPBELL-APPOMATTOX-
BUCKINGHAM-SUMMERS-MONROE-GREENBRIER-
INCLUDING THE CITIES OF…PEARISBURG…RADFORD…PULASKI…
BLACKSBURG…FLOYD…NEW CASTLE…CLIFTON FORGE…COVINGTON…
HOT SPRINGS…ROANOKE…SALEM…FINCASTLE…LEXINGTON…
BUENA VISTA…ROCKY MOUNT…BEDFORD…AMHERST…LYNCHBURG…
APPOMATTOX…HINTON…HIX…UNION…LEWISBURG…QUINWOOD…DUO…
RAINELLE
424 PM EST SAT DEC 7 2013
…WINTER STORM WARNING REMAINS IN EFFECT FROM 4 AM SUNDAY TO
9 AM EST MONDAY…
* LOCATIONS…MUCH OF SOUTHWEST VIRGINIA AND SOUTHEAST WEST
VIRGINIA NORTH OF HIGHWAY 460…INCLUDING THE GREENBRIER…NEW
AND ROANOKE RIVER VALLEYS…THE ALLEGHANY HIGHLANDS…SHENANDOAH
VALLEY AND THE VIRGINIA PIEDMONT.
* HAZARD TYPES…FREEZING RAIN AND SLEET. SOME SNOW IS LIKELY AT
THE ONSET.
* ACCUMULATIONS…SNOW AND SLEET ACCUMULATION OF 1 TO 4 INCHES
THROUGH SUNDAY AFTERNOON. ONE QUARTER INCH TO ONE HALF INCH OF
ICE THROUGH MONDAY MORNING.
* TIMING…4 AM SUNDAY TO 9 AM MONDAY
* IMPACTS…ICE WILL ACCUMULATE ON TREES AND POWERLINES CAUSING
POWER OUTAGES. ROADS AND SIDEWALKS WILL BECOME SLIPPERY AND
HAZARDOUS…ESPECIALLY BRIDGES AND OVERPASSES.
* TEMPERATURES…LOWS TONIGHT IN THE MID 20S TO LOWER 30S.
TEMPERATURES REMAINING IN THE UPPER 20S TO LOWER 30S ON SUNDAY.
PRECAUTIONARY/PREPAREDNESS ACTIONS…
A WINTER STORM WARNING MEANS SEVERE WINTER WEATHER CONDITIONS ARE
EXPECTED OR OCCURRING. SIGNIFICANT AMOUNTS ICE…SLEET AND SNOW
ARE FORECAST THAT WILL MAKE TRAVEL DANGEROUS. ONLY TRAVEL IN AN
EMERGENCY. IF YOU MUST TRAVEL…KEEP AN EXTRA FLASHLIGHT…FOOD…
AND WATER IN YOUR VEHICLE IN CASE OF AN EMERGENCY.
Category: Uncategorized