UPDATE Nelson County Life Magazine HERE

Click the image above for the ski and slope conditions at Wintergreen Resort.
Weathercast by Tommy Stafford, Nelson County Life Magazine
PRESS THE PLAY ARROW BELOW FOR AUDIO VERSION OF FORECAST (some users may need to click play button twice)

Sunday began cloudy with showers moving in by noon. Upon the mountains above 2000 feet it was freezing rain. Temperatures at our NCL-Wintergreen Nature Foundation site hovered at or slightly below freezing for most of the day which allowed any rain falling to freeze on contact. Luckily the roadways were above freezing which prevented problems traveling, but still slick in spots.
Rain will come to an end by 6AM Monday morning and clearing skies by mid-morning. The remainder of New Year's Eve will be sunny and sometimes a bit breezy as westerly winds move in. By New Year's Evening clouds move back in with scattered snow showers possible late in the mountains. We could see more scattered snow showers on New Year's Day in the mountains. Isolated rain showers are possible in the valley.
By the first night of the new year, temperatures will be diving into the low 20's for valley lows and the mid- teens on the mountains. Daytime highs on the mountains never get above freezing until late week. Mountain lows even getting around 10 degrees later in the week. Below it will be very cold as well with daytime highs in the mid 30's to 40's until week's end when we reach temps near 50°.
The National Current Surface Map via wunderground

Over the next 24 hours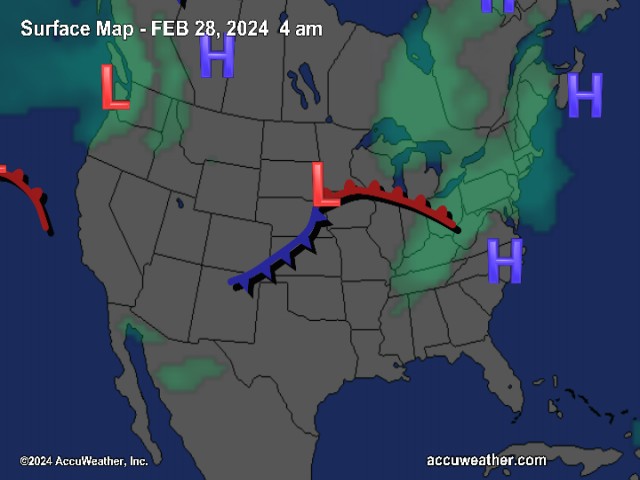 And for those of you keeping score at home check the detailed numbers at any of our reporting NCL-Weathernet Stations for real up to the minute live weather data and detailed information including highs, lows, wind speeds, rainfall and much, much more, simply use the handy drop down menu on the upper left hand side of your screen.
Your Nelson County Life custom area forecast including: Wintergreen, Greenwood, Shipman, & Lovigston
New Year's Eve – DAYTIME Becoming mostly sunny & fair.
* Highs Valley: 50-53°
*On the mountains: 39-42°
*Winds: W 10-15 MPH
New Year's Evening Mostly clear early, then mostly cloudy by 3 AM. Snow showers possible.
* Lows Valley: 33-35°
*On the mountains: 30-33° Snow showers possible.
*Winds: S 5-10 MPH
New Year's Day Mostly cloudy early morning with isolated showers, then partly cloudy.
* Highs Valley: 46-49°
*On the mountains: 36-39° Scattered snow showers possible.
*Winds: W 10-15 MPH
The remainder of the week Look for temps diving to the low 20's valley for nighttime lows on the first night of the new year, from 10-15 degrees on the mountains. Daytime highs will be in the mid 30's Wed & Thurs in the valley : upper 20's mountains. Temperatures warm slightly by the end of the week into next weekend.
Breaking News, Breaking Weather we'll have it all here!
Be safe and have a great New Year's Eve!
Know your Nelson.COM