UPDATE Nelson County Life Magazine HERE

Click the image above for the ski and slope conditions at Wintergreen Resort.
DON'T WANT TO READ THE FORECAST? SIT BACK & LISTEN BY PRESSING THE PLAY BUTTON BELOW (some users may need to click play button twice)

Weathercast by Tommy Stafford, Nelson County Life Magazine

Photography By Ann Strober
For Nelson County Life Magazine ©2007
Approaching Front in Nellysford
Nellysford, Virginia

Well, this is it folks. We all wave bye-bye to 2007! I guess we all contemplate a bit as we end one year and start another. I've been thinking about all of the new years that have come and gone in my time. Some of the best have simply been ringing in the new year with close friends at one another's homes. 2008 is one of those New Years. I have been to several big productions before and just don't find that very appealing most of the time. Can't think of a better place to be than right here in Nelson to see another year begin.
The last day of 2007 went out on a beautiful note with warm temperatures and sunny skies. A nice ending to the year. Afternoon temperatures reached 55° for a high here at NCL-Nelson County Life Magazine in the Rockfish Valley. Upon the mountains at Wintergreen our NCL-Wintergreen Nature Foundation station recorded an afternoon high of 43° for the last day of the year. Keep that memory of the mild temps in your mind for a few days because it's out of here for awhile.
The New Year will begin fairly quiet in the early morning hours, but as Tuesday wears on, hold on to your hat and grab the scarf, it's going to get very windy and cold as we head into Wednesday. We'll see some scattered snow showers across the area for the first day of the year, but this won't be much to get excited over. What tiny bit we'll see should happen in the mid-morning hours. We'll see some of the coldest weather so far this season over the next few days. That's excellent news for Wintergreen Resort. They'll easily be able to make snow for several days to come. I can tell you it has been packed up there over the holiday. Skiing and snowboarding have been good. This has started off to be an excellent ski season, a stark contrast to last year when it was so warm. So far so good! You can check out the current slope conditions by clicking on the Wintergreen logo up above.
By the end of the week look for temperatures to moderate to the lower 50's in the valley and upper 30's to lower 40's on the mountain for afternoon highs.
The National Current Surface Map via wunderground

Over the next 24 hours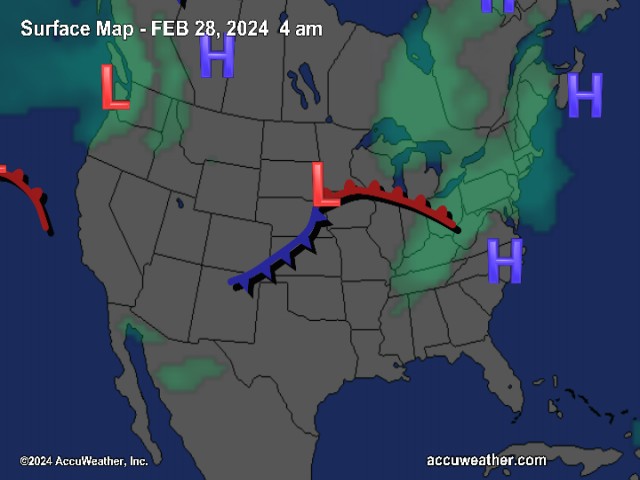 And for those of you keeping score at home check the detailed numbers at any of our reporting NCL-Weathernet Stations for real up to the minute live weather data and detailed information including highs, lows, wind speeds, rainfall and much, much more, simply use the handy drop down menu on the upper left hand side of your screen.
Your Nelson County Life custom area forecast including: The BRP, Lovingston, Nellysford, & Massies Mill.
New Year's Day Mostly cloudy early morning with isolated showers and snow showers, then partly sunny. Becoming very windy!
* Highs Valley: 46-49° then slowly falling late afternoon
*On the mountains: 36-39° Scattered snow showers, then partly cloudy and windy.
*Winds: SW 10-15 MPH increasing to 15-25 and gusting to 35-40 MPH in the afternoon.
Tuesday night Partly cloudy early then mostly cloudy and blustery. Flurries possible. Windy!
* Lows Valley: 26-23° Wind chill near -5 by Wednesday morning
*On the mountains: 13-16° Mostly cloudy, very cold and windy with wind chills below 0° from time to time.
*Winds: W 15-25 MPH with gusts to 40 MPH
Wednesday Cloudy early morning then mostly sunny, continued windy and blustery.
* Highs Valley: 36-39° Wind chill near 5° above from time to time
*On the mountains: 28-31° Wind chill near 0° from time to time
*Winds: NW 15-25 MPH and gusty
The remainder of the week Look for temps to continue very cold on Thursday with valley highs around 35° and mountains around 24°. Overnight lows 15° in the valley and 10° on the mountains. Temps warm to the 50's valley for the weekend and 40's mountains. Right now the extended forecast looks dry.
Breaking News, Breaking Weather we'll have it all here!
Be safe and have a great New Year's! We'll talk to you again on Wednesday!
Know your Nelson.COM