REFRESH Nelson County Life Magazine HERE for the latest updates:
Winter Weather Possible on Sunday, click here for Special Weather Update.
Weathercast by Tommy Stafford, Nelson County Life Magazine
Photography by Tommy Stafford
Nelson County Life Magazine ©2007
Off The Lift At Wintergreen
Wintergreen Mountain, Virginia

Friday started with a bit of sun, but clouds and eventually showers took over in the afternoon and continued Friday night. Here at NCL-Nelson County Life Magazine in the Rockfish Valley we already had about .47″of rain by 10:30 PM Friday night. On the mountain at our NCL-Wintergreen Nature Foundation site they'd already picked up .59″of rain by the same time. Head south to NCL-Hatcreek Farm on Horseshoe Mountain and they already had more than 1.00″in the bucket. Back at the foot of the mountain at NCL-Wintergreen Winery in Beech Grove, they had about .78″in the gauge. Be sure to click on the drop down menu on your upper left of this screen to get the latest totals and conditions from any of our NCL-Weathernet station
By Sunday afternoon we will likely see a mix of rain, snow and sleet.

The National Current Surface Map via wunderground

Over the next 24 hours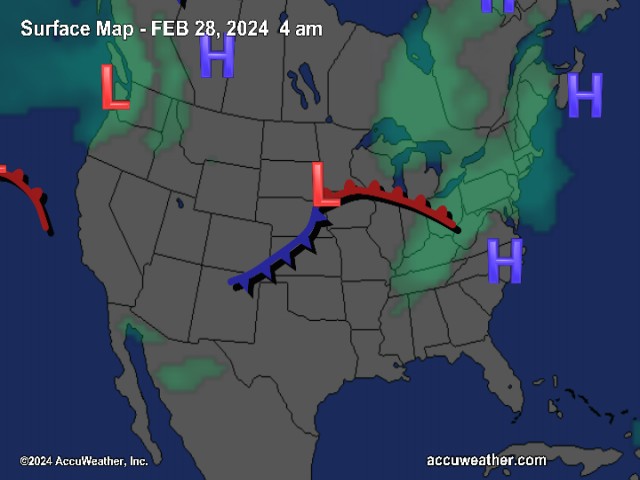 Your Nelson County Life custom area forecast including: Wintergreen, Wingina, Tryo, & Taylor Creek
Saturday Cloudy this morning with lingering showers then becoming partly sunny afternoon.
* Highs Valley: 56-59°
*On the mountains: 44-47°
*Winds: W-5 MPH
Saturday Night Partly cloudy early, then becoming mostly cloudy.
* Lows Valley: 31-34°
*On the mountains: 24-27°
*Winds: N-5 MPH
Sunday Mostly cloudy with rain, sleet, and snow possible in the afternoon.
* Highs Valley: 37-40°
*On the mountains: 36-39° Rain, sleet or wet snow possible late.
*Winds: NE-5 MPH
Sunday Night Cloudy with rain, sleet & snow early evening (Total accumulation of 2 inches possible) then clearing after midnight.
* Lows Valley: 29-32°
*On the mountains: 28-31°
*Winds: NW-5 MPH
Next week New Year's Eve look for partly sunny skies and high in the upper 40's valley, lower 40's mountains.
New Year's Day Partly sunny with highs in the mid 40's valley and near 40 mountains.
Much colder weather moves in by Wednesday with daytime highs in the upper 30's valley and around 30 mountains. Lows around 20° valley and 10-15 degrees on the mountains.
Breaking News, Breaking Weather we'll have it all here!
Have a great Weekend!
Know your Nelson.COM
-T-