REFRESH Nelson County Life Magazine HERE for the latest updates:
Weathercast by Tommy Stafford, Nelson County Life Magazine
AUDIO VERSION OF FORECAST (some users may need to click play button twice)

Photography by Tommy Stafford
For Nelson County Life Magazine ©2007
Better Cell Service on the Way for Nellysford Area
Nellysford, Virginia

A company from the Roanoke area hoists antenna cables to the top of a newly installed monopole behind the Wintergreen Fire Department in Stoney Creek.
Finally. did I say finally! It looks like progress is in the works to improve what all of us already know to be really bad cellular service here in Nelson County. AT & T is in the process of finishing up their newest site behind the Wintergreen Fire Department in Stoney Creek. Fire Chief, Curtis Sheets, tell us the new site will be active by the end of the month. Yep folks, that's the company that you can use the Apple Iphone on! But there's even more great news! You can read the entire story and plans for another carrier here in Nelson that will be providing stable county wide cellular coverage next year. Read more by clicking here. Can you hear me now?
Hang on folks, it's going to be an interesting couple of days leading up to the weekend. This is where the weather guys earn their money trying to figure out what will take place with a developing winter storm for the weekend. I remember when I was doing television weather some years ago. This was always a time of great anxiety and anticipation as we tried to figure out what would happen a few days out. There's not much reason to get too detailed this far out, but it's worth saying that most weather folks are keeping an eye on this potential storm for the weekend.
We have one more day of mild weather before we begin to see significant changes taking place. Wednesday will be fairly mild, warmer than Tuesday. Clouds hung in there and kept temps in the upper 50's to near 60 yesterday. We'll warm a little more today before starting a cool down as we head toward the weekend. Rain chances increase as we go through the day Wednesday, with best chances Wednesday night into Thursday when the best chance of rain looms. Friday will be a relatively quiet day before winter changes start happening Friday night into the remainder of the weekend. Right now it appears Saturday and Sunday have a decent shot at snow and or ice, with the best chances for snow at Wintergreen, The BRP, Montebello, and other areas along or near the parkway. Depending on temps we could see a significant icing event in the valley. AGAIN, I emphasize , it's still a long way out to know exactly what will happen. But at least initially, it looks favorable for a significant winter storm this coming weekend. You can click here to see my post from yesterday that has a couple of AccuWeather.com predictions on amounts for Saturday. These will be updated later today as well.
Keep checking back here from time to time over the next couple of days as I will be updating when information and forecasts become available.

The National Current Surface Map via wunderground

Over the next 24 hours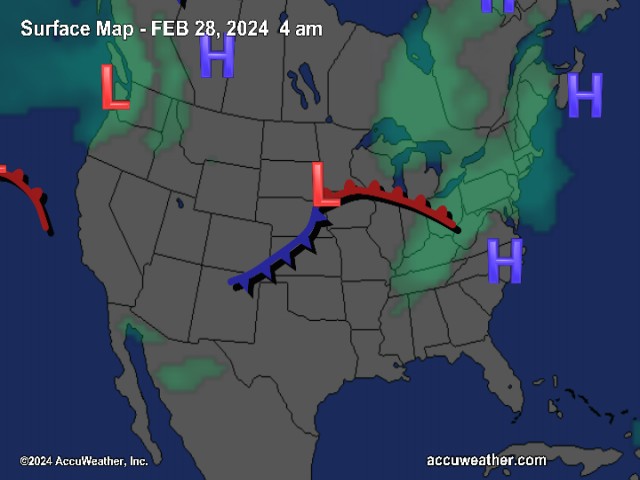 And for those of you keeping score at home check the detailed numbers below at any of our reporting NCL-Weathernet Stations for real up to the minute live weather data and detailed information including highs, lows, wind speeds, rainfall and much, much more.
*NCL-Nelson County Life Magazine : Greenfield / Afton, VA
*NCL-Wintergreen Nature Foundation : Devil's Knob, VA
*NCL-Wintergreen Winery @ the foot of Wintergreen Mountain in Beech Grove, VA
*NCL-Hatcreek Farm on Horseshoe Mountain : Roseland, VA
*NCL-Delfosse Winery & Vineyard : Faber, Va
*NCL-Tiger Fuel : Lovingston, VA
*NCL-Mini Tara Vineyards : Arrington, VA
*Covesville Store : Covesville, VA
Your Nelson County Life custom area forecast including: Nellysford, Faber & Crozet
*Today Patchy dense fog early, then partly sunny with isolated showers, then cloudy in the afternoon with scattered rain showers. Mild.
* Highs Valley: 67-70°
*On the mountains: 57-60°
Winds: W 10-15 MPH
Tonight Cloudy with showers early evening then better chances of rain after midnight.
* Lows Valley: 38-41°
*On the mountains: 34-37° (Some light wet snow may occur overnight, but no accumulation expected)
Winds: NE 5-10 MPH
Tomorrow Cloudy and rainy throughout the day.
* Highs Valley: 46-49°
*On the mountains: 40-43°
*Winds: E 3-5 MPH
Tomorrow night Mostly cloudy with rain ending by midnight, becoming partly cloudy and cold.
* Lows Valley: 34-37°
*On the mountains: 28-31° (again some frozen precip may occur mountains as the rain ends)
*Winds: W-5 MPH
The remainder of the week Friday looks mostly sunny with highs in the lower 50's valley and lower 40's mountains.
By Saturday and Sunday look for snow to develop. Freezing rain is a possibility in lower elevations and points south. Snow should continue into Sunday morning. At this point a decent snow / ice event is possible. Continue to check back here often for the latest updates.
Breaking news, breaking weather, whatever the case, we'll have it all here.
Have a great Wednesday!
Know your Nelson.COM
-T-