REFRESH Nelson County Life Magazine HERE for the latest updates:
Weathercast by Tommy Stafford, Nelson County Life Magazine
AUDIO VERSION OF FORECAST (some users may need to click play button twice)

Graphics updated Thursday afternoon
Graphics via AccuWeather.com
From Thursday morning's 11:15 AM National Weather Service Forecaster Discussion:
As is common across our County Warning Area…the rain/snow line will set up across
the County Warning Area…but exactly where it sets up and/or how it moves during
the storm is yet to be determined. This will will dictate who gets
how much of what precipitation type. Regardless…quantitative precipitation forecast is forecast to
be Bountiful with this storm. In addition…at least a portion of
our County Warning Area will receive wintry precipitation. Therefore…this storm
has the potential to be a high impact event across the County Warning Area. The most
likely scenario based on climatology…experience and GFS/ECMWF/sref
blends is for snow (or snow/sleet) at the onset…then for areas
west of the Blue Ridge to remain mostly snow for the duration while
other places experience a messy wintry mix that would include
freezing rain. The best chance of a total changeover to rain would
occur across lower southern Maryland and the Middle Bay. As the storm
re-develops of the middle Atlantic coast…mixed precipitation would
likely transition back to snow toward the end of the event Sunday
morning.
Because of a potential major winter storm headed our way, we're foregoing weather pictures We've been talking about a developing winter storm over the weekend for the past day or so with lots of changing weather in between, so let's get right into it shall we! First, how about Wednesday, wow, what a nice day, but a really warm one. Here at NCL-Nelson County Life Magazine in Greenfield we reached an afternoon high of 80° at 12:46 PM. Upon the mountain at NCL-Wintergreen Nature Foundation at Devil's Knob, the afternoon high made it to a mild 62° at 10:43 AM. Other reporting NCL Weathernet stations were in the upper 70's to near 80 as well. We can say good-bye to those temperatures and by this weekend we will be back in the deep freeze into early next week.
In the graphic above you can see we have the shot at some wintry weather this weekend. Early models show much of the energy concentrating to the NE of Virginia, but as the models continue to run we'll have to see. It still looks like Central Virginia has the chance for a significant winter weather event. Unfortunately, the valley may actually see an icing event in addition to snow. Upon the mountains you have a better chance of seeing just plain snow. Though a little change in the warm air layer above could make it ice on the mountains as well. It's way to soon to know right now, you just can't predict this far out, but a 1-3 inch probability of snow is a good bet. BUT, a slight variation in the track of the storm could mean double or even triple that amount, or none. It's why you always hear me laugh about these extended predictions, it just changes way too much to be accurate more than 12-24 hours out. As we get closer to the weekend I will more closely examine the snow / ice potential.
The mountains will have a shot at some wintry weather even as early as tonight. Some areas even saw some frozen precip last night, but nothing major. As colder air works in the area a snow / rain mix may occur on the mountains at places like Wintergreen Thursday night, again this won't be much, but the weekend is a much different picture. Colder air already started filtering in last night, we get very cold by Saturday, Sunday into Monday.
As I said I'll be watching this much more closely now as we get to within 48 hours of the possible storm event, check here often for updates.

The National Current Surface Map via wunderground

Over the next 24 hours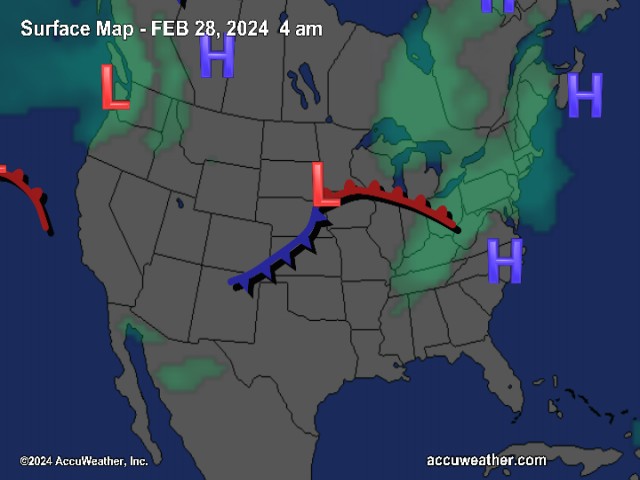 And for those of you keeping score at home check the detailed numbers below at any of our reporting NCL-Weathernet Stations for real up to the minute live weather data and detailed information including highs, lows, wind speeds, rainfall and much, much more.
*NCL-Nelson County Life Magazine : Greenfield / Afton, VA
*NCL-Wintergreen Nature Foundation : Devil's Knob, VA
*NCL-Wintergreen Winery @ the foot of Wintergreen Mountain in Beech Grove, VA
*NCL-Hatcreek Farm on Horseshoe Mountain : Roseland, VA
*NCL-Delfosse Winery & Vineyard : Faber, Va
*NCL-Tiger Fuel : Lovingston, VA
*NCL-Mini Tara Vineyards : Arrington, VA
*Covesville Store : Covesville, VA
Your Nelson County Life custom area forecast including: Lovingtson, Wintergreen & Greenwood
*Today Cloudy with rain showers more likely in the afternoon. Much cooler than yesterday!
* Highs Valley: 44-47°
*On the mountains: 39-41° – Rain possibly mixed with sleet early morning.
Winds: SE 5-10 MPH becoming SW in the afternoon.
Tonight Early evening showers then becoming partly cloudy. Colder
* Lows Valley: 34-37°
*On the mountains: 28-31° – Some snow may mix with rain before ending
Winds: W 5-10 MPH
Friday Sunny & seasonal.
* Highs Valley: 54-57°
*On the mountains: 40-43°
*Winds: W-5 MPH
Friday night Partly cloudy early evening, then becoming mostly cloudy.
* Lows Valley: 30-33°
*On the mountains: 25-28°
*Winds: NE-5 MPH
Saturday Rain, freezing rain, and snow likely in the valley, beginning around noon and increasing afternoon. More snow likely mountains, but ice cannot be ruled out at this time. THIS COULD BE A SIGNIFICANT ICING EVENT – FORECASTS SHOULD BE CLOSELY MONITORED FOR CHANGES High Sat valley upper 30's – On the mountains: Lower 30's
Saturday night look for the wintry mix to continue with valley lows around 30° and mountains low to mid 20's.
By Sunday look for the snow, rain and freezing rain mix to continue tapering off by late afternoon. Highs in the upper 30's valley and highs around 30 mountains.
Next week look for very cold temperatures to move back in with overnight lows in the mid teens on the mountains and around 20 valley.
Again, continue to check back here often for the latest updates on the developing winter storm this weekend.
Breaking news, breaking weather, whatever the case, we'll have it all here.
Have a great Thursday!
Know your Nelson.COM
-T-