REFRESH Nelson County Life Magazine HERE for the latest updates:
Click here to subscribe to RSS feeds for automatic updates to our site.
Weathercast by Tommy Stafford, Nelson County Life Magazine
AUDIO VERSION OF FORECAST (some users may need to click play button twice)

Photography by Tommy Stafford
Nelson County Life Magazine ©2007
Annual Christmas Tree Lighting @ Stoney Creek
Nellysford, Virginia

The first light snow of the season for the valley is history and sunny skies will be moving in today. In the picture above folks gathered last night for the annual Christmas Tree lighting at Stoney Creek in Nellysford. In addition to the tree lighting, there was caroling and Santa Clause dropped by for a visit. Though there wasn't a lot of snow, there was just enough flying around in the air to make it feel like Christmas. You can see more of last night's pictures at the tree lighting by clicking here. Speaking of snow Wintergreen Resort opens for ski season this coming Saturday December 8th. They've been making snow all week and it looks like they are about to make it official!
Don't be looking for snow over the next several days as we'll see much warmer temperatures by the end of the weekend into early next week. Rain enters the forecast by Monday, though we may see a few sprinkles or flurries late Thursday night into Friday morning, but nothing more.
The National Current Surface Map via wunderground

Over the next 24 hours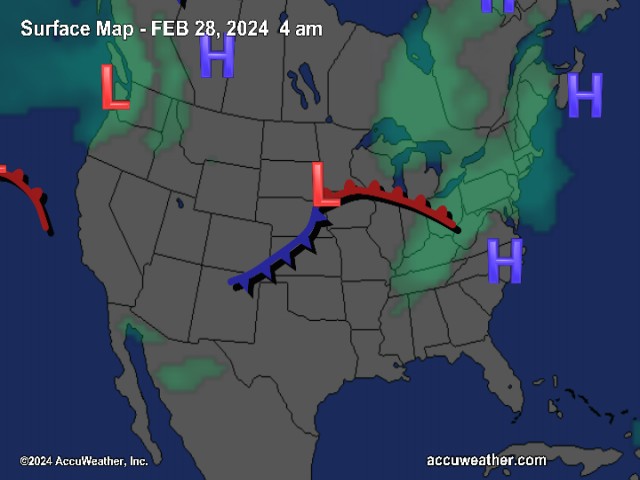 Regional Radar look via Wundergound.com

And for those of you keeping score at home check the detailed numbers below at any of our reporting NCL-Weathernet Stations for real up to the minute live weather data and detailed information including highs, lows, wind speeds, rainfall and much, much more.
*NCL-Nelson County Life Magazine : Greenfield / Afton, VA
*NCL-Wintergreen Nature Foundation : Devil's Knob, VA
*NCL-Wintergreen Winery @ the foot of Wintergreen Mountain in Beech Grove, VA
*NCL-Hatcreek Farm on Horseshoe Mountain : Roseland, VA
*NCL-Delfosse Winery & Vineyard : Faber, Va
*NCL-Tiger Fuel : Lovingston, VA
*NCL-Mini Tara Vineyards : Arrington, VA
*Covesville Store : Covesville, VA
Your Nelson County Life Magazine custom area forecast including: Stoney Creek, Arrington & Montebello
*Today Becoming mostly sunny, but remaining cold.
*Highs Valley: 34-37°
*On the mountains: 30-33°
Winds: N 5-10 MPH
Tonight Partly cloudy early evening then becoming cloudy overnight. Light sprinkles or snow flurries possible by daylight.
* Lows Valley: 20-23°
*On the mountains: 19-22°
Winds: S-5 MPH
Tomorrow Light morning flurries, cloudy in the morning some, sun peeking through by afternoon, slightly warmer.
* Highs Valley: 44-47°
*On the mountains: 40-43°
Winds: SW 5-10
Friday night Mostly cloudy & not as cold.
* Lows Valley: 34-37°
*On the mountains: 33-36°
Winds: SW-5 MPH
The weekend looks mostly cloudy with moderating temperatures. – Highs in the low and upper 50's valley – mid 40's to lower 50's mountains – lows upper 30's to mid 40's valley and low and mid 30's mountains. Rain showers may work into the forecast as early as Sunday evening continuing off and on through Tuesday night.
Temperatures warm to the mid 60's by Monday in the valley.
Breaking news, breaking weather, whatever the case, we'll have it all here.
Have a great Thursday!
Know your Nelson.COM
-T-