REFRESH Nelson County Life Magazine HERE for the latest updates:
Weathercast by Tommy Stafford, Nelson County Life Magazine
AUDIO VERSION OF FORECAST (some users may need to click play button twice)

Photography by Tommy Stafford
Nelson County Life Magazine : © 2007
Christmas time at The Blue Ridge Pig
Nellysford, Virginia

Strawberry has pulled out all of the stops and dressed up the pig on the roof for Christmas! The famous pig has a nice garland accenting his neck for that yuletide feeling! It's always nice to see the landscape changing for Christmas and see how everyone decorates. That's what makes Nelson so special! We had a smoked turkey croissant at Strawberry's earlier this week! Great place and we love the crew there!
Today will be a milder day than Wednesday across Nelson and Central Virginia with most locations below 2000 feet making it into the 60's for afternoon highs. It will be a breezy day with sometimes gusty SW winds, shifting W by late afternoon. Some areas saw very light sprinkles overnight as a system makes it's way toward Virginia. By early evening the cold front should be east of the area allowing cooler temps to work in. By the weekend we could see some rain / snow showers in the area late Saturday night into Sunday morning as another system works toward Central Virginia. Temperatures will be pretty seasonal until we reach early next week when we start the trip back into the freezer.
The National Current Surface Map via wunderground

Over the next 24 hours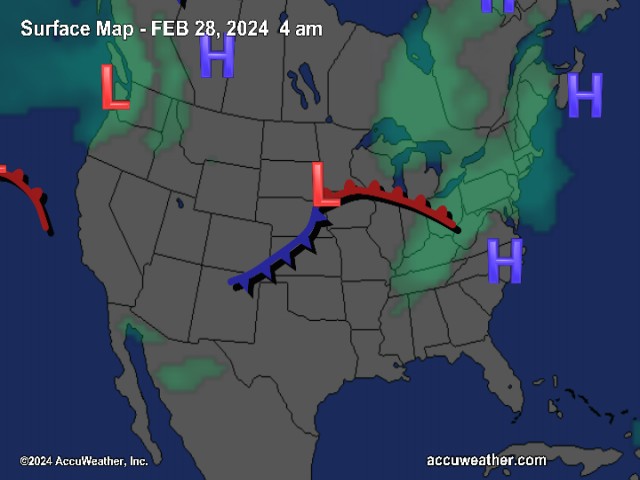 Regional Radar look via Wundergound.com

And for those of you keeping score at home the numbers as of midnight last night.
*NCL-Nelson County Life Magazine : Greenfield / Afton, VA
Wednesday High: 58.1°
0.00″ of rain
*NCL-Wintergreen Nature Foundation : Devil's Knob, VA
Wednesday High: 53.8°
0.00″ of rain
*NCL-Wintergreen Winery @ the foot of Wintergreen Mountain in Beech Grove, VA
Wednesday High: 57.0°
0.00″ of rain
NCL-Hatcreek Farm on Horseshoe Mountain : Roseland, VA
Wednesday High: 55.9°
0.00″ of rain
*NCL-Delfossee Winery & Vineyard : Faber, Va
Wednesday High: 55.4°
0.00″ of rain
*NCL-Tiger Fuel : Lovingston, VA
Wednesday High: 55.2°
0.00″ of rain
*NCL-Mini Tara Vineyard : Arrington, VA
Wednesday High: N/A°
0.00″ of rain
Your Nelson County Life custom local forecast including: Spruce Creek, Tyro & Love
*Today Early morning clouds, then mostly sunny, windy by afternoon.
*Valley : High 63°
*On the mountains above 2000 feet along the AT, BRP, Montebello, Wintergreen, Devil's Knob, and Love. Cloudy early then clearing and breezy.
Highs around 50°
Winds: SW 10-15 becoming W by afternoon with gusts to near 30 MPH
*Tonight Mostly clear & cold.
*Lows valley: near 28°
*On the mountains: around 22°
*Winds: W 5-10 MPH
Tomorrow Sunny & seasonal
* Valley: 52-54°
*On the mountains: 43-45°
Winds: S 2-4 MPH
*Tomorrow Night Clear & cold – Low near 28° valley – around 22° mountains
Winds: W-5 MPH
The weekendgenerally clear until Saturday night when clouds move in and a chance of rain & snow showers overnight. Rain is in the forecast Sunday & Sunday night. High temps range from the upper 40's in the valley to lower 40's in the mountains. Overnight lows – low & upper 30's valley – in the low & upper 20's mountains.
Breaking news, breaking weather, whatever the case, we'll have it here.
Have a great Thursday!
Know your Nelson.COM
-T-