REFRESH Nelson County Life Magazine HERE for the latest updates:
Weathercast by Tommy Stafford, Nelson County Life Magazine
AUDIO VERSION OF FORECAST (some users may need to click play button twice)

Photography by Tommy Stafford
Nelson County Life Magazine : © 2007
December NCL Cover Photographer, Hayley Osborne
Nellysford, Virginia

So you heard us mention briefly that our newest photographer and writer, Hayley Osborne, had a nasty spill from her horse about a week ago.
"Our Valley Photographer, Hayley Osborne (we thought about calling her valley girl, but then, NOT!) had a little mishap with a certain horse. Ask her, horse went left, she went right! Hayley was going to shoot this, but a little tough on crutches!"
Hayley shot and wrote our cover story for the December issue of NCL about A Family Tree, page 11, on Cub Creek Road. It's out on stands now! We caught up with Hayley today for the first time since her little mishap and found she's doing fine, but for sure is on the crutches sporting a nice "fashionable" white leg brace. Hayley is an avid runner, so not being able to run is really getting on her nerves …. think it gonna be awhile Hayley! Anyway, we want to wish her a speedy recover, and if you want to send Hayley get well wishes, you can e-mail her: Hayley-at-NelsonCountyLife.Com The reason we type the "@" symbol spelled out is because this prevents those nasty spam search robots from grabbing this from our website, simply replace the "at" with @.
Tuesday was a perfect late Fall day. A good day to be out on your horse riding, or playing golf, you name it. Though the wind made it feel a little chilly, once the afternoon rolled around, it became pleasant. Honestly this is a pretty quiet weather week coming up. The next major change on the horizon is the chance of snow by late in the weekend on Sunday night. Numerically speaking, we are just now heading into the time we begin seeing the chance for snow. By late November and into December our odds increase. We'll take it. They have already started making some snow up at Wintergreen Resort, and as the average temperatures become colder it will make their job much easier.
Look for cold nights and seasonal days through the weekend, with that chance of snow by Sunday night. We'll keep you posted on that as it develops.
The National Current Surface Map via wunderground

Over the next 24 hours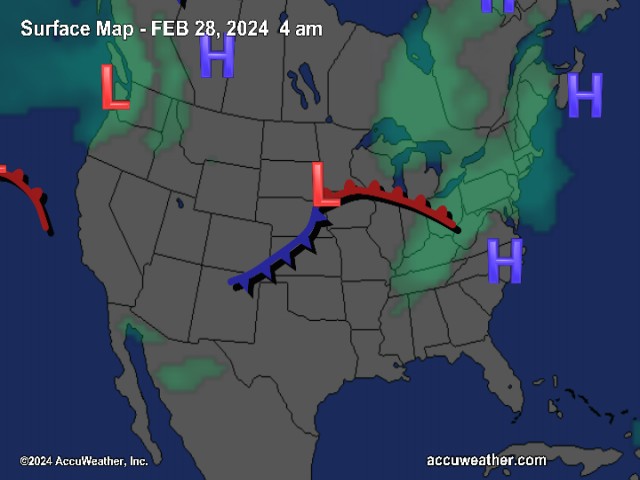 Regional Radar look via Wundergound.com

And for those of you keeping score at home the numbers as of midnight last night.
*NCL-Nelson County Life Magazine : Greenfield / Afton, VA
Tuesday High: 61.3°
0.00″ of rain
*NCL-Wintergreen Nature Foundation : Devil's Knob, VA
Tuesday High: 51.6°
0.02″ of rain
*NCL-Wintergreen Winery @ the foot of Wintergreen Mountain in Beech Grove, VA
Tuesday High: 62.4°
0.02″ of rain
NCL-Hatcreek Farm on Horseshoe Mountain : Roseland, VA
Tuesday High: 57.0°
0.02″ of rain
*NCL-Delfossee Winery & Vineyard : Faber, Va
Tuesday High: 60.1°
0.00″ of rain
*NCL-Tiger Fuel : Lovingston, VA
Tuesday High: 59.7°
0.00″ of rain
*NCL-Mini Tara Vineyard : Arrington, VA
Tuesday High: 50.9°
0.02″ of rain
Your NCL custom area local forecast including: Nellysford, Piney River & Montebello
*Today Sunny & fair.
*Valley : High 56°
*On the mountains above 2000 feet along the AT, BRP, Montebello, Wintergreen, Devil's Knob, and Love. Sunny & cool.
Highs around 45°
Winds: NE 5 MPH becoming SE in the afternoon.
*Tonight Partly cloudy early evening then becoming mostly cloudy.
*Lows valley: near 30°
*On the mountains: around 28°
*Winds: SW 5-10 MPH
Tomorrow Mostly sunny & mild.
* Valley: 57-60°
*On the mountains: 44-47°
Winds: SSW 5-10 MPH
*Tomorrow Night Partly cloudy & cold – Low near 28° valley – around 23° mountains
Winds: W 5-10 MPH
The remainder of the week skies are generally clear until we reach the end of the weekend when showers are possible Sunday, with a chance of snow Sunday night. High temps range from the 50's in the valley to 40's in the mountains. Overnight lows around 30° valley in the low & upper 20's mountains.
Breaking news, breaking weather, whatever the case, we'll have it here.
Have a great Wednesday!
Know your Nelson.COM
-T-