REFRESH Nelson County Life Magazine HERE for the latest updates:
Weathercast by Tommy Stafford, Nelson County Life Magazine
AUDIO VERSION OF FORECAST (some users may need to click play button twice)

Photography by Henri Weems
For Nelson County Life Magazine : © 2007
Witch Hazel Winter Blooms along the Appalachian Trail
Near Jarman's Gap, Virginia

It's a great time of year for hiking up on the AT and along the BRP. Our daily and very faithful reader, Henri Weems of Rodes Farm sent us this morning's weather photo of the winter witch hazel blooms near Jarman's Gap. What a beautiful site!
Here's Henry's background on the photo:
"Saw this Witch Hazel with it's pretty yellow flowers blooming on a cloudy autumn day along the Appalachian Trail.

The building in the background is the Calf Mountain AT shelter near Jarman's Gap.

From Wikipedia:

"The flowers are sometimes produced on the leafless stems in winter, thus one alternative name for the plant, "Winterbloom". Each flower has four slender strap-shaped petals 1-2 cm long, pale to dark yellow, orange, or red.

The name Witch has its origins in Middle English wiche, from the Old English wice, meaning "pliant" or "bendable". Hazel is derived from the use of the twigs as divining rods, just as hazel twigs were used in England."

Interestingly, this shrub is growing not far from a spring!

Henri"
Henri, we appreciate the photo and the little lesson on the background!
Before we are off to weather, be sure to check out updates on the left under recent posts about the soon to open Dogwood Restaurant in Nellysford and an update about the missing 8 year old over the weekend.
Whew, talk about missing the temperature prediction for Monday by a country mile, I did! My original thinking was we'd have a warm front in the area for most of the day which would provide cloud cover keeping the temps near 60. Instead we had ample sunshine for a big part of the day warming things up nicely to around 70°. We'll continue to see mild temperatures until Wednesday when a stronger cold front approaches the area cooling us back to seasonal normals by Thursday afternoon. Today we'll start out with slight chances for scattered showers and some peeks of sun with increasing clouds and showers by afternoon as a front makes it through the area. This front won't cool the temperatures, but the next one will in about 48 hours.
Maps provided by: www.accuweather.com
The national current surface map shows a cold front to the west working through the area with rain showers scattered along the front. It's a pretty slow mover, so look for clouds to hang in most of the day once we get into the afternoon hours.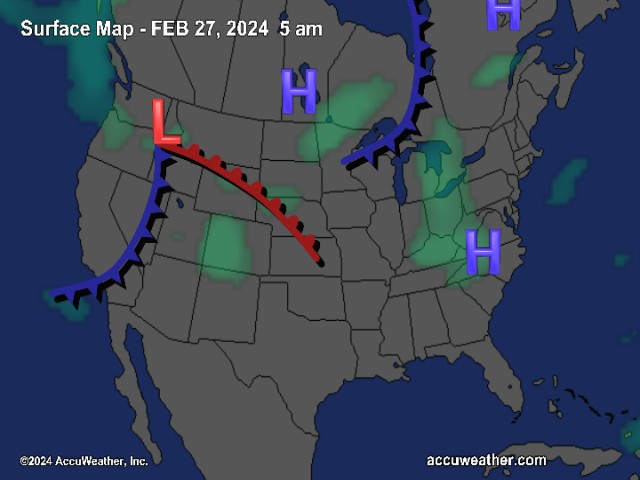 Over the next several hours front #1 moves through and allows for warmer conditions Wednesday. By Thursday we'll begin to see temperatures cool throughout the afternoon. Showers are possible again Wednesday night as well in advance of the front #2.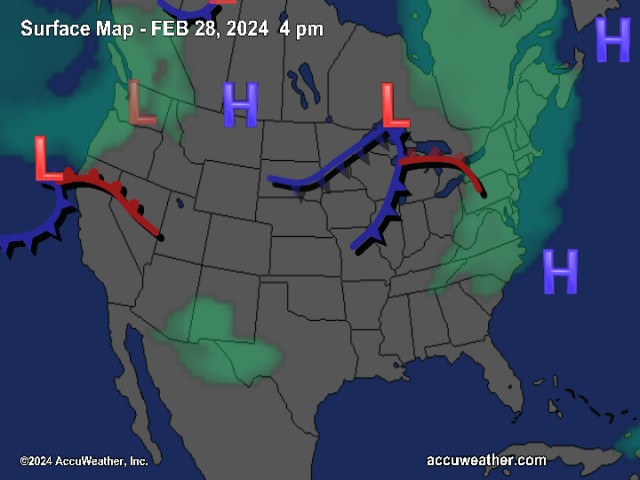 Regional Radar look via Wundergound.com

And for those of you keeping score at home the numbers as of 11:59 PM last night Low temperature readings from the night before are generally posted no later than 12 noon when there's something to really look at.
*NCL-Nelson County Life Magazine : Greenfield / Afton, VA
Monday High: 70.3°
This morning's low: °
0.02″ of rain
*NCL-Wintergreen Nature Foundation : Devil's Knob, VA
Monday High: 60.4°
This morning's low: °
0.00″ of rain
*NCL-Wintergreen Winery @ the foot of Wintergreen Mountain in Beech Grove, VA
Monday High: 71.2°
This morning's low: °
0.00″ of rain
NCL-Hatcreek Farm on Horseshoe Mountain : Roseland, VA
Monday High: 68.7°
This morning's low: °
0.02″ of rain
*NCL-Delfossee Winery & Vineyard : Faber, Va
Monday High: 56.5°
This morning's low: °
0.00″ of rain
*NCL-Tiger Fuel : Lovingston, VA
Monday High: 66.9°
This morning's low: °
0.00″ of rain
*NCL-Mini Tara Vineyard : Arrington, VA
Monday High: 63.7°
This morning's low: °
0.00″ of rain
*Covesville Store : Covesville, VA
Monday High: 65.8°
This morning's low: °
0.00″ of rain
Your local forecast including: Appalachian Trail, Crozet & Faber
*Today Partly sunny early, becoming mostly cloudy with showers increasing throughout the day tapering off early evening, mild.
*Valley : High temps around 67°
*On the mountains above 2000 feet along the BRP, Montebello, Wintergreen, Devil's Knob, and Love. Mostly cloudy, showers, & mild.
Highs around 61°
Winds: SW 5-7 MPH
*Tonight Continued mostly cloudy, showers ending.
*Lows valley near: 48°
*On the mountains: around 43°
*Winds: SW 2-4 MPH
Tomorrow Partly sunny, some periods of mostly cloudy. Much warmer.
* Valley: 71°
*On the mountains – near 64°
Winds: SW 5-10 MPH gusts to 20 MPH
*Tomorrow night: Mostly cloudy with showers developing – Low 45° valley – around 45° mountains as well.
Winds: SW 5-10 MPH
Looking ahead Chances for rain showers continue into Thursday early with partial clearing in the afternoon – Daytime highs mid 50's valley – on the mountains mid 40's – Temperatures will be falling throughout the afternoon so most of the day will be blustery with gusty northerly winds. Overnight lows – low 30's valley to upper 20's mountains.
The rest of the week look for partly to mostly sunny skies with temps back in the mid 50's for daytime highs valley and mid 40's mountains. Overnight lows low & 30's valley and upper 20's mountains. There is a slight chance for snow showers back in the forecast by the weekend.
Whenever or wherever severe weather or news breaks out, we'll have the latest watches, warnings, and coverage affecting Nelson County, Wintergreen, and nearby counties.
Have a great Tuesday!
Know your Nelson.COM
-T-