REFRESH Nelson County Life Magazine HERE for the latest updates:
Weathercast by Tommy Stafford, Nelson County Life Magazine
AUDIO VERSION OF FORECAST (some users may need to click play button twice)

Photography by Al Stacey
For Nelson County Life Magazine : © 2007
Racoons Up a Tree
Along Berry Hill Road
Near Nellysford, Virginia

A special thanks to Al Stacey of Gaia Homes for today's weather picture he sent along. Al told us he was headed home and spotted these three fellows along the road, they scampered up the tree and posed for the shot you see above. What a bunch of hams!
Today will be a fairly quiet and mild day before major changes begin taking place over the next 18 to 24 hours. A weak front stalled over the area last night keeping temperatures mild. It's falling apart as it moves east today. Yesterday we got a smattering of rain, but most areas remained dry. Look for southerly winds to increase this afternoon, becoming gusty at times. Tonight chances for rain and even thundershowers increase in advance of the next cold front. Tomorrow the high temperature for the day will occur early in the day with falling temps throughout the afternoon. It will feel blustery with winds shifting to the north and gusty by Thursday morning. Snow may be in the forecast by late in the weekend for the mountains.
Maps provided by: www.accuweather.com
The national current surface map shows a strong cold front to the west headed for Central Virginia. Today will be partly sunny with increasing clouds as the day wears on, with showers possible by late afternoon, perhaps a thundershower as well.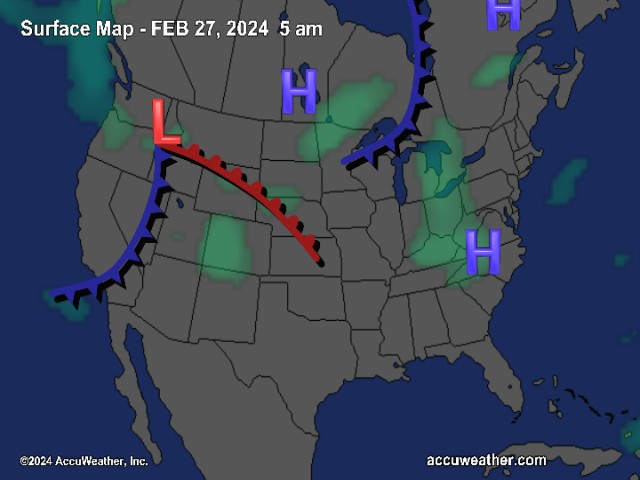 Over the next 24 hours the cold front shifts east of Nelson and brings in much cooler air behind with gusty northerly winds. There is a slight chance for a snow flurry or two west of the BRP after the front gets east of the area Thursday.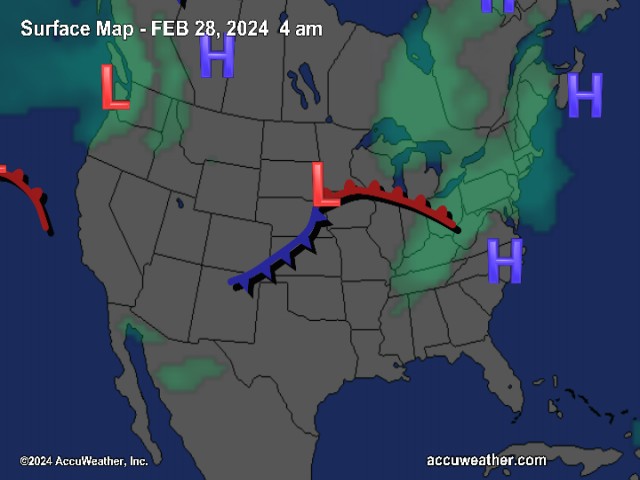 Regional Radar look via Wundergound.com

And for those of you keeping score at home the numbers as of 11:59 PM last night Low temperature readings from the night before are generally posted no later than 12 noon when there's something to really look at.
*NCL-Nelson County Life Magazine : Greenfield / Afton, VA
Tuesday High: 69.4°
This morning's low: °
0.00″ of rain
*NCL-Wintergreen Nature Foundation : Devil's Knob, VA
Tuesday High: 55.4°
This morning's low: °
0.00″ of rain
*NCL-Wintergreen Winery @ the foot of Wintergreen Mountain in Beech Grove, VA
Tuesday High: 68.2°
This morning's low: °
0.00″ of rain
NCL-Hatcreek Farm on Horseshoe Mountain : Roseland, VA
Tuesday High: 66.0°
This morning's low: °
0.00″ of rain
*Covesville Store : Covesville, VA
Tuesday High: 65.3°
This morning's low: °
0.00″ of rain
Your local forecast including: Nellysford, Greenwood & Schuyler
*Today Patchy morning fog then partly sunny early, becoming cloudy with showers possible late. Mild with winds slightly increasing by afternoon.
*Valley : High temps near 70°
*On the mountains above 2000 feet along the BRP, Montebello, Wintergreen, Devil's Knob, and Love. Patchy morning fog, then partly sunny with showers by late afternoon.
Highs around 59°
Winds: SW 5-7 MPH increasing 10-20 by afternoon.
*Tonight Cloudy with showers and thundershowers likely across 70% of the area.
*Lows valley near: 47°
*On the mountains: around 43°
*Winds: SW 5-10 MPH shifting to the WNW by morning
Tomorrow Lingering morning showers, cloudy becoming partly sunny by afternoon. Falling temps in the afternoon and windy.
* Valley: 55° early afternoon then falling.
*On the mountains – near 49° & falling
Winds: NW 8-12 with gusts to 20 MPH in the afternoon
*Tomorrow night: Partly cloudy and colder – Low 34° valley – around 27° mountains.
Winds: W 5-10 MPH with occasional higher gusts
Looking ahead to Friday & Saturday sunny & cool – Daytime highs low & mid 50's valley – on the mountains low & mid 40's – Overnight – upper 20's to low 30's valley – mid & upper 20's mountains.
The rest of the weekend look for partly to mostly cloudy skies Sunday with mid 50's valley – mid 40's mountains. Overnight lows – low & mid 30's valley and around 30° mountains. There is a slight chance for snow Sunday night into Monday in the mountains at places like Wintergreen.
Whenever or wherever severe weather or news breaks out, we'll have the latest watches, warnings, and coverage affecting Nelson County, Wintergreen, and nearby counties.
Have a great Wednesday!
Know your Nelson.COM
-T-