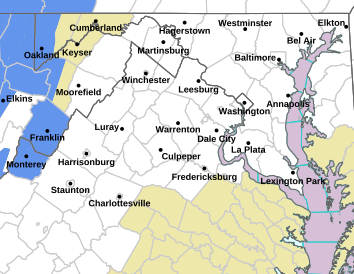 Severe Thunderstorm Watch
Statement as of 7:42 PM EDT on May 27, 2014
The National Weather Service has cancelled Severe Thunderstorm
Watch 190 for the following areas
In Maryland this cancels 8 counties
In central Maryland
Howard Montgomery
In north central Maryland
Carroll Frederick Washington
In northern Maryland
Baltimore Harford
In western Maryland
Allegany
In Virginia this cancels 14 counties
In central Virginia
Albemarle Greene Nelson
In northern Virginia
Loudoun
In northwest Virginia
Clarke Frederick Madison
Page Rappahannock Shenandoah
Warren
In western Virginia
Augusta Highland Rockingham
In West Virginia this cancels 8 counties
In northeast West Virginia
Berkeley Grant Hampshire
Hardy Jefferson Mineral
Morgan Pendleton
In Maryland this cancels 1 independent city
In northern Maryland
Baltimore City
In Virginia this cancels 5 independent cities
In central Virginia
Charlottesville
In northwest Virginia
City of Harrisonburg City of Winchester
In western Virginia
City of Staunton City of Waynesboro
This includes the cities of…Aberdeen…Bayard…Bel Air…
Berryville…Charles Town…Charlottesville…Columbia…
Cumberland…Edgewood…Elk Garden…Fallston…Fort Ashby…
Franklin…Frederick…Front Royal…Gaithersburg…Greenfield…
Hagerstown…Harrisonburg…Havre de Grace…Joppatowne…
Keyser…Leesburg…Luray…Madison…Martinsburg…Monterey…
Moorefield…Mount Storm…Paw Paw…Petersburg…Romney…
Stanardsville…Staunton…Sterling…Strasburg…Towson…
Washington…Waynesboro…Westminster…Winchester and Woodstock.
SEVERE THUNDERSTORM WATCH NUMBER 281
Scroll for city / county outlines

URGENT – IMMEDIATE BROADCAST REQUESTED
SEVERE THUNDERSTORM WATCH NUMBER 281
NWS STORM PREDICTION CENTER NORMAN OK
325 PM EDT WED JUN 11 2014
THE NWS STORM PREDICTION CENTER HAS ISSUED A
* SEVERE THUNDERSTORM WATCH FOR PORTIONS OF
SOUTHEAST MARYLAND
NORTHERN NORTH CAROLINA
VIRGINIA
FAR EASTERN WEST VIRGINIA
COASTAL WATERS
* EFFECTIVE THIS WEDNESDAY AFTERNOON AND EVENING FROM 325 PM
UNTIL 1000 PM EDT.
* PRIMARY THREATS INCLUDE…
SCATTERED DAMAGING WIND GUSTS TO 70 MPH POSSIBLE
ISOLATED VERY LARGE HAIL EVENTS TO 2 INCHES IN DIAMETER POSSIBLE
THE SEVERE THUNDERSTORM WATCH AREA IS APPROXIMATELY ALONG AND 75
STATUTE MILES NORTH AND SOUTH OF A LINE FROM 20 MILES WEST
NORTHWEST OF ROANOKE VIRGINIA TO 55 MILES EAST SOUTHEAST OF
RICHMOND VIRGINIA. FOR A COMPLETE DEPICTION OF THE WATCH SEE THE
ASSOCIATED WATCH OUTLINE UPDATE (WOUS64 KWNS WOU1).
PRECAUTIONARY/PREPAREDNESS ACTIONS…
REMEMBER…A SEVERE THUNDERSTORM WATCH MEANS CONDITIONS ARE
FAVORABLE FOR SEVERE THUNDERSTORMS IN AND CLOSE TO THE WATCH
AREA. PERSONS IN THESE AREAS SHOULD BE ON THE LOOKOUT FOR
THREATENING WEATHER CONDITIONS AND LISTEN FOR LATER STATEMENTS
AND POSSIBLE WARNINGS. SEVERE THUNDERSTORMS CAN AND OCCASIONALLY
DO PRODUCE TORNADOES.
&&
OTHER WATCH INFORMATION…CONTINUE…WW 279…WW 280…
DISCUSSION…SCATTERED MULTICELL/SOME SUPERCELL STORMS WILL CONTINUE
TO INCREASE WITHIN AN ENVIRONMENT CHARACTERIZED BY MODERATE TO
STRONG INSTABILITY AND MODEST VERTICAL SHEAR. DAMAGING WINDS AND
BOUTS OF LARGE HAIL ARE THE PRIMARY CONCERN.
AVIATION…A FEW SEVERE THUNDERSTORMS WITH HAIL SURFACE AND ALOFT
TO 2 INCHES. EXTREME TURBULENCE AND SURFACE WIND GUSTS TO 60
KNOTS. A FEW CUMULONIMBI WITH MAXIMUM TOPS TO 500. MEAN STORM
MOTION VECTOR 23020.
SEVERE THUNDERSTORM WATCH OUTLINE UPDATE FOR WS 281
NWS STORM PREDICTION CENTER NORMAN OK
325 PM EDT WED JUN 11 2014
SEVERE THUNDERSTORM WATCH 281 IS IN EFFECT UNTIL 1000 PM EDT
FOR THE FOLLOWING LOCATIONS
VA
. VIRGINIA COUNTIES INCLUDED ARE
ALBEMARLE ALLEGHANY AMELIA
AMHERST APPOMATTOX AUGUSTA
BATH BEDFORD BLAND
BOTETOURT BRUNSWICK BUCKINGHAM
CAMPBELL CAROLINE CARROLL
CHARLES CITY CHARLOTTE CHESTERFIELD
CRAIG CULPEPER CUMBERLAND
DINWIDDIE ESSEX FLOYD
FLUVANNA FRANKLIN GILES
GLOUCESTER GOOCHLAND GRAYSON
GREENE GREENSVILLE HALIFAX
HANOVER HENRICO HENRY
HIGHLAND ISLE OF WIGHT JAMES CITY
KING AND QUEEN KING GEORGE KING WILLIAM
LANCASTER LOUISA LUNENBURG
MADISON MATHEWS MECKLENBURG
MIDDLESEX MONTGOMERY NELSON
NEW KENT NORTHUMBERLAND NOTTOWAY
ORANGE PAGE PATRICK
PITTSYLVANIA POWHATAN PRINCE EDWARD
PRINCE GEORGE PULASKI RAPPAHANNOCK
RICHMOND ROANOKE ROCKBRIDGE
ROCKINGHAM SOUTHAMPTON SPOTSYLVANIA
STAFFORD SURRY SUSSEX
WESTMORELAND WYTHE YORK
VIRGINIA INDEPENDENT CITIES INCLUDED ARE
BUENA VISTA CHARLOTTESVILLE CHESAPEAKE
COLONIAL HEIGHTS COVINGTON DANVILLE
EMPORIA FRANKLIN FREDERICKSBURG
GALAX HAMPTON HARRISONBURG
HOPEWELL LEXINGTON LYNCHBURG
MARTINSVILLE NEWPORT NEWS NORFOLK
PETERSBURG POQUOSON RADFORD
RICHMOND ROANOKE SALEM
STAUNTON SUFFOLK WAYNESBORO
WILLIAMSBURG
$$