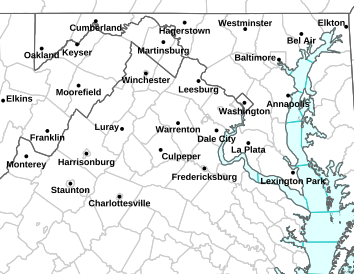 URGENT – WINTER WEATHER MESSAGE
NATIONAL WEATHER SERVICE BALTIMORE MD/WASHINGTON DC
830 PM EDT MON MAR 24 2014
AUGUSTA-ROCKINGHAM-SHENANDOAH-PAGE-NELSON-ALBEMARLE-GREENE-
MADISON-EASTERN HIGHLAND-HARDY-EASTERN GRANT-EASTERN PENDLETON-
INCLUDING THE CITIES OF…STAUNTON…WAYNESBORO…HARRISONBURG…
CHARLOTTESVILLE…MONTEREY…MOOREFIELD…PETERSBURG…FRANKLIN
830 PM EDT MON MAR 24 2014
…WINTER WEATHER ADVISORY IN EFFECT FROM 5 AM TO 3 PM EDT
TUESDAY…
THE NATIONAL WEATHER SERVICE IN BALTIMORE MD/WASHINGTON HAS
ISSUED A WINTER WEATHER ADVISORY FOR SNOW… WHICH IS IN EFFECT
FROM 5 AM TO 3 PM EDT TUESDAY.
* PRECIPITATION TYPE…SNOW.
* ACCUMULATIONS…2 TO 4 INCHES.
* TIMING…SNOW WILL BEGIN EARLY TUESDAY MORNING. THE HEAVIEST
SNOW IS EXPECTED TUESDAY MORNING. SNOW WILL TAPER OFF DURING THE
AFTERNOON.
* TEMPERATURES…LOW TEMPERATURES TONIGHT WILL BE IN THE LOWER TO
MIDDLE 20S. HIGH TEMPERATURES TUESDAY WILL RANGE FROM NEAR 30
ALONG THE RIDGE TOPS ABOVE 2000 FEET TO THE MID AND UPPER 30S IN
THE VALLEYS.
* WINDS…LIGHT AND VARIABLE.
* IMPACTS…ROADS WILL BECOME SNOW COVERED AND SLIPPERY FOR THE
THE MORNING COMMUTE TUESDAY AND DIFFICULT TRAVEL CONDITIONS ARE
EXPECTED DURING THIS TIME. CONDITIONS WILL IMPROVE TUESDAY
AFTERNOON WITH TEMPERATURES RISING ABOVE FREEZING IN THE
VALLEYS. HOWEVER…SNOW COVERED ROADS MAY CONTINUE THROUGH
TUESDAY AFTERNOON ALONG THE RIDGE TOPS ABOVE 2000 FEET.
PRECAUTIONARY/PREPAREDNESS ACTIONS…
A WINTER WEATHER ADVISORY MEANS THAT PERIODS OF SNOW WILL CAUSE
TRAVEL DIFFICULTIES. BE PREPARED FOR SLIPPERY ROADS AND LIMITED
VISIBILITIES…AND USE CAUTION WHILE DRIVING.