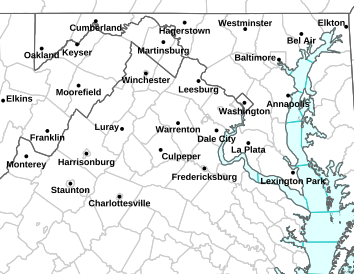 URGENT – WINTER WEATHER MESSAGE
NATIONAL WEATHER SERVICE BALTIMORE MD/WASHINGTON DC
216 PM EDT MON OCT 29 2012
VAZ027-029-036>040-WVZ055-502-300230-
/O.EXB.KLWX.BZ.W.0001.121029T1816Z-121030T1800Z/
SHENANDOAH-PAGE-NELSON-ALBEMARLE-GREENE-MADISON-RAPPAHANNOCK-
HARDY-EASTERN GRANT-
INCLUDING THE CITIES OF…CHARLOTTESVILLE…WASHINGTON…
MOOREFIELD…PETERSBURG
216 PM EDT MON OCT 29 2012
…BLIZZARD WARNING IN EFFECT UNTIL 2 PM EDT TUESDAY…
THE NATIONAL WEATHER SERVICE IN BALTIMORE MD/WASHINGTON HAS
ISSUED A BLIZZARD WARNING…WHICH IS IN EFFECT UNTIL 2 PM EDT
TUESDAY.
* PRECIPITATION TYPE…HEAVY WET SNOW MIXING WITH RAIN AT TIMES.
* ACCUMULATIONS…6 TO 12 INCHES FOR ELEVATIONS ABOVE 2000 FEET.
* TIMING…SNOW WILL BE HEAVIEST THIS AFTERNOON AND EVENING.
PRECIPITATION WILL CONTINUE INTO TUESDAY AFTERNOON.
* TEMPERATURES…LOWER TO MIDDLE 30S.
* WINDS…WEST 30 TO 40 MPH WITH GUSTS UP TO 60 MPH.
* IMPACTS…IT IS LIKELY THAT THE COMBINATION OF STRONG WIND AND
HEAVY WET SNOW WILL DOWN TREE LIMBS AND POWER LINES. EXPECT NEAR
ZERO VISIBILITIES IN PERIODS OF HEAVY SNOW.
PRECAUTIONARY/PREPAREDNESS ACTIONS…
A BLIZZARD WARNING MEANS SEVERE WINTER WEATHER CONDITIONS ARE
EXPECTED OR OCCURRING. FALLING AND BLOWING SNOW WITH STRONG WINDS
AND POOR VISIBILITIES ARE LIKELY. THIS WILL LEAD TO WHITEOUT
CONDITIONS…MAKING TRAVEL EXTREMELY DANGEROUS. DO NOT TRAVEL. IF
YOU MUST TRAVEL…HAVE A WINTER SURVIVAL KIT WITH YOU. IF YOU GET
STRANDED…STAY WITH YOUR VEHICLE.
HIGH WIND WARNING REMAINS IN EFFECT UNTIL 8 PM EDT TUESDAY
URGENT – WEATHER MESSAGE
NATIONAL WEATHER SERVICE BALTIMORE MD/WASHINGTON DC
1203 PM EDT MON OCT 29 2012
.HURRICANE SANDY WILL MOVE TO THE NORTHWEST TODAY…REACHING THE
SOUTHERN NEW JERSEY COAST TONIGHT. THE TRACK OF SANDY IS EXPECTED
TO BRING HIGH WINDS TO THE REGION THROUGH TUESDAY EVENING.
MDZ003-501-502-VAZ025>031-036>040-050-051-056-501>504-WVZ050>053-
055-501>506-300015-
/O.CON.KLWX.HW.W.0002.000000T0000Z-121031T0000Z/
WASHINGTON-EXTREME WESTERN ALLEGANY-CENTRAL AND EASTERN ALLEGANY-
AUGUSTA-ROCKINGHAM-SHENANDOAH-FREDERICK VA-PAGE-WARREN-CLARKE-
NELSON-ALBEMARLE-GREENE-MADISON-RAPPAHANNOCK-ORANGE-CULPEPER-
SPOTSYLVANIA-NORTHERN FAUQUIER-SOUTHERN FAUQUIER-WESTERN HIGHLAND-
EASTERN HIGHLAND-HAMPSHIRE-MORGAN-BERKELEY-JEFFERSON-HARDY-
WESTERN GRANT-EASTERN GRANT-WESTERN MINERAL-EASTERN MINERAL-
WESTERN PENDLETON-EASTERN PENDLETON-
INCLUDING THE CITIES OF…HAGERSTOWN…FROSTBURG…CUMBERLAND…
STAUNTON…WAYNESBORO…HARRISONBURG…WINCHESTER…FRONT ROYAL…
CHARLOTTESVILLE…WASHINGTON…CULPEPER…FREDERICKSBURG…
WARRENTON…HIGHTOWN…MONTEREY…MARTINSBURG…CHARLES TOWN…
MOOREFIELD…BAYARD…MOUNT STORM…PETERSBURG…ELK GARDEN…
KEYSER…FORT ASHBY…CIRCLEVILLE…FRANKLIN
1203 PM EDT MON OCT 29 2012
…HIGH WIND WARNING REMAINS IN EFFECT UNTIL 8 PM EDT TUESDAY…
* TIMING…WINDS WILL INCREASE STEADILY TODAY…WITH MAXIMUM
WIND GUSTS OCCURRING LATE THIS AFTERNOON THROUGH TUESDAY
MORNING.
* WINDS…SUSTAINED NORTHWEST WINDS INCREASING TO 30 TO 50 MPH…
WITH GUSTS IN EXCESS OF 60 MPH PARTICULARLY ALONG THE RIDGES.
* IMPACTS…A PROLONGED 24 HOUR HIGH WIND EVENT WILL TAKE PLACE
ACROSS THE WARNING AREA. COUPLED WITH HEAVY RAINS FROM SANDY…
THE HIGH WINDS WILL LEAD TO SIGNIFICANT TREE DAMAGE.
RESIDENTS… VISITORS…AND BUSINESSES ACROSS THE REGION SHOULD
PLAN FOR WIDESPREAD POWER AND COMMUNICATION OUTAGES.
PRECAUTIONARY/PREPAREDNESS ACTIONS…
BE PREPARED FOR EXTENDED POWER OUTAGES. IF YOU LIVE NEAR LARGE
TREES…REMAIN IN THE LOWER LEVEL OF YOUR HOME OR SEEK SHELTER
ELSEWHERE IF POSSIBLE.
REFRAIN FROM ANY UNNECESSARY TRAVEL AND STAY INDOORS.