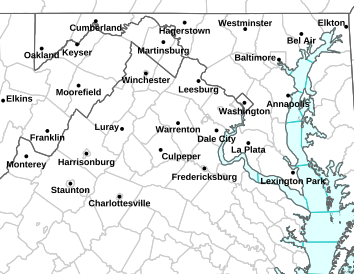 URGENT – WEATHER MESSAGE
NATIONAL WEATHER SERVICE BALTIMORE MD/WASHINGTON DC
356 AM EDT MON OCT 29 2012
.HURRICANE SANDY IS EXPECTED TO TRACK TO A POSITION APPROXIMATELY
300 MILES EAST OF NORFOLK VIRGINIA THIS MORNING…BEFORE TURNING TO
THE NORTHWEST AND REACHING THE COAST OVER SOUTHERN NEW JERSEY
AFTER MIDNIGHT. THE TRACK OF SANDY IS EXPECTED TO BRING HIGH WINDS
TO THE REGION THROUGH TUESDAY EVENING.
MDZ003-501-502-VAZ025>031-036>040-050-051-056-501>504-WVZ050>053-
055-501>506-291600-
/O.CON.KLWX.HW.W.0002.121029T1200Z-121031T0000Z/
WASHINGTON-EXTREME WESTERN ALLEGANY-CENTRAL AND EASTERN ALLEGANY-
AUGUSTA-ROCKINGHAM-SHENANDOAH-FREDERICK VA-PAGE-WARREN-CLARKE-
NELSON-ALBEMARLE-GREENE-MADISON-RAPPAHANNOCK-ORANGE-CULPEPER-
SPOTSYLVANIA-NORTHERN FAUQUIER-SOUTHERN FAUQUIER-WESTERN HIGHLAND-
EASTERN HIGHLAND-HAMPSHIRE-MORGAN-BERKELEY-JEFFERSON-HARDY-
WESTERN GRANT-EASTERN GRANT-WESTERN MINERAL-EASTERN MINERAL-
WESTERN PENDLETON-EASTERN PENDLETON-
INCLUDING THE CITIES OF…HAGERSTOWN…FROSTBURG…CUMBERLAND…
STAUNTON…WAYNESBORO…HARRISONBURG…WINCHESTER…FRONT ROYAL…
CHARLOTTESVILLE…WASHINGTON…CULPEPER…FREDERICKSBURG…
WARRENTON…HIGHTOWN…MONTEREY…MARTINSBURG…CHARLES TOWN…
MOOREFIELD…BAYARD…MOUNT STORM…PETERSBURG…ELK GARDEN…
KEYSER…FORT ASHBY…CIRCLEVILLE…FRANKLIN
356 AM EDT MON OCT 29 2012
…HIGH WIND WARNING REMAINS IN EFFECT FROM 8 AM THIS MORNING TO
8 PM EDT TUESDAY…
* TIMING…WIND GUSTS OVER 45 MPH ARE EXPECTED TO OVERSPREAD THE AREA
BY LATE MORNING. WIND GUSTS UP TO 60 MPH ARE EXPECTED THIS
EVENING INTO TUESDAY EVENING…PARTICULARLY ALONG THE RIDGES.
* IMPACTS…A PROLONGED 24 HOUR HIGH WIND EVENT WILL TAKE PLACE
ACROSS THE WARNING AREA. COUPLED WITH HEAVY RAINS FROM SANDY…THE
HIGH WINDS WILL LEAD TO SIGNIFICANT TREE DAMAGE. RESIDENTS…
VISITORS…AND BUSINESSES ACROSS THE REGION SHOULD PLAN FOR
WIDESPREAD POWER AND COMMUNICATION OUTAGES.
PRECAUTIONARY/PREPAREDNESS ACTIONS…
BE PREPARED FOR EXTENDED POWER OUTAGES. IF YOU LIVE NEAR LARGE
TREES…REMAIN IN THE LOWER LEVEL OF YOUR HOME OR SEEK SHELTER
ELSEWHERE IF POSSIBLE.
REFRAIN FROM ANY UNNECESSARY TRAVEL AND STAY INDOORS.