REFRESH Nelson County Life Magazine HERE for the latest updates:
Weathercast by Tommy Stafford, Nelson County Life Magazine
PRESS THE PLAY ARROW BELOW FOR AUDIO VERSION OF FORECAST (some users may need to click play button twice)

Photography by Merideth Young
Nelson County Life Magazine ©2007
Skiing @ Wintergreen
Wintergreen Mountain, Virginia

Friday was last of day of Fall. Winter officially arrived Saturday morning at 1:08 AM. That's the shortest day of the year, from here on folks, summer lovers like me, can relish in the fact that the days will begin getting longer, just a tad from here on. Sorry mom. She loves Winter and always jokes around with me when the days begin getting shorter in the summer knowing that Winter is on the way (Okay, since I initially prepared the forecast, our faithful reader, John Taylor, upon the mountain sent us a comment letting me know that technically it's not the shortest day, but the day with the least daylight, you are correct John!). Speaking of the mountain at Wintergreen Resort it certainly looks like winter there. The slopes closest to the Mountain Inn are open and folks have been out skiing this week. John also mentioned in his post Friday evening that Eagle's Swoop had also opened, that is great news! You can click on the highlighted sentence just before this to get the latest slope reports from the resort.
Speaking of Wintergreen, want to say thanks to Meridith Young at Black Rock Gallery in the Mountain Inn. She grabbed some shots of the light snowfall this past Friday morning.
We will be mostly cloudy all weekend long with increasing chances for measurable rain as we get toward the end of the weekend. Rain chances increase on Saturday night into Sunday. Saturday starts pretty foggy early with drizzle in throughout the day. Sunday brings more widespread rain, isolated severe thunderstorms, (see graphic below and text) and windy conditions.
Our prospects for a white Christmas aren't very good, right now about 10%. The night after Christmas gets a little more interesting. A possible new storm is in the mix, we'll just have to see what the temperatures do by then.
And finally we'll be doing our our first annual special Christmas forecast Sunday and Monday evening, think Yvette's even gonna help out so be to check back for that!

The National Current Surface Map via wunderground

Over the next 24 hours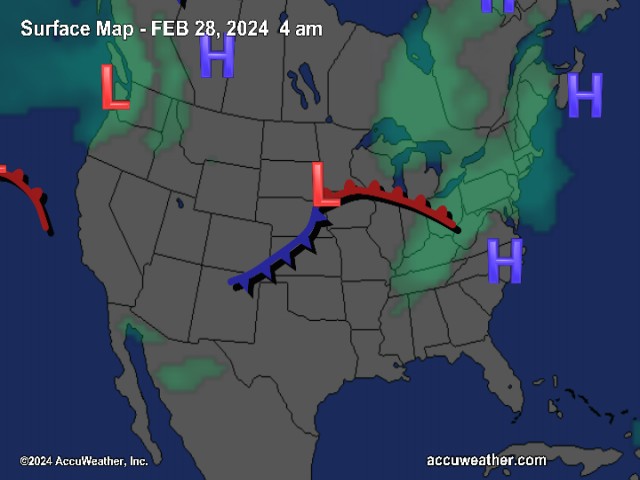 And for those of you keeping score at home check the detailed numbers below at any of our reporting NCL-Weathernet Stations for real up to the minute live weather data and detailed information including highs, lows, wind speeds, rainfall and much, much more.
*NCL-Nelson County Life Magazine : Greenfield / Afton, VA
*NCL-Wintergreen Nature Foundation : Devil's Knob, VA
*NCL-Wintergreen Winery @ the foot of Wintergreen Mountain in Beech Grove, VA
*NCL-Hatcreek Farm on Horseshoe Mountain : Roseland, VA
*NCL-Delfosse Winery & Vineyard : Faber, Va
*NCL-Tiger Fuel : Lovingston, VA
*NCL-Mini Tara Vineyards : Arrington, VA
*Covesville Store : Covesville, VA
Your Nelson County Life custom area forecast including: Wintergreen, Avon, Lovingston, & Piney River
Sunday Rainy, breezy, & warmer. Isolated severe thunderstorms possible. (See graphic and text below)
* Highs Valley: 57-60°
*On the mountains: 50-53°
*Winds: S 15-25 MPH with gusts to 40 MPH in the afternoon
Possible severe weather area on Sunday

…MID ATLANTIC REGION…
THERE IS SOME CONCERN WITH RESPECT TO THE DEGREE OF MOISTURE RETURN
OFF OF THE ATLANTIC AS SLY WINDS STRENGTHEN ON SUNDAY AHEAD OF THE
DEEPENING UPPER LOW ACROSS THE GREAT LAKES REGION. HOWEVER…
SURFACE DEWPOINTS IN THE LOWER 60S RESIDE AT THIS TIME ABOUT 100-130
MILES OFF THE SRN ATLANTIC COAST. THIS MOISTURE SHOULD ADVECT NWD
TO AT LEAST NRN NC BY SUNDAY AFTERNOON WITH UPPER 50S DEWPOINTS INTO
VA/DELMARVA REGION. COOLING ALOFT ATTENDANT TO HEIGHT FALLS WITH
APPROACHING UPPER SYSTEM/ASCENT WITHIN ENTRANCE REGION OF UPPER
LEVEL JET COMBINED WITH LOW LEVEL WARM AIR/MOISTURE ADVECTION WILL
SUPPORT MARGINAL INSTABILITY…BELOW 500 J/KG.
DYNAMIC LIFT ASSOCIATED WITH THE ARKLATEX/TN VALLEY SHORT WAVE
TROUGH…COUPLED WITH LOW LEVEL WAA…SHOULD SUPPORT DEVELOPMENT OF
A LOW-TOPPED SQUALL LINE WITH RAPIDLY MOVING/BOWING LINE SEGMENTS.
MAGNITUDE OF FORCING/LIFT ALONG THE ADVANCING FRONT WITH WEAK
INSTABILITY SHOULD SUPPORT SPORADIC LIGHTNING. GREATEST POTENTIAL
FOR BOUNDARY LAYER MODIFICATION/COUPLING WILL EXIST EAST OF THE
APPALACHIANS WHERE DEVELOPMENT OF A NARROW COLD FRONTAL RAIN BAND
APPEARS LIKELY DURING THE AFTERNOON. KINEMATICS AS CURRENTLY
FORECAST APPEAR MORE THAN SUFFICIENT FOR CONVECTIVE DAMAGING WINDS
TO SPREAD EAST THROUGH EARLY EVENING GIVEN FORECAST STORM MOTION OF
50-60KT…AND MEAN WIND IN EXCESS OF 70KT. A BRIEF/ISOLATED TORNADO
CANNOT BE COMPLETELY RULED OUT GIVEN INTENSE EFFECTIVE SRH IN EXCESS
OF 400-500 M2/S2 OVER SOME PARTS OF ERN VA TO THE DELMARVA/SERN PA
AREA THROUGH EARLY EVENING.
The remainder of the extended period Christmas Eve, mostly sunny with highs in the low 50's valley and low 40's mountains. The mountains may see some frozen precipitation very early Monday morning before the system exits.
Christmas Day Partly sunny. Highs, lower 40's valley and upper 30's mountains. Overnight low during the period in the 20's.
Snow is possible again by Wednesday night.
Breaking news, breaking weather, whatever the case, we'll have it all here.
Have a great Weekend!
Know your Nelson.COM
-T-
Outro music bed: Christmas is Coming, A Charlie Brown Christmas, Vince Guaraldi Trio – Fantasy Records – Berkley, California – 1988 – 1950, 1952