REFRESH Nelson County Life Magazine HERE for the latest updates:
Weathercast by Tommy Stafford, Nelson County Life Magazine
AUDIO VERSION OF FORECAST (some users may need to click play button twice)

Photography by Tommy Stafford
Nelson County Life Magazine ©2007
Taking The Slopes At Wintergreen
Wintergreen Mountain, Virginia

Before we head off into the weather, just gotta say it was a beautiful, though windy, day upon the mountain at Wintergreen, Sunday. In the picture above, Molly Brown, with Wintergreen's Adaptive Ski Program, takes a run down one of the slopes. (You'll be reading much more about Molly in the coming days!) They had a great day on Sunday as they dedicated the new addition to their headquarters. You can read more about that by clicking here. Also check out several other new weekend additions to recent posts on your left.
What a rock and roll weekend! Though we didn't get much in the way of wintry precip in the valley, the mountains did get a fair amount of icing Saturday night into Sunday morning. As we talked about might happen last week, this past weekend's event was more or less an icing event. In the valley we got about two hours of icing. There was a critical period where the temperature fell to the freezing mark briefly and allowed for a light glaze on exposed surfaces. On the mountain at Wintergreen, our NCL Weather Watcher, John Taylor reported slick parking lots, sidewalks, etc, but WPOA kept the roads clear. We were up there Sunday and still noticed lots of ice in the trees along the BRP.
By far the weather headline this weekend was the very high winds on Sunday afternoon. Gust of 50+ MPH at times caused power outages in many areas. Here at NCL Magazine we lost power around 1:30PM for a couple of hours. Crews had to cut up several trees that fell on area roads as well. By late Sunday night the High Wind Advisory had been canceled for Nelson, but remained for areas along and west of the BRP until daylight.
Today will still be breezy with gusts up to 30 MPH on occasion, but the trend will be toward decreasing winds as the day wears on. Tonight promises to be a very cold one as the winds decrease and skies remain clear. By the end of the week we could be looking at the chance for snow again around Thursday. A similar scenario just like the one we had over the weekend is setting up, but this has more of a snow feel to it, at least this far out. Definitely something I'll be watching and updating as we get closer.

The National Current Surface Map via wunderground

Over the next 24 hours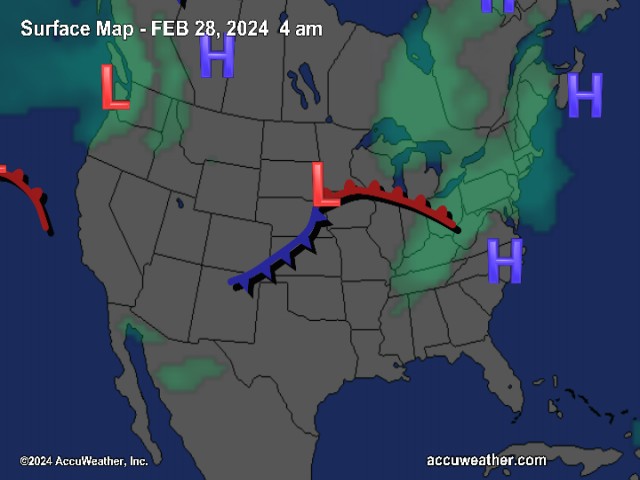 And for those of you keeping score at home check the detailed numbers below at any of our reporting NCL-Weathernet Stations for real up to the minute live weather data and detailed information including highs, lows, wind speeds, rainfall and much, much more.
*NCL-Nelson County Life Magazine : Greenfield / Afton, VA
*NCL-Wintergreen Nature Foundation : Devil's Knob, VA
*NCL-Wintergreen Winery @ the foot of Wintergreen Mountain in Beech Grove, VA
*NCL-Hatcreek Farm on Horseshoe Mountain : Roseland, VA
*NCL-Delfosse Winery & Vineyard : Faber, Va
*NCL-Tiger Fuel : Lovingston, VA
*NCL-Mini Tara Vineyards : Arrington, VA
*Covesville Store : Covesville, VA
Your Nelson County Life custom area forecast including: Wintergreen, Batesville & Schuyler
*Today Sunny & Breezy. Cold.
*Highs Valley: 42-45°
*On the mountains: 26-29°
Winds: W 10-20 MPH with gusts to 30 MPH – slightly higher mountains – diminishing by late afternoon
Tonight Clear & very cold.
* Lows Valley: 20-23°
*On the mountains: 14-17°
*Winds: W 5-10 MPH
Tomorrow Mostly sunny, slightly warmer.
* Highs Valley: 47-50°
*On the mountains: 41-44°
*Winds: S-5 MPH
Tomorrow night Becoming mostly cloudy overnight.
* Lows Valley: 27-30°
*On the mountains: 24-27°
*Winds: SW-5 MPH
The remainder of the week, Wednesday looks much the same. By Thursday chances for snow and rain enters the forecast with continuing through Thursday night. Friday looks rainy and Saturday night once again has a chance for snow. Temperatures are generally 40's for daytime highs and low and mid 30's for overnight lows, with the mountains slightly colder.
Breaking news, breaking weather, whatever the case, we'll have it all here.
Have a great Monday!
Know your Nelson.COM
-T-
Outro music bed: Christmas is Coming, A Charlie Brown Christmas, Vince Guaraldi Trio – Fantasy Records – Berkley, California – 1988 – 1950, 1952