REFRESH Nelson County Life Magazine HERE for the latest updates:
Click here to get latest RSS Feeds from Nelson County Life
Weathercast by Tommy Stafford, Nelson County Life Magazine
AUDIO VERSION OF FORECAST (some users may need to click play button twice)


Estimated snowfall for Wednesday via Accuweather.com

Darker purple = 1-2 inches
Lighter purple = 3+ inches
We're going to skip the weather photo for Wednesday and get right into the forecast. As we first posted Tuesday afternoon. A SNOW ADVISORY has been issued for all of the area beginning at 8 AM Wednesday morning. Forecasters are analyzing the models at this time, but it appears Nelson will get some snow, obviously better chances in the mountains at Wintergreen and along the Blue Ridge Parkway. There is some question as to the eastern part of Nelson east of 29 where we may see a rain snow mix on Wednesday.
A clipper system can be tough to predict, and that 2-3 inches could be nothing at all. However, it appears right now many of the elements are in play to have at least a nice light to moderate snow in the area by Wednesday evening.
Our Mountain Photographer, Christina Kline, told us they have been making the fool out of snow on the mountain and the approaching system will just add to that!
By Friday, look for a slight shot at sprinkles. By next week temps will warm to near 60 degrees.
The National Current Surface Map via wunderground

Over the next 24 hours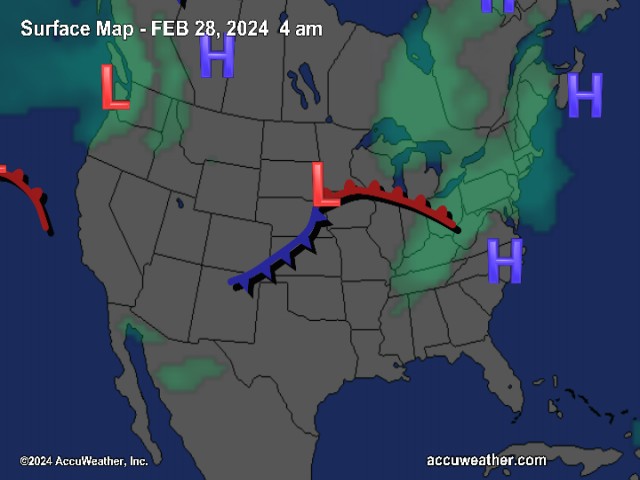 Regional Radar look via Wundergound.com

And for those of you keeping score at home check the detailed numbers below at any of our reporting NCL-Weathernet Stations for real up to the minute live weather data and detailed information including highs, lows, wind speeds, rainfall and much, much more.
*NCL-Nelson County Life Magazine : Greenfield / Afton, VA
*NCL-Wintergreen Nature Foundation : Devil's Knob, VA
*NCL-Wintergreen Winery @ the foot of Wintergreen Mountain in Beech Grove, VA
*NCL-Hatcreek Farm on Horseshoe Mountain : Roseland, VA
*NCL-Delfosse Winery & Vineyard : Faber, Va
*NCL-Tiger Fuel : Lovingston, VA
*NCL-Mini Tara Vineyards : Arrington, VA
*Covesville Store : Covesville, VA
Your Nelson County Life custom area forecast including: Wintergreen Resort, Rockfish Gap & Lovingston
*Wednesday Snow advisory till 8PM – 80% Snow developing around daylight with 1-3 inches possible, more likely in mountains.
*Highs Valley: 34-37°
*On the mountains: 31-34°
Winds: S 5-10 MPH
Wednesday night Cloudy with snow showers early evening – clearing after midnight, cold.
* Lows Valley: 21-24°
*On the mountains: 19-22°
Winds: NW-5 MPH
Thursday Sunny & cold.
* Highs Valley: 37-40°
*On the mountains: 31-34°
Winds: W-5 MPH becoming S afternoon
Thursday night Mostly cloudy & cold.
* Lows Valley: 23-26°
*On the mountains: 22-25°
Winds: L & V becoming W after midnight
The remainder of the week Friday looks mostly cloudy and continued cold with sprinkles possible – Highs generally in the 40's both mountains and valley – lows generally 30's. The weekend looks milder with highs in the 50's valley and upper 40's mountains. 60's by Monday.
Breaking news, breaking weather, whatever the case, we'll have it all here. Be sure to check back for updates regarding the snow.
Have a safe & great Wednesday!
Thought the Christmas bells were appropriate since we might have a little snow to talk about by the time Wednesday winds up.
Know your Nelson.COM
-T-