REFRESH Nelson County Life Magazine HERE for the latest updates:
Weathercast by Tommy Stafford, Nelson County Life Magazine
AUDIO VERSION OF FORECAST (some users may need to click play button twice)

Photography by Tommy Stafford
Nelson County Life Magazine : © 2007
Coby Etchison at Valley Green Center
Nellysford, Virginia

Lots to talk about in the weather department this morning, but before we head off into that just want to give a plug to 12 year old Coby Etchison. He's a 7th grader at Nelson County Middle School who's been gathering up food for the past couple of weekends at the Valley Green Center in Nellysford. Coby's trying to fill up 10 laundry baskets with food items between now and December 16th. He's working with area churches to get the baskets to needy families in time for Christmas. Coby will be near the entrance of Joe Lee's Grocery for the next two weekends until Sunday Dec 16th, so drop by and help him out. What a great cause he's started! Kudos to Coby for what's he doing this Christmas.
Did you hear the wind get up before daylight? Get accustomed to it, it's going to be around through tonight when it will finally begins to settle down a little. There is a wind advisory in effect until 1 AM Tuesday morning. The worst winds will be upon the BRP and at places like Montebello and Wintergreen, but even in the valley it will be windy with some gusts to near 40-50 MPH at times. Early Sunday evening I noticed this paragraph in the Sterling / DC weather discussion put out by forecasters there. It was a special entry to television weathermen about the possibility of extremely high winds Monday morning:
**this is a supplemental afd (area forecast discussion) for TV mets***

Prvs shift fcstrs did an xlcnt job in setting up this potential wind
event. One thing that caught my eye is on BUFKIT – when the temperature
profile jumps quickly in a negative direction this is a sign that
damaging winds can occur. This is exactly what is seen on both the NAM
and GFS BUFKIT soundings – right around 7 am Monday morning. This in turn sounds
alarms for ME – I worked the middle shift on 11/13/03. A wind warning was
in effect for the western and northern zones…an advisory was in effect for the
rmdr of the County Warning Area. The wind was screaming when I left at 7 am. Grnd
truth that day included 150,000 homes in Nova west/o power…a tractor
trailer overturned on I-81…two people injured including a student
in Sterling Virginia waiting for the bus who was struck by a falling tree.

TV mets – not sure what newcasts there are this evening given
football…but I am asking you to ask parents to watch out for their
children at the bus stop Monday morning. Thx.
All of the fancy terms used in there refer to computer models they use to help predict weather. In this case the forecaster is saying that his models agree and very, very high winds could occur.
Rain wise we had some respectable amounts across the area, but not an abundance. Most of the gauges had a half inch or less in them by midnight last night. Monday is a day of transition as the cold front that brought the rain – and what will be colder temps, moves east. By mid-week we have a shot at some light snow just about everywhere, with some better chances up above on the mountains. It will be very cold later this week with low temps in the teens in the mountains by Wednesday night.
The National Current Surface Map via wunderground

Over the next 24 hours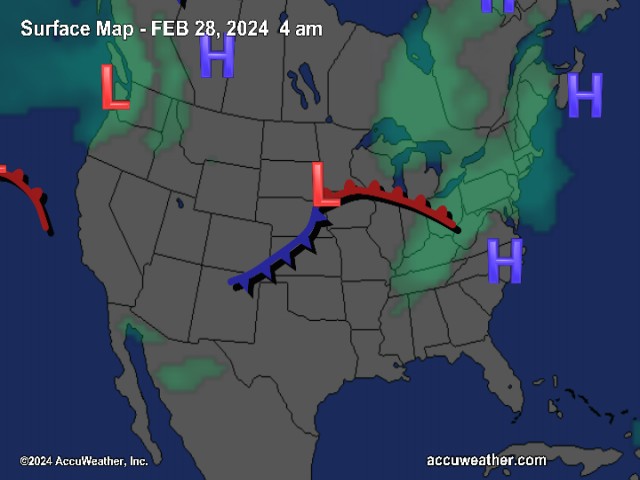 Regional Radar look via Wundergound.com

And for those of you keeping score at home check the detailed numbers below at any of our reporting NCL-Weathernet Stations for real up to the minute live weather data and detailed information including highs, lows, wind speeds, rainfall and much, much more.
*NCL-Nelson County Life Magazine : Greenfield / Afton, VA
*NCL-Wintergreen Nature Foundation : Devil's Knob, VA
*NCL-Wintergreen Winery @ the foot of Wintergreen Mountain in Beech Grove, VA
*NCL-Hatcreek Farm on Horseshoe Mountain : Roseland, VA
*NCL-Delfosse Winery & Vineyard : Faber, Va
*NCL-Tiger Fuel : Lovingston, VA
*NCL-Mini Tara Vineyards : Arrington, VA
*Covesville Store : Covesville, VA
Your Nelson County Life custom area forecast including: Nellysford, Piney River & Schuyler
*Today High Wind Advisory in effect until 1AM Tuesday morning. Lingering morning showers then sunny by afternoon, slowly falling temps late in the day.
*Highs Valley: 47-50° falling in the late afternoon
*On the mountains: 43-45°
Winds: W 15-25 MPH with gusts to 50 MPH from time to time (higher on mountains)
Tonight High Wind Advisory until 1AM, clear and cold.
* Lows Valley: 26-29°
*On the mountains: 21-24°
Winds: W 10-20 MPH with gusts up to 40 mph – decreasing to 5-10 MPH with gusts up to 20 MPH after midnight.
Tomorrow Mostly sunny & seasonal.
* Highs Valley: 49-52°
*On the mountains: 33-35°
Winds: W 10-15 MPH
Tomorrow night Partly cloudy early, then becoming mostly cloudy. Cold.
* Lows Valley: 25-28°
*On the mountains: 15-18°
Winds: W-5 MPH then L & V after midnight.
Looking ahead to Wednesday Snow in the mountains at Wintergreen and along the BRP. Light snow in the valley. Cloudy and cold. Highs in the valley 35-38° – on the mountains 26-29°
The remainder of the week looks cold with light snow chances continuing on the mountains Thursday – with partly sunny skies valley. Overnight lows in the 20's valley and upper teens to around 20's mountains.
Breaking news, breaking weather, whatever the case, we'll have it here.
Have a great Monday & hang on to your hat!
Know your Nelson.COM
-T-