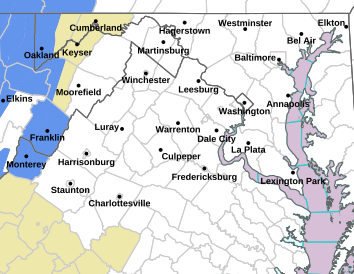 WIND ADVISORY
URGENT - WEATHER MESSAGE
National Weather Service Baltimore MD/Washington DC
110 PM EDT Sat Oct 20 2018

Washington-Frederick MD-Extreme Western Allegany-
Central and Eastern Allegany-Augusta-Rockingham-Shenandoah-
Frederick VA-Page-Warren-Clarke-Rappahannock-Northern Fauquier-
Western Highland-Eastern Highland-Western Loudoun-
Northern Virginia Blue Ridge-Central Virginia Blue Ridge-
Hampshire-Morgan-Berkeley-Jefferson-Hardy-Western Grant-
Eastern Grant-Western Mineral-Eastern Mineral-Western Pendleton-
Eastern Pendleton-
Including the cities of Hagerstown, Frederick, Ballenger Creek,
Frostburg, Cumberland, Staunton, Waynesboro, Stuarts Draft,
Harrisonburg, Strasburg, Woodstock, Mount Jackson, New Market,
Winchester, Luray, Shenandoah, Stanley, Front Royal, Berryville,
Washington, Warrenton, Hightown, Monterey, Purcellville,
Big Meadows, Wintergreen, Romney, Paw Paw, Martinsburg,
Charles Town, Shepherdstown, Moorefield, Bayard, Mount Storm,
Petersburg, Elk Garden, Antioch, Keyser, New Creek, Ridgeville,
Russelldale, Headsville, Fort Ashby, Riverton, Brandywine,
Franklin, Oak Flat, Ruddle, and Sugar Grove
110 PM EDT Sat Oct 20 2018

...WIND ADVISORY IN EFFECT FROM 10 PM THIS EVENING TO 8 AM EDT
SUNDAY...

The National Weather Service in Baltimore MD/Washington has
issued a Wind Advisory, which is in effect from 10 PM this
evening to 8 AM EDT Sunday.

* TIMING...Beginning late this evening across the Appalachians and
  shortly after midnight across the Blue Ridge. The strongest wind
  gusts will be diminishing near sunrise.

* WINDS...Northwest 15 to 25 mph with gusts up to 50 mph.

* IMPACTS...Gusty winds will blow around unsecured objects. Tree
  limbs could be blown down and a few power outages may result.

PRECAUTIONARY/PREPAREDNESS ACTIONS...

A Wind Advisory means that winds of 45 to 55 mph are expected.
Winds this strong can make driving difficult, especially for high
profile vehicles.


URGENT - WEATHER MESSAGE
National Weather Service Blacksburg VA
1140 AM EDT Sat Oct 20 2018

...Freezing Conditions Expected Late Tonight and Early Sunday
Morning...
...Strong Northwest Winds Across the Mountains Overnight...

.Strong northwest winds will bring colder air into the region
tonight into Sunday. Many locations with in the Northern
Mountains of North Carolina and the Mountain Empire region of
southwest Virginia will experience low temperatures ranging from
28 to 32 degrees. In addition, wind gusts to 50 or 60 mph will
occur along and behind the passing front this evening into early
Sunday.

Giles-Pulaski-Montgomery-Carroll-Floyd-Craig-Alleghany VA-Bath-
Roanoke-Botetourt-Rockbridge-
Including the cities of Pearisburg, Radford, Pulaski, Blacksburg,
Galax, Floyd, New Castle, Clifton Forge, Covington, Hot Springs,
Roanoke, Salem, Fincastle, Lexington, and Buena Vista
1140 AM EDT Sat Oct 20 2018

...WIND ADVISORY REMAINS IN EFFECT FROM 6 PM THIS EVENING TO NOON
EDT SUNDAY...

* Winds...Northwest winds gusting to 50 mph.

* Timing...This evening into the overnight.

* Impacts...Winds may bring down trees and powerlines.

* Locations...Along the Blue Ridge.

* Hazards...Strong wind gusts.

PRECAUTIONARY/PREPAREDNESS ACTIONS...

A Wind Advisory is issued when sustained winds are forecast to be
31 to 39 MPH or gusts will range between 46 and 57 MPH. Winds of
these magnitudes may cause minor property damage without extra
precautions. Motorists in high profile vehicles should use extra
caution until the winds subside.