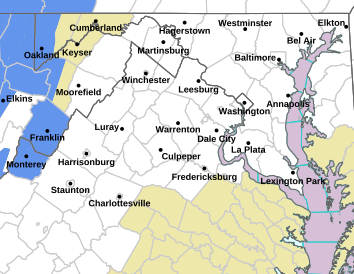 Tornado Watch – scroll for county outlines
URGENT – IMMEDIATE BROADCAST REQUESTED
Tornado Watch Number 509
NWS Storm Prediction Center Norman OK
540 PM EDT Mon Oct 23 2017
The NWS Storm Prediction Center has issued a
* Tornado Watch for portions of
Central North Carolina
Southern Virginia
* Effective this Monday afternoon and Tuesday morning from 540 PM
until 200 AM EDT.
* Primary threats include…
A couple tornadoes possible
Scattered damaging wind gusts to 70 mph possible
SUMMARY…Bands of storms including some embedded supercells will
continue to steadily progress east/northeastward this evening with
damaging winds and a few tornadoes possible.
The tornado watch area is approximately along and 85 statute miles
north and south of a line from 25 miles west southwest of Roanoke VA
to 20 miles north northeast of Rocky Mount NC. For a complete
depiction of the watch see the associated watch outline update
(WOUS64 KWNS WOU9).
PRECAUTIONARY/PREPAREDNESS ACTIONS…
REMEMBER…A Tornado Watch means conditions are favorable for
tornadoes and severe thunderstorms in and close to the watch
area. Persons in these areas should be on the lookout for
threatening weather conditions and listen for later statements
and possible warnings.
TORNADO WATCH OUTLINE UPDATE FOR WT 509
NWS STORM PREDICTION CENTER NORMAN OK
540 PM EDT MON OCT 23 2017
TORNADO WATCH 509 IS IN EFFECT UNTIL 200 AM EDT FOR THE
FOLLOWING LOCATIONS
VAC007-009-011-015-019-023-025-029-031-035-037-045-049-063-067-
071-077-081-083-089-111-117-121-125-135-141-143-147-155-161-163-
197-530-590-595-640-678-680-690-750-770-775-790-820-240600-
/O.NEW.KWNS.TO.A.0509.171023T2140Z-171024T0600Z/
VA
. VIRGINIA COUNTIES INCLUDED ARE
AMELIA AMHERST APPOMATTOX
AUGUSTA BEDFORD BOTETOURT
BRUNSWICK BUCKINGHAM CAMPBELL
CARROLL CHARLOTTE CRAIG
CUMBERLAND FLOYD FRANKLIN
GILES GRAYSON GREENSVILLE
HALIFAX HENRY LUNENBURG
MECKLENBURG MONTGOMERY NELSON
NOTTOWAY PATRICK PITTSYLVANIA
PRINCE EDWARD PULASKI ROANOKE
ROCKBRIDGE WYTHE
VIRGINIA INDEPENDENT CITIES INCLUDED ARE
BUENA VISTA DANVILLE EMPORIA
GALAX LEXINGTON LYNCHBURG
MARTINSVILLE RADFORD ROANOKE
SALEM STAUNTON WAYNESBORO
$$