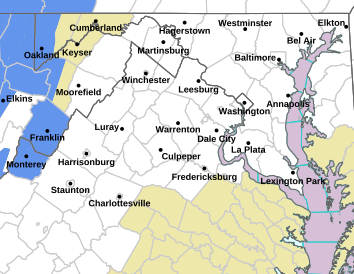 FREEZING RAIN ADVISORY IN EFFECT FROM 6 PM THIS EVENING TO 1 AM EST WEDNESDAY
URGENT – WINTER WEATHER MESSAGE
NATIONAL WEATHER SERVICE BALTIMORE MD/WASHINGTON DC
132 PM EST TUE JAN 10 2017
EXTREME WESTERN ALLEGANY-CENTRAL AND EASTERN ALLEGANY-
NORTHWEST MONTGOMERY-NORTHWEST HOWARD-NORTHWEST HARFORD-AUGUSTA-
ROCKINGHAM-SHENANDOAH-FREDERICK VA-PAGE-WARREN-CLARKE-NELSON-
ALBEMARLE-GREENE-MADISON-RAPPAHANNOCK-NORTHERN FAUQUIER-
WESTERN HIGHLAND-EASTERN HIGHLAND-WESTERN LOUDOUN-EASTERN LOUDOUN-
NORTHERN VIRGINIA BLUE RIDGE-CENTRAL VIRGINIA BLUE RIDGE-
HAMPSHIRE-MORGAN-BERKELEY-JEFFERSON-HARDY-WESTERN GRANT-
EASTERN GRANT-WESTERN MINERAL-EASTERN MINERAL-WESTERN PENDLETON-
EASTERN PENDLETON-
132 PM EST TUE JAN 10 2017
…FREEZING RAIN ADVISORY IN EFFECT FROM 6 PM THIS EVENING TO
1 AM EST WEDNESDAY…
THE NATIONAL WEATHER SERVICE IN BALTIMORE MD/WASHINGTON HAS
ISSUED A FREEZING RAIN ADVISORY…WHICH IS IN EFFECT FROM 6 PM
THIS EVENING TO 1 AM EST WEDNESDAY.
* HAZARD TYPES…FREEZING RAIN.
* ICE ACCUMULATIONS…LESS THAN A TENTH-INCH.
* TIMING…SPREADING WEST TO EAST BETWEEN 6PM AND 9PM. GRADUALLY
CHANGING TO RAIN BETWEEN 10PM AND 1AM, INITIALLY EAST OF THE
BLUE RIDGE AND ALONG THE APPALACHIANS…AND LINGERING THE
LONGEST IN THE SHENANDOAH VALLEY.
* IMPACTS…ICE ACCUMULATION ON ANY UNTREATED SURFACE. ROADS AND
WALKWAYS WILL BE SLIPPERY.
* WINDS…SOUTH 10 TO 15 MPH. GUSTS ALONG THE RIDGES TOPS UP TO
30 MPH.
* TEMPERATURES…UPPER 20S AND LOWER 30S.
PRECAUTIONARY/PREPAREDNESS ACTIONS…
A FREEZING RAIN ADVISORY MEANS THAT PERIODS OF FREEZING RAIN OR
FREEZING DRIZZLE WILL CAUSE TRAVEL DIFFICULTIES. BE PREPARED FOR
SLIPPERY ROADS. SLOW DOWN AND USE CAUTION WHILE DRIVING.