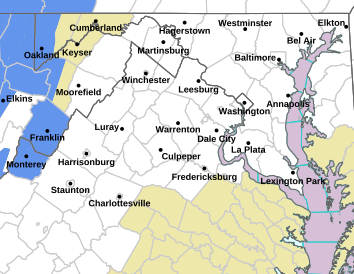 FROST ADVISORY IN EFFECT FROM 2 AM TO 9 AM EDT TUESDAY
URGENT – WEATHER MESSAGE
NATIONAL WEATHER SERVICE BALTIMORE MD/WASHINGTON DC
128 PM EDT MON OCT 10 2016
WASHINGTON-FREDERICK MD-EXTREME WESTERN ALLEGANY-
CENTRAL AND EASTERN ALLEGANY-AUGUSTA-ROCKINGHAM-SHENANDOAH-
FREDERICK VA-PAGE-WARREN-CLARKE-WESTERN HIGHLAND-EASTERN HIGHLAND-
HAMPSHIRE-MORGAN-BERKELEY-JEFFERSON-HARDY-WESTERN GRANT-
EASTERN GRANT-WESTERN MINERAL-EASTERN MINERAL-WESTERN PENDLETON-
EASTERN PENDLETON-
INCLUDING THE CITIES OF…HAGERSTOWN…FREDERICK…
BALLENGER CREEK…FROSTBURG…CUMBERLAND…STAUNTON…
WAYNESBORO…STUARTS DRAFT…HARRISONBURG…STRASBURG…
WOODSTOCK…MOUNT JACKSON…NEW MARKET…WINCHESTER…LURAY…
SHENANDOAH…STANLEY…FRONT ROYAL…BERRYVILLE…HIGHTOWN…
MONTEREY…ROMNEY…PAW PAW…MARTINSBURG…CHARLES TOWN…
SHEPHERDSTOWN…MOOREFIELD…BAYARD…MOUNT STORM…PETERSBURG…
ELK GARDEN…ANTIOCH…KEYSER…NEW CREEK…RIDGEVILLE…
RUSSELLDALE…HEADSVILLE…FORT ASHBY…RIVERTON…BRANDYWINE…
FRANKLIN…OAK FLAT…RUDDLE…SUGAR GROVE
128 PM EDT MON OCT 10 2016
…FROST ADVISORY IN EFFECT FROM 2 AM TO 9 AM EDT TUESDAY…
THE NATIONAL WEATHER SERVICE IN BALTIMORE MD/WASHINGTON HAS
ISSUED A FROST ADVISORY…WHICH IS IN EFFECT FROM 2 AM TO 9 AM
EDT TUESDAY.
* TEMPERATURES…FALLING INTO THE MID 30S LATE TONIGHT AND EARLY
TUESDAY MORNING.
* IMPACTS…FROST MAY CAUSE POTENTIAL DAMAGE TO SENSITIVE PLANTS.
PRECAUTIONARY/PREPAREDNESS ACTIONS…
A FROST ADVISORY MEANS THAT WIDESPREAD FROST IS EXPECTED.
SENSITIVE OUTDOOR PLANTS MAY BE KILLED IF LEFT UNCOVERED.