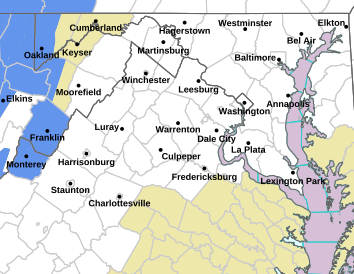 EXPIRED – EXPIRED – EXPIRED – EXPIRED

WINTER STORM WARNING
URGENT – WINTER WEATHER MESSAGE
NATIONAL WEATHER SERVICE BALTIMORE MD/WASHINGTON DC
346 PM EST MON FEB 15 2016
AUGUSTA-ROCKINGHAM-SHENANDOAH-PAGE-WARREN-NELSON-ALBEMARLE-
WESTERN HIGHLAND-EASTERN HIGHLAND-NORTHERN VA BLUE RIDGE-
CENTRAL VA BLUE RIDGE-HARDY-WESTERN GRANT-EASTERN GRANT-
WESTERN PENDLETON-EASTERN PENDLETON-
346 PM EST MON FEB 15 2016
…WINTER STORM WARNING REMAINS IN EFFECT UNTIL 10 AM EST
TUESDAY…
* PRECIPITATION TYPE…SLEET AND FREEZING RAIN.
* ACCUMULATION…4 TO 8 INCHES OF SNOW AND SLEET. AROUND A
QUARTER INCH OF ICE FROM FREEZING RAIN.
* TIMING…SNOW AND SLEET WILL CHANGE OVER TO FREEZING RAIN EARLY
THIS EVENING. PRECIPITATION WILL GRADUALLY CHANGE TO RAIN EARLY
TUESDAY MORNING…BUT MAY LINGER IN SHELTERED VALLEYS.
* WINDS…SOUTH 5 TO 15 MPH WITH GUSTS UP TO 30 MPH.
* TEMPERATURES..RISING INTO THE UPPER 20S THIS EVENING…AND
REACHING THE MID 30S BY TUESDAY MORNING.
* IMPACTS…SNOW AND ICE WILL CAUSE SLIPPERY ROADS AND TRAVEL
WILL BE DIFFICULT.
PRECAUTIONARY/PREPAREDNESS ACTIONS…
A WINTER STORM WARNING MEANS SIGNIFICANT AMOUNTS OF SNOW…
SLEET…AND ICE ARE EXPECTED OR OCCURRING. STRONG WINDS ARE ALSO
POSSIBLE. THIS WILL MAKE TRAVEL VERY HAZARDOUS OR IMPOSSIBLE.
FLOOD WATCH
NATIONAL WEATHER SERVICE BALTIMORE MD/WASHINGTON DC
306 PM EST MON FEB 15 2016
DISTRICT OF COLUMBIA-WASHINGTON-FREDERICK MD-CARROLL-
NORTHERN BALTIMORE-SOUTHERN BALTIMORE-PRINCE GEORGES-ANNE ARUNDEL-
CHARLES-ST. MARYS-CALVERT-NORTHWEST MONTGOMERY-
CENTRAL AND SOUTHEAST MONTGOMERY-NORTHWEST HOWARD-
CENTRAL AND SOUTHEAST HOWARD-NORTHWEST HARFORD-SOUTHEAST HARFORD-
ROCKINGHAM-SHENANDOAH-FREDERICK VA-PAGE-WARREN-CLARKE-NELSON-
ALBEMARLE-GREENE-MADISON-RAPPAHANNOCK-ORANGE-CULPEPER-
PRINCE WILLIAM/MANASSAS/MANASSAS PARK-FAIRFAX-
ARLINGTON/FALLS CHURCH/ALEXANDRIA-STAFFORD-SPOTSYLVANIA-
KING GEORGE-NORTHERN FAUQUIER-SOUTHERN FAUQUIER-WESTERN LOUDOUN-
EASTERN LOUDOUN-MORGAN-BERKELEY-JEFFERSON-
INCLUDING THE CITIES OF…WASHINGTON…HAGERSTOWN…FREDERICK…
BALLENGER CREEK…ELDERSBURG…WESTMINSTER…REISTERSTOWN…
COCKEYSVILLE…BALTIMORE…BOWIE…SUITLAND-SILVER HILL…
CLINTON…COLLEGE PARK…GREENBELT…LAUREL…CAMP SPRINGS…
GLEN BURNIE…ANNAPOLIS…SEVERN…SOUTH GATE…SEVERNA PARK…
ARNOLD…ODENTON…ST. CHARLES…WALDORF…LEXINGTON PARK…
CALIFORNIA…CHESAPEAKE BEACH…HUNTINGTOWN…DUNKIRK…
NORTH BEACH…LUSBY…PRINCE FREDERICK…GERMANTOWN…DAMASCUS…
BETHESDA…ROCKVILLE…GAITHERSBURG…SILVER SPRING…LISBON…
COLUMBIA…ELLICOTT CITY…JARRETTSVILLE…ABERDEEN…
HARRISONBURG…STRASBURG…WOODSTOCK…MOUNT JACKSON…
NEW MARKET…WINCHESTER…LURAY…SHENANDOAH…STANLEY…
FRONT ROYAL…BERRYVILLE…LOVINGSTON…CHARLOTTESVILLE…
STANARDSVILLE…MADISON…ORANGE…GORDONSVILLE…CULPEPER…
DALE CITY…MANASSAS…WOODBRIDGE…LAKE RIDGE…MONTCLAIR…
RESTON…HERNDON…ANNANDALE…CENTREVILLE…CHANTILLY…MCLEAN…
FRANCONIA…ARLINGTON…ALEXANDRIA…FALMOUTH…FREDERICKSBURG…
DAHLGREN…WARRENTON…PURCELLVILLE…LEESBURG…ASHBURN…
STERLING…PAW PAW…MARTINSBURG…CHARLES TOWN…SHEPHERDSTOWN
306 PM EST MON FEB 15 2016
…FLOOD WATCH IN EFFECT FROM TUESDAY MORNING THROUGH TUESDAY
EVENING…
THE NATIONAL WEATHER SERVICE IN STERLING VIRGINIA HAS ISSUED A
* FLOOD WATCH FOR SMALL STREAMS AND CREEKS IN PORTIONS OF
MARYLAND…THE DISTRICT OF COLUMBIA…CENTRAL AND NORTHERN
VIRGINIA…AND EXTREME EASTERN WEST VIRGINIA.
* FROM TUESDAY MORNING THROUGH TUESDAY EVENING.
* A LOW PRESSURE SYSTEM WILL MOVE ACROSS THE REGION ON TUESDAY.
THIS WILL RESULT IN RAIN…WHICH WILL BE HEAVY AT TIMES.
RAINFALL TOTALS ACROSS THE WATCH AREA ARE EXPECTED TO RANGE FROM
0.75 INCHES TO 1.25 INCHES. THIS HEAVY RAINFALL COUPLED WITH
SNOWMELT CAUSED BY TEMPERATURES ON TUESDAY REACHING 50 TO 55
DEGREES WILL LEAD TO THE POTENTIAL OF SMALL STREAMS AND
TRIBUTARIES IN THE WATCH AREA TO OVERFLOW THEIR BANKS.
* SMALL STREAMS AND TRIBUTARIES MAY OVERFLOW THEIR BANKS.
ADDITIONALLY…URBAN AREAS PRONE TO POOR DRAINAGE WILL BE
SUSCEPTIBLE TO FLOODING. THE TIME FOR THE GREATEST THREAT OF
FLOODING WILL BE FROM TUESDAY AFTERNOON THROUGH TUESDAY
EVENING.
PRECAUTIONARY/PREPAREDNESS ACTIONS…
A FLOOD WATCH MEANS THERE IS A POTENTIAL FOR FLOODING BASED ON
CURRENT FORECASTS.
YOU SHOULD MONITOR LATER FORECASTS AND BE ALERT FOR POSSIBLE
FLOOD WARNINGS. THOSE LIVING IN AREAS PRONE TO FLOODING SHOULD BE
PREPARED TO TAKE ACTION SHOULD FLOODING DEVELOP.