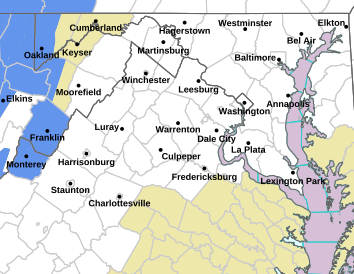 Winter Weather Statement
Statement as of 7:47 PM EST on March 05, 2015
…Winter Storm Warning is cancelled…
The National Weather Service in Baltimore MD/Washington has
cancelled the Winter Storm Warning.
Additional light snow is possible this evening…but little to no
accumulation is expected.
URGENT – WINTER WEATHER MESSAGE
NATIONAL WEATHER SERVICE BALTIMORE MD/WASHINGTON DC
901 AM EST THU MAR 5 2015
MDZ017-VAZ036-037-056-057-052215-
/O.CON.KLWX.WS.W.0009.000000T0000Z-150306T0300Z/
ST. MARYS-NELSON-ALBEMARLE-SPOTSYLVANIA-KING GEORGE-
901 AM EST THU MAR 5 2015
…WINTER STORM WARNING REMAINS IN EFFECT UNTIL 10 PM EST THIS
EVENING…
* PRECIPITATION TYPES…WINTRY MIX…THEN SNOW…HEAVY AT TIMES.
* ACCUMULATIONS…4 TO 8 INCHES OF SNOW.
* TIMING…RAIN AND SLEET WILL CHANGE TO ALL SNOW BETWEEN 10 AM
AND 1 PM LATE THIS MORNING AND AFTERNOON. SNOW WILL BE HEAVY AT
TIMES FOR THE REMAINDER OF THE AFTERNOON. SNOW WILL END BETWEEN
7 PM AND 10 PM THIS EVENING.
* TEMPERATURES…DROPPING INTO THE LOWER 30S THIS MORNING.
TEMPERATURES WILL FALL THROUGH THE 20S THIS AFTERNOON AND
EVENING.
* WINDS…NORTH 10 TO 15 MPH WITH GUSTS TO 20 MPH.
* IMPACTS…ROADS WILL BECOME SNOW COVERED AND SLIPPERY.
VISIBILITY WILL BE REDUCED TO ONE-QUARTER MILE AT TIMES…MAKING
TRAVELING DANGEROUS.
PRECAUTIONARY/PREPAREDNESS ACTIONS…
A WINTER STORM WARNING FOR HEAVY SNOW MEANS SEVERE WINTER WEATHER
CONDITIONS ARE EXPECTED OR OCCURRING. SIGNIFICANT AMOUNTS OF SNOW
ARE FORECAST THAT WILL MAKE TRAVEL DANGEROUS. ONLY TRAVEL IN AN
EMERGENCY. IF YOU MUST TRAVEL…KEEP AN EXTRA FLASHLIGHT…
FOOD…AND WATER IN YOUR VEHICLE IN CASE OF AN EMERGENCY.