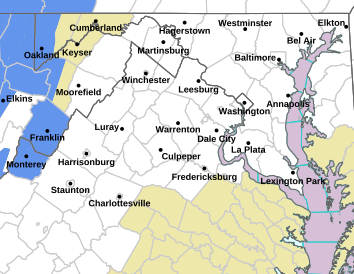 WINTER STORM WARNING
Winter Storm Warning
Statement as of 7:43 AM EST on November 26, 2014
…Winter Storm Warning remains in effect until 6 PM EST this
evening…
* precipitation type…snow.
* Accumulations…1 to 3 inches below 1500 feet. 8 to 16 inches
above 1500 feet.
* Timing…snow will continue through today along the ridge tops
above 1500 feet. A mixture of rain and snow below 1500 feet will
change to all snow by noon. The heaviest snow is expected
through 2 PM this afternoon. Snow will end late this afternoon.
* Temperatures…upper 20s to lower 30s along the ridge tops
above 1500 feet. Lower to middle 30s below 1500 feet.
* Winds…north becoming northwest 5 to 10 mph with gusts around
15 mph.
* Impacts…roads will become snow covered and slippery and
visibility may be reduced below a half mile at times…mainly
for elevations above 1500 feet. Interstate 64 will be impacted
by the snow. Snow will have a significant impact on Holiday
travel plans for today…especially for travelers headed north and
west through the Blue Ridge mountains and Potomac Highlands.
Heavy amounts of wet snow along the ridge tops may cause downed
trees that lead to an enhanced threat for power outages.
Precautionary/preparedness actions…
A Winter Storm Warning for heavy snow means severe winter weather
conditions are expected or occurring. Significant amounts of snow
are forecast that will make travel dangerous. Only travel in an
emergency. If you must travel…keep an extra flashlight…
food…and water in your vehicle in case of an emergency.