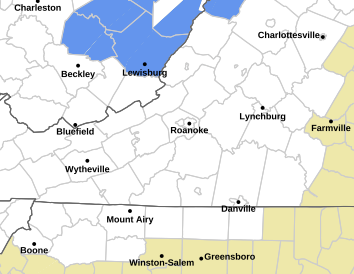 As of 1:50 AM EDT June 5, 2014:
The National Weather Service has cancelled Tornado Watch 222 for
the following areas
In North Carolina this cancels 6 counties
In north central North Carolina
Surry
In northwest North Carolina
Alleghany NC Ashe Watauga
Wilkes Yadkin
In Virginia this cancels 20 counties
In central Virginia
Amherst
In south central Virginia
Bedford
In southwest Virginia
Bland Carroll Craig
Floyd Giles Grayson
Montgomery Patrick Pulaski
Smyth Tazewell Wythe
In west central Virginia
Alleghany VA Bath Botetourt
Franklin Roanoke Rockbridge
In West Virginia this cancels 4 counties
In southeast West Virginia
Greenbrier Mercer Monroe
Summers
In Virginia this cancels 7 independent cities
In southwest Virginia
Galax Radford
In west central Virginia
Buena Vista Covington Lexington
Roanoke Salem
URGENT – IMMEDIATE BROADCAST REQUESTED
TORNADO WATCH NUMBER 222
NWS STORM PREDICTION CENTER NORMAN OK
800 PM EDT WED JUN 4 2014
THE NWS STORM PREDICTION CENTER HAS ISSUED A
* TORNADO WATCH FOR PORTIONS OF
WESTERN NORTH CAROLINA
EASTERN TENNESSEE
WEST CENTRAL AND SOUTHWEST VIRGINIA
SOUTHERN WEST VIRGINIA
* EFFECTIVE THIS WEDNESDAY NIGHT AND THURSDAY MORNING FROM 800 PM
UNTIL 300 AM EDT.
* PRIMARY THREATS INCLUDE…
A COUPLE TORNADOES POSSIBLE
SCATTERED LARGE HAIL EVENTS TO 1.5 INCHES IN DIAMETER POSSIBLE
ISOLATED DAMAGING WIND GUSTS TO 70 MPH POSSIBLE
THE TORNADO WATCH AREA IS APPROXIMATELY ALONG AND 75 STATUTE
MILES EAST AND WEST OF A LINE FROM 30 MILES NORTHEAST OF WHITE
SULPHUR SPRINGS WEST VIRGINIA TO 25 MILES SOUTHWEST OF HOT
SPRINGS NORTH CAROLINA. FOR A COMPLETE DEPICTION OF THE WATCH
SEE THE ASSOCIATED WATCH OUTLINE UPDATE (WOUS64 KWNS WOU2).
PRECAUTIONARY/PREPAREDNESS ACTIONS…
REMEMBER…A TORNADO WATCH MEANS CONDITIONS ARE FAVORABLE FOR
TORNADOES AND SEVERE THUNDERSTORMS IN AND CLOSE TO THE WATCH
AREA. PERSONS IN THESE AREAS SHOULD BE ON THE LOOKOUT FOR
THREATENING WEATHER CONDITIONS AND LISTEN FOR LATER STATEMENTS
AND POSSIBLE WARNINGS.
&&
OTHER WATCH INFORMATION…CONTINUE…WW 218…WW 219…WW
220…WW 221…
DISCUSSION…CLUSTERS OF SEMI-DISCRETE STORMS/SUPERCELLS EXPECTED TO
PERSIST ALONG THE W SLOPES OF THE SRN APPALACHIANS THROUGH LATE
EVE…WITH ADDITIONAL STORMS POSSIBLY MOVING/DEVELOPING EWD INTO WRN
AND SW VA AS MID-LVL SPEED MAX AND ASSOCIATED UVV FIELD OVERSPREAD
MOIST/CONFLUENT LOW–LVL FLOW.
AVIATION…TORNADOES AND A FEW SEVERE THUNDERSTORMS WITH HAIL
SURFACE AND ALOFT TO 1.5 INCHES. EXTREME TURBULENCE AND SURFACE
WIND GUSTS TO 60 KNOTS. A FEW CUMULONIMBI WITH MAXIMUM TOPS TO
500. MEAN STORM MOTION VECTOR 30030.
TORNADO WATCH OUTLINE UPDATE FOR WT 222
NWS STORM PREDICTION CENTER NORMAN OK
800 PM EDT WED JUN 4 2014
TORNADO WATCH 222 IS IN EFFECT UNTIL 300 AM EDT FOR THE
FOLLOWING LOCATIONS
VAC005-009-017-019-021-023-035-045-063-067-071-077-105-121-141-
155-161-163-167-169-173-185-191-195-197-520-530-580-640-678-720-
750-770-775-050700-
/O.NEW.KWNS.TO.A.0222.140605T0000Z-140605T0700Z/
VA
. VIRGINIA COUNTIES INCLUDED ARE
ALLEGHANY AMHERST BATH
BEDFORD BLAND BOTETOURT
CARROLL CRAIG FLOYD
FRANKLIN GILES GRAYSON
LEE MONTGOMERY PATRICK
PULASKI ROANOKE ROCKBRIDGE
RUSSELL SCOTT SMYTH
TAZEWELL WASHINGTON WISE
WYTHE
VIRGINIA INDEPENDENT CITIES INCLUDED ARE
BRISTOL BUENA VISTA COVINGTON
GALAX LEXINGTON NORTON
RADFORD ROANOKE SALEM