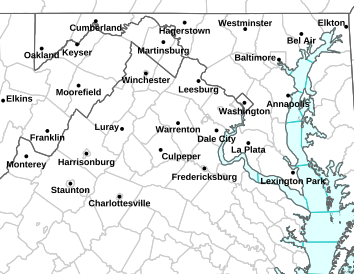 ENHANCED THREAT FOR THE SPREAD OF WILDFIRES THIS AFTERNOON
SPECIAL WEATHER STATEMENT
NATIONAL WEATHER SERVICE BALTIMORE MD/WASHINGTON DC
837 AM EDT FRI MAR 14 2014
DISTRICT OF COLUMBIA-WASHINGTON-FREDERICK MD-CARROLL-
NORTHERN BALTIMORE-HARFORD-MONTGOMERY-HOWARD-SOUTHERN BALTIMORE-
PRINCE GEORGES-ANNE ARUNDEL-CHARLES-ST. MARYS-CALVERT-
CENTRAL AND EASTERN ALLEGANY-AUGUSTA-ROCKINGHAM-SHENANDOAH-
FREDERICK VA-PAGE-WARREN-CLARKE-NELSON-ALBEMARLE-GREENE-MADISON-
RAPPAHANNOCK-LOUDOUN-ORANGE-CULPEPER-
PRINCE WILLIAM/MANASSAS/MANASSAS PARK-FAIRFAX-
ARLINGTON/FALLS CHURCH/ALEXANDRIA-STAFFORD-SPOTSYLVANIA-
KING GEORGE-NORTHERN FAUQUIER-SOUTHERN FAUQUIER-EASTERN HIGHLAND-
HAMPSHIRE-MORGAN-BERKELEY-JEFFERSON-HARDY-EASTERN GRANT-
EASTERN MINERAL-EASTERN PENDLETON-
INCLUDING THE CITIES OF…WASHINGTON…HAGERSTOWN…FREDERICK…
WESTMINSTER…GAITHERSBURG…COLUMBIA…BALTIMORE…ANNAPOLIS…
WALDORF…ST MARYS CITY…CUMBERLAND…STAUNTON…WAYNESBORO…
HARRISONBURG…WINCHESTER…FRONT ROYAL…CHARLOTTESVILLE…
LEESBURG…CULPEPER…MANASSAS…MANASSAS PARK…FAIRFAX…
ALEXANDRIA…FALLS CHURCH…FREDERICKSBURG…WARRENTON…
MONTEREY…MARTINSBURG…CHARLES TOWN…MOOREFIELD…PETERSBURG…
KEYSER…FORT ASHBY…FRANKLIN
837 AM EDT FRI MAR 14 2014
…ENHANCED THREAT FOR THE SPREAD OF WILDFIRES THIS AFTERNOON…
SOUTHWEST WINDS WILL BE SUSTAINED AROUND 15 MPH WITH FREQUENT
GUSTS AROUND 25 MPH THIS AFTERNOON ACROSS MOST OF
MARYLAND…NORTHERN AND CENTRAL VIRGINIA…AND EASTERN WEST
VIRGINIA. THE RELATIVE HUMIDITY WILL DROP TO BETWEEN 15 AND 25
PERCENT ACROSS MOST LOCATIONS. THE COMBINATION OF GUSTY
WINDS…LOW RELATIVE HUMIDITY AND LOW FUEL MOISTURE WILL ENHANCE
THE THREAT FOR THE SPREAD OF WILDFIRES.
OPEN BURNING OF ANY TYPE IS CONSIDERED VERY HAZARDOUS THIS TIME
OF YEAR. ACCIDENTAL ESCAPED DEBRIS BURNS ARE THE NUMBER ONE CAUSE
OF WILDFIRES.