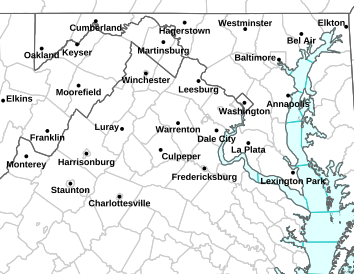 FREEZING RAIN ADVISORY IN EFFECT FROM 11 PM THIS EVENING TO 9 AM EST FRIDAY
URGENT – WINTER WEATHER MESSAGE
NATIONAL WEATHER SERVICE BALTIMORE MD/WASHINGTON DC
134 PM EST THU JAN 9 2014
AUGUSTA-ROCKINGHAM-SHENANDOAH-FREDERICK VA-PAGE-WARREN-CLARKE-
NELSON-ALBEMARLE-GREENE-MADISON-RAPPAHANNOCK-ORANGE-CULPEPER-
WESTERN HIGHLAND-EASTERN HIGHLAND-JEFFERSON-HARDY-WESTERN GRANT-
EASTERN GRANT-WESTERN PENDLETON-EASTERN PENDLETON-
INCLUDING THE CITIES OF…STAUNTON…WAYNESBORO…HARRISONBURG…
WINCHESTER…FRONT ROYAL…CHARLOTTESVILLE…WASHINGTON…
CULPEPER…HIGHTOWN…MONTEREY…CHARLES TOWN…MOOREFIELD…
BAYARD…MOUNT STORM…PETERSBURG…CIRCLEVILLE…FRANKLIN
134 PM EST THU JAN 9 2014
…FREEZING RAIN ADVISORY IN EFFECT FROM 11 PM THIS EVENING TO
9 AM EST FRIDAY…
THE NATIONAL WEATHER SERVICE IN BALTIMORE MD/WASHINGTON HAS
ISSUED A FREEZING RAIN ADVISORY…WHICH IS IN EFFECT FROM 11 PM
THIS EVENING TO 9 AM EST FRIDAY.
* PRECIPITATION TYPE…FREEZING RAIN.
* ACCUMULATIONS…LESS THAN A TENTH INCH.
* TIMING…BEGINNING NEAR OR SOON AFTER MIDNIGHT…ENDING BY MID
MORNING.
* TEMPERATURES…AROUND 30.
* WINDS…EAST 5 MPH OR LESS.
* IMPACTS…UNTREATED SURFACES WILL BE ICY AND SLIPPERY…
PARTICULARLY DURING THE MORNING COMMUTE.
PRECAUTIONARY/PREPAREDNESS ACTIONS…
A FREEZING RAIN ADVISORY MEANS THAT PERIODS OF FREEZING RAIN OR
FREEZING DRIZZLE WILL CAUSE TRAVEL DIFFICULTIES. BE PREPARED FOR
SLIPPERY ROADS. SLOW DOWN AND USE CAUTION WHILE DRIVING.