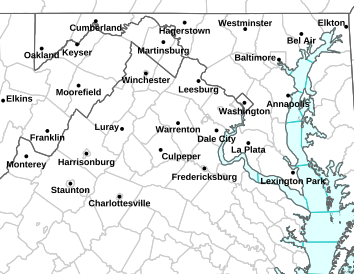 FREEZE WATCH REMAINS IN EFFECT FROM LATE THURSDAY NIGHT THROUGH FRIDAY MORNING
URGENT – WEATHER MESSAGE
NATIONAL WEATHER SERVICE BALTIMORE MD/WASHINGTON DC
530 PM EDT WED OCT 23 2013
WASHINGTON-FREDERICK MD-CARROLL-NORTHERN BALTIMORE-HARFORD-
MONTGOMERY-HOWARD-EXTREME WESTERN ALLEGANY-
CENTRAL AND EASTERN ALLEGANY-AUGUSTA-ROCKINGHAM-SHENANDOAH-
FREDERICK VA-PAGE-WARREN-CLARKE-NELSON-ALBEMARLE-GREENE-MADISON-
RAPPAHANNOCK-LOUDOUN-ORANGE-CULPEPER-
PRINCE WILLIAM/MANASSAS/MANASSAS PARK-FAIRFAX-NORTHERN FAUQUIER-
SOUTHERN FAUQUIER-HAMPSHIRE-MORGAN-BERKELEY-JEFFERSON-HARDY-
WESTERN MINERAL-EASTERN MINERAL-
INCLUDING THE CITIES OF…HAGERSTOWN…FREDERICK…WESTMINSTER…
GAITHERSBURG…COLUMBIA…FROSTBURG…CUMBERLAND…STAUNTON…
WAYNESBORO…HARRISONBURG…WINCHESTER…FRONT ROYAL…
CHARLOTTESVILLE…WASHINGTON…LEESBURG…CULPEPER…MANASSAS…
MANASSAS PARK…FAIRFAX…WARRENTON…MARTINSBURG…
CHARLES TOWN…MOOREFIELD…ELK GARDEN…KEYSER…FORT ASHBY
530 PM EDT WED OCT 23 2013
…FREEZE WATCH REMAINS IN EFFECT FROM LATE THURSDAY NIGHT
THROUGH FRIDAY MORNING…
* TEMPERATURES…IN THE LOWER 30S.
* IMPACTS…UNPROTECTED VEGETATION THAT IS SENSITIVE TO FREEZING
TEMPERATURES HAS THE POTENTIAL TO BE KILLED OR DAMAGED.
PRECAUTIONARY/PREPAREDNESS ACTIONS…
A FREEZE WATCH MEANS SUB-FREEZING TEMPERATURES ARE POSSIBLE.
THESE CONDITIONS COULD KILL CROPS AND OTHER SENSITIVE VEGETATION.
________________________________________________________________
URGENT – WEATHER MESSAGE
NATIONAL WEATHER SERVICE BLACKSBURG VA
242 PM EDT WED OCT 23 2013
…COLD TEMPERATURES EXPECTED OVERNIGHT…
.MUCH COLDER AIR WILL RUSH INTO THE AREA BEHIND A COLD FRONT
THIS EVENING INTO TONIGHT. THIS WILL CAUSE TEMPERATURES TO FALL
INTO THE UPPER 20S TO THE MID 30S LATER TONIGHT INTO EARLY
THURSDAY.
NCZ002>006-019-020-VAZ010>014-016>019-022>024-032>035-043>047-058-
059-WVZ044-240245-
/O.NEW.KRNK.FR.Y.0005.131024T0600Z-131024T1300Z/
ALLEGHANY NC-SURRY-STOKES-ROCKINGHAM-CASWELL-WILKES-YADKIN-BLAND-
GILES-WYTHE-PULASKI-MONTGOMERY-CARROLL-FLOYD-CRAIG-ALLEGHANY VA-
ROANOKE-BOTETOURT-ROCKBRIDGE-PATRICK-FRANKLIN-BEDFORD-AMHERST-
HENRY-PITTSYLVANIA-CAMPBELL-APPOMATTOX-BUCKINGHAM-HALIFAX-
CHARLOTTE-MONROE-
INCLUDING THE CITIES OF…SPARTA…DOBSON…DANBURY…EDEN…
YANCEYVILLE…WILKESBORO…YADKINVILLE…BLAND…PEARISBURG…
WYTHEVILLE…RADFORD…PULASKI…BLACKSBURG…GALAX…FLOYD…
NEW CASTLE…CLIFTON FORGE…COVINGTON…ROANOKE…SALEM…
FINCASTLE…LEXINGTON…BUENA VISTA…STUART…ROCKY MOUNT…
BEDFORD…AMHERST…MARTINSVILLE…DANVILLE…LYNCHBURG…
APPOMATTOX…SOUTH BOSTON…KEYSVILLE…UNION
242 PM EDT WED OCT 23 2013
…FROST ADVISORY IN EFFECT FROM 2 AM TO 9 AM EDT THURSDAY…
THE NATIONAL WEATHER SERVICE IN BLACKSBURG HAS ISSUED A FROST
ADVISORY…WHICH IS IN EFFECT FROM 2 AM TO 9 AM EDT THURSDAY.
* LOCATIONS…PORTIONS OF SOUTHWEST VIRGINIA AND NORTHWEST NORTH
CAROLINA.
* TEMPERATURES…FROM 33 TO 36 DEGREES.
* TIMING…LATE TONIGHT INTO EARLY THURSDAY MORNING.
* IMPACTS…AREAS OF FROST WILL LIKELY DEVELOP EARLY THURSDAY
MORNING. THOSE WITH AGRICULTURAL INTERESTS ARE ADVISED TO
PROTECT TENDER VEGETATION. ALSO…SENSITIVE POTTED PLANTS THAT
ARE NORMALLY LEFT OUTDOORS SHOULD BE COVERED OR BROUGHT INSIDE
AWAY FROM THE COLD.
PRECAUTIONARY/PREPAREDNESS ACTIONS…
A FROST ADVISORY MEANS THAT FROST IS POSSIBLE. SENSITIVE OUTDOOR
PLANTS MAY BE KILLED IF LEFT UNCOVERED.