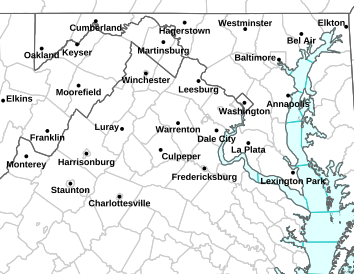 Severe Thunderstorm Watch
Statement as of 8:55 PM EDT on July 20, 2013
The National Weather Service will allow Severe Thunderstorm Watch
425 to expire at 9 PM EDT this evening for the following areas
In Maryland this allows to expire 2 counties
In southern Maryland
Charles St. Marys
In Virginia this allows to expire 14 counties
In central Virginia
Albemarle Greene King George
Nelson Orange Spotsylvania
In northern Virginia
Culpeper Stafford
In northwest Virginia
Madison Page Rappahannock
In western Virginia
Augusta Highland Rockingham
In Virginia this allows to expire 7 independent cities
In central Virginia
Charlottesville City of Fredericksburg
In northern Virginia
City of Falls Church City of Manassas Park
In northwest Virginia
City of Harrisonburg
In western Virginia
City of Staunton City of Waynesboro
This includes the cities of…Charlottesville…Culpeper…
Dahlgren…Falmouth…Greenfield…Harrisonburg…Luray…
Madison…Monterey…Orange…Spotsylvania courthouse…
St Marys…Stanardsville…Staunton…Waldorf…
Washington and Waynesboro.
SEVERE THUNDERSTORM WATCH NUMBER 425
Scroll for county / state outlines

URGENT – IMMEDIATE BROADCAST REQUESTED
SEVERE THUNDERSTORM WATCH NUMBER 425
NWS STORM PREDICTION CENTER NORMAN OK
110 PM EDT SAT JUL 20 2013
THE NWS STORM PREDICTION CENTER HAS ISSUED A
* SEVERE THUNDERSTORM WATCH FOR PORTIONS OF
DISTRICT OF COLUMBIA
SOUTHEASTERN INDIANA
NORTHEASTERN KENTUCKY
CENTRAL AND WESTERN MARYLAND INCLUDING PANHANDLE
SOUTHERN OHIO
NORTHERN VIRGINIA
CENTRAL AND NORTHERN WEST VIRGINIA INCLUDING EASTERN PANHANDLE
COASTAL WATERS
* EFFECTIVE THIS SATURDAY AFTERNOON AND EVENING FROM 110 PM UNTIL
900 PM EDT.
* PRIMARY THREATS INCLUDE…
SEVERAL DAMAGING WIND GUSTS TO 70 MPH POSSIBLE
SEVERAL LARGE HAIL EVENTS TO 1.5 INCHES IN DIAMETER POSSIBLE
THE SEVERE THUNDERSTORM WATCH AREA IS APPROXIMATELY ALONG AND 55
STATUTE MILES NORTH AND SOUTH OF A LINE FROM 95 MILES WEST OF
ATHENS OHIO TO 15 MILES SOUTH SOUTHEAST OF BALTIMORE MARYLAND.
FOR A COMPLETE DEPICTION OF THE WATCH SEE THE ASSOCIATED WATCH
OUTLINE UPDATE (WOUS64 KWNS WOU5).
PRECAUTIONARY/PREPAREDNESS ACTIONS…
REMEMBER…A SEVERE THUNDERSTORM WATCH MEANS CONDITIONS ARE
FAVORABLE FOR SEVERE THUNDERSTORMS IN AND CLOSE TO THE WATCH
AREA. PERSONS IN THESE AREAS SHOULD BE ON THE LOOKOUT FOR
THREATENING WEATHER CONDITIONS AND LISTEN FOR LATER STATEMENTS
AND POSSIBLE WARNINGS. SEVERE THUNDERSTORMS CAN AND OCCASIONALLY
DO PRODUCE TORNADOES.
&&
DISCUSSION…INITIALLY LOOSELY ORGANIZED BELT OF TSTMS FROM NRN WV
ACROSS SRN OH…AS WELL AS SEPARATE AREA OF CONVECTION OVER CENTRAL
INDIANA…MAY ORGANIZE AND INTENSIFY TO SVR LEVELS AS THEY MOVE
ESEWD INTO DIABATICALLY DESTABILIZING AND FAVORABLY MOIST AIR
MASS…NEAR SRN EDGE OF FAVORABLE MID-UPPER LEVEL FLOW.
MULTICELLULAR BANDS AND CLUSTERS WILL OFFER DAMAGING GUSTS AND
SPORADIC LARGE HAIL BEFORE WEAKENING EARLY THIS EVENING.
AVIATION…A FEW SEVERE THUNDERSTORMS WITH HAIL SURFACE AND ALOFT
TO 1.5 INCHES. EXTREME TURBULENCE AND SURFACE WIND GUSTS TO 60
KNOTS. A FEW CUMULONIMBI WITH MAXIMUM TOPS TO 550. MEAN STORM
MOTION VECTOR 28025.
…EDWARDS
SEVERE THUNDERSTORM WATCH OUTLINE UPDATE FOR WS 425
NWS STORM PREDICTION CENTER NORMAN OK
110 PM EDT SAT JUL 20 2013
SEVERE THUNDERSTORM WATCH 425 IS IN EFFECT UNTIL 900 PM EDT
FOR THE FOLLOWING LOCATIONS
VAC003-013-015-043-047-059-061-069-079-091-099-107-113-125-137-
139-153-157-165-171-177-179-187-510-540-600-610-630-660-683-685-
790-820-840-210100-
/O.NEW.KWNS.SV.A.0425.130720T1710Z-130721T0100Z/
VA
. VIRGINIA COUNTIES INCLUDED ARE
ALBEMARLE ARLINGTON AUGUSTA
CLARKE CULPEPER FAIRFAX
FAUQUIER FREDERICK GREENE
HIGHLAND KING GEORGE LOUDOUN
MADISON NELSON ORANGE
PAGE PRINCE WILLIAM RAPPAHANNOCK
ROCKINGHAM SHENANDOAH SPOTSYLVANIA
STAFFORD WARREN
VIRGINIA INDEPENDENT CITIES INCLUDED ARE
ALEXANDRIA CHARLOTTESVILLE FAIRFAX
FALLS CHURCH FREDERICKSBURG HARRISONBURG
MANASSAS MANASSAS PARK STAUNTON
WAYNESBORO WINCHESTER
$$
SEVERE THUNDERSTORM WATCH OUTLINE UPDATE FOR WS 425
NWS STORM PREDICTION CENTER NORMAN OK
110 PM EDT SAT JUL 20 2013
SEVERE THUNDERSTORM WATCH 425 IS IN EFFECT UNTIL 900 PM EDT
FOR THE FOLLOWING LOCATIONS
MDC001-003-005-009-013-017-021-023-025-027-031-033-037-043-510-
210100-
/O.NEW.KWNS.SV.A.0425.130720T1710Z-130721T0100Z/
MD
. MARYLAND COUNTIES INCLUDED ARE
ALLEGANY ANNE ARUNDEL BALTIMORE
CALVERT CARROLL CHARLES
FREDERICK GARRETT HARFORD
HOWARD MONTGOMERY PRINCE GEORGES
ST. MARYS WASHINGTON
MARYLAND INDEPENDENT CITIES INCLUDED ARE
BALTIMORE CITY
$$
SEVERE THUNDERSTORM WATCH OUTLINE UPDATE FOR WS 425
NWS STORM PREDICTION CENTER NORMAN OK
110 PM EDT SAT JUL 20 2013
SEVERE THUNDERSTORM WATCH 425 IS IN EFFECT UNTIL 900 PM EDT
FOR THE FOLLOWING LOCATIONS
WVC001-003-007-011-013-015-017-021-023-027-031-033-035-037-039-
041-043-049-053-057-061-065-067-071-073-075-077-079-083-085-087-
091-093-095-097-099-101-103-105-107-210100-
/O.NEW.KWNS.SV.A.0425.130720T1710Z-130721T0100Z/
WV
. WEST VIRGINIA COUNTIES INCLUDED ARE
BARBOUR BERKELEY BRAXTON
CABELL CALHOUN CLAY
DODDRIDGE GILMER GRANT
HAMPSHIRE HARDY HARRISON
JACKSON JEFFERSON KANAWHA
LEWIS LINCOLN MARION
MASON MINERAL MONONGALIA
MORGAN NICHOLAS PENDLETON
PLEASANTS POCAHONTAS PRESTON
PUTNAM RANDOLPH RITCHIE
ROANE TAYLOR TUCKER
TYLER UPSHUR WAYNE
WEBSTER WETZEL WIRT
WOOD
$$
SEVERE THUNDERSTORM WATCH OUTLINE UPDATE FOR WS 425
NWS STORM PREDICTION CENTER NORMAN OK
110 PM EDT SAT JUL 20 2013
SEVERE THUNDERSTORM WATCH 425 IS IN EFFECT UNTIL 900 PM EDT
FOR THE FOLLOWING LOCATIONS
ANZ530-531-532-533-534-535-536-537-538-542-210100-
/O.NEW.KWNS.SV.A.0425.130720T1710Z-130721T0100Z/
CW
. ADJACENT COASTAL WATERS INCLUDED ARE
CHESAPEAKE BAY NORTH OF POOLES ISLAND MD
CHESAPEAKE BAY FROM POOLES ISLAND TO SANDY POINT MD
CHESAPEAKE BAY FROM SANDY POINT TO NORTH BEACH MD
CHESAPEAKE BAY FROM NORTH BEACH TO DRUM POINT MD
CHESAPEAKE BAY FROM DRUM POINT MD TO SMITH POINT VA
TIDAL POTOMAC FROM KEY BRIDGE TO INDIAN HEAD MD
TIDAL POTOMAC FROM INDIAN HEAD TO COBB ISLAND MD
TIDAL POTOMAC FROM COBB ISLAND MD TO SMITH POINT VA
PATAPSCO RIVER INCLUDING BALTIMORE HARBOR
PATUXENT RIVER TO BROOMES ISLAND MD
$$
ATTN…WFO…LWX…RLX…PBZ…ILN…
SEVERE THUNDERSTORM WATCH OUTLINE UPDATE FOR WS 425
NWS STORM PREDICTION CENTER NORMAN OK
110 PM EDT SAT JUL 20 2013
SEVERE THUNDERSTORM WATCH 425 IS IN EFFECT UNTIL 900 PM EDT
FOR THE FOLLOWING LOCATIONS
DCC001-210100-
/O.NEW.KWNS.SV.A.0425.130720T1710Z-130721T0100Z/
DC
. DISTRICT OF COLUMBIA COUNTIES INCLUDED ARE
DISTRICT OF COLUMBIA