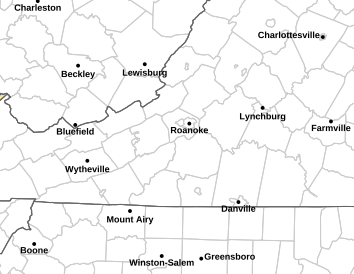 FLOOD WATCH
FLOOD WATCH
NATIONAL WEATHER SERVICE BLACKSBURG VA
1116 AM EDT SAT JUL 13 2013
…POTENTIAL HEAVY RAINFALL THIS AFTERNOON INTO TONIGHT…
.AN UPPER LEVEL LOW PRESSURE SYSTEM OVER KENTUCKY WILL SHIFT WEST
TODAY…REACHING MISSOURI TONIGHT. AS THIS OCCURS…THE SURFACE
WINDS WILL SHIFT TOWARD THE SOUTHEAST TAKING MORE MOISTURE INTO
THE BLUE RIDGE MOUNTAINS THIS AFTERNOON INTO TONIGHT. THIS
UPSLOPE COMPONENT COMBINED WITH AN ALREADY SATURATED GROUND WILL
BE ENOUGH TO RAISE THE FLASH FLOOD THREAT FROM ANY SLOW MOVING
STORM. HIGH PRESSURE WILL WORK IN FROM THE NORTHEAST BY SUNDAY
MORNING DIMINISHING THE HEAVIER RAIN THREAT. HOWEVER…THICK
OVERCAST THROUGH MUCH OF TODAY MAY PRECLUDE THUNDERSTORMS…UNLESS
SOME SUNNY BREAKS DEVELOP LATER TODAY.
ASHE-ALLEGHANY NC-SURRY-WATAUGA-WILKES-YADKIN-PULASKI-MONTGOMERY-
GRAYSON-CARROLL-FLOYD-ROANOKE-BOTETOURT-PATRICK-FRANKLIN-BEDFORD-
INCLUDING THE CITIES OF…WEST JEFFERSON…SPARTA…DOBSON…
BOONE…WILKESBORO…YADKINVILLE…RADFORD…PULASKI…
BLACKSBURG…INDEPENDENCE…WHITETOP…TROUTDALE…VOLNEY…
GALAX…FLOYD…ROANOKE…SALEM…FINCASTLE…STUART…
ROCKY MOUNT…BEDFORD
1116 AM EDT SAT JUL 13 2013
…FLASH FLOOD WATCH REMAINS IN EFFECT THROUGH LATE TONIGHT…
THE FLASH FLOOD WATCH CONTINUES FOR
* PORTIONS OF NORTH CAROLINA AND VIRGINIA…INCLUDING THE
FOLLOWING AREAS…IN NORTH CAROLINA…ALLEGHANY NC…ASHE…
SURRY…WATAUGA…WILKES AND YADKIN. IN VIRGINIA…BEDFORD…
BOTETOURT…CARROLL…FLOYD…FRANKLIN…GRAYSON…
MONTGOMERY…PATRICK…PULASKI AND ROANOKE.
* THROUGH LATE TONIGHT
* ANY SLOW MOVING THUNDERSTORMS WHICH DEVELOP THIS
AFTERNOON…WITH THE GROUND ALREADY SATURATED…MAY LEAD TO
LOCALLY HEAVY RAINFALL AND WATER PROBLEMS.
* THE FLASH FLOOD THREAT WILL EXIST ALONG THE BLUE RIDGE…AS
WELL AS IN URBAN AREAS SUCH AS BOONE…JEFFERSON…GALAX AND
ROANOKE.
PRECAUTIONARY/PREPAREDNESS ACTIONS…
A FLASH FLOOD WATCH MEANS THAT CONDITIONS MAY DEVELOP THAT LEAD
TO FLASH FLOODING. FLASH FLOODING IS A VERY DANGEROUS SITUATION.
YOU SHOULD MONITOR LATER FORECASTS AND BE PREPARED TO TAKE ACTION
SHOULD FLASH FLOOD WARNINGS BE ISSUED.
REPORTS OF FLOODING CAN BE SENT TO THE BLACKSBURG FORECAST OFFICE
VIA FACEBOOK…TWITTER…OR PHONED INTO THE NATIONAL WEATHER
SERVICE AT 1…8 6 6…2 1 5…4 3 2 4.