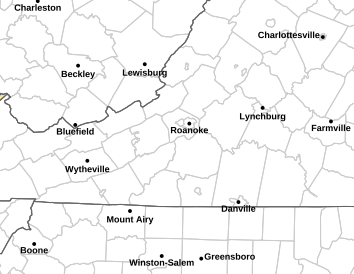 FLOOD WATCH
NATIONAL WEATHER SERVICE BLACKSBURG VA
1020 AM EDT THU JUL 11 2013
…MORE THUNDERSTORMS WITH HEAVY RAINFALL EXPECTED THIS AFTERNOON
INTO TONIGHT ON TOTALLY SATURATED GROUND…
ASHE-ALLEGHANY NC-SURRY-STOKES-ROCKINGHAM-CASWELL-WATAUGA-WILKES-
YADKIN-WYTHE-PULASKI-MONTGOMERY-GRAYSON-CARROLL-FLOYD-CRAIG-
ALLEGHANY VA-ROANOKE-BOTETOURT-ROCKBRIDGE-PATRICK-FRANKLIN-
BEDFORD-AMHERST-HENRY-PITTSYLVANIA-CAMPBELL-APPOMATTOX-BUCKINGHAM-
HALIFAX-CHARLOTTE-
INCLUDING THE CITIES OF…WEST JEFFERSON…SPARTA…DOBSON…
DANBURY…EDEN…YANCEYVILLE…BOONE…WILKESBORO…YADKINVILLE…
WYTHEVILLE…RADFORD…PULASKI…BLACKSBURG…INDEPENDENCE…
WHITETOP…TROUTDALE…VOLNEY…GALAX…FLOYD…NEW CASTLE…
CLIFTON FORGE…COVINGTON…ROANOKE…SALEM…FINCASTLE…
LEXINGTON…BUENA VISTA…STUART…ROCKY MOUNT…BEDFORD…
AMHERST…MARTINSVILLE…DANVILLE…LYNCHBURG…APPOMATTOX…
SOUTH BOSTON…KEYSVILLE
1020 AM EDT THU JUL 11 2013
…FLASH FLOOD WATCH REMAINS IN EFFECT THROUGH FRIDAY MORNING…
THE FLASH FLOOD WATCH CONTINUES FOR
* PORTIONS OF NORTH CAROLINA AND VIRGINIA…INCLUDING THE
FOLLOWING AREAS…IN NORTH CAROLINA…ALLEGHANY NC…ASHE…
CASWELL…ROCKINGHAM…STOKES…SURRY…WATAUGA…WILKES AND
YADKIN. IN VIRGINIA…ALLEGHANY VA…AMHERST…APPOMATTOX…
BEDFORD…BOTETOURT…BUCKINGHAM…CAMPBELL…CARROLL…
CHARLOTTE…CRAIG…FLOYD…FRANKLIN…GRAYSON…HALIFAX…
HENRY…MONTGOMERY…PATRICK…PITTSYLVANIA…PULASKI…
ROANOKE…ROCKBRIDGE AND WYTHE.
* THROUGH FRIDAY MORNING
* AN UPPER TROUGH WILL MOVE INTO THE REGION FROM THE OHIO VALLEY
TODAY…SLIDING SLOWLY TO A POSITION JUST EAST OF THE FORECAST
AREA BY FRIDAY. NUMEROUS SHOWERS AND THUNDERSTORMS ARE EXPECTED
TO DEVELOP IN ADVANCE OF THIS SYSTEM TODAY…MAINLY EAST OF THE
ALLEGHANY MOUNTAINS. THE AIR MASS IS EXTREMELY MOIST AND THE
GROUND IS TOTALLY SATURATED FROM RECENT HEAVY RAINFALL. RAINFALL
AMOUNTS OF AS LITTLE AS 1 INCH PER HOUR CAN RESULT IN FLASH
FLOODING IN SEVERAL AREAS OF SOUTHWEST AND SOUTH CENTRAL
VIRGINIA AS WELL AS NORTHWEST NORTH CAROLINA. THIS COULD EASILY
OCCUR WITH STRONGER THUNDERSTORMS THAT ARE EXPECTED TO DEVELOP
INTO THE AFTERNOON… CONTINUING OVERNIGHT ACROSS THE PIEDMONT.
* SHARP RISES CAN BE EXPECTED ON CREEKS AND STREAMS IN AREAS OF
STRONGER THUNDERSTORMS WITH HEAVY RAINFALL. FLASH FLOODING IN
THESE AREAS WILL QUICKLY FOLLOW.
PRECAUTIONARY/PREPAREDNESS ACTIONS…
A FLASH FLOOD WATCH MEANS THAT CONDITIONS MAY DEVELOP THAT LEAD
TO FLASH FLOODING. FLASH FLOODING IS A VERY DANGEROUS SITUATION.
YOU SHOULD MONITOR LATER FORECASTS AND BE PREPARED TO TAKE ACTION
SHOULD FLASH FLOOD WARNINGS BE ISSUED.