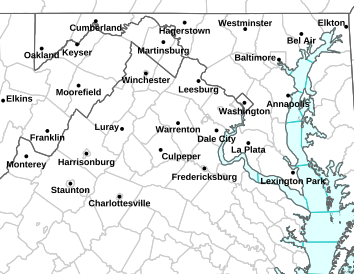 Flood Watch / Flood Statement
Statement as of 4:24 PM EDT on June 13, 2013
…Flash Flood Watch is cancelled…
The Flash Flood Watch for portions of Maryland…Virginia and
northeast West Virginia has been cancelled.
FLOOD WATCH
FLOOD WATCH
NATIONAL WEATHER SERVICE BALTIMORE MD/WASHINGTON DC
459 AM EDT THU JUN 13 2013
AUGUSTA-ROCKINGHAM-NELSON-ALBEMARLE-WESTERN HIGHLAND-
EASTERN HIGHLAND-WESTERN PENDLETON-EASTERN PENDLETON-
INCLUDING THE CITIES OF…STAUNTON…WAYNESBORO…HARRISONBURG…
CHARLOTTESVILLE…HIGHTOWN…MONTEREY…CIRCLEVILLE…FRANKLIN
459 AM EDT THU JUN 13 2013
…FLASH FLOOD WATCH REMAINS IN EFFECT THROUGH THIS AFTERNOON…
THE FLASH FLOOD WATCH CONTINUES FOR
* PORTIONS OF VIRGINIA AND NORTHEAST WEST VIRGINIA…INCLUDING
THE FOLLOWING AREAS…IN VIRGINIA…ALBEMARLE…AUGUSTA…
EASTERN HIGHLAND…NELSON…ROCKINGHAM AND WESTERN HIGHLAND.
IN NORTHEAST WEST VIRGINIA…EASTERN PENDLETON AND WESTERN
PENDLETON.
* THROUGH THIS AFTERNOON.
* SHOWERS AND THUNDERSTORMS MAY MOVE ACROSS THE REGION THIS
MORNING AND PRODUCE HEAVY DOWNPOURS. RAINFALL AMOUNTS IN
EXCESS OF 1 INCH ARE POSSIBLE. ANOTHER ROUND OF STORMS MAY BRING
HEAVY RAIN THIS AFTERNOON WITH AN ADDITIONAL 1 TO 2 INCHES
POSSIBLE.
* WITH THE GROUND ALREADY SATURATED FROM HEAVY RAINFALL DURING
THE PAST WEEK…ONLY AN INCH OF RAINFALL IN AN HOUR COULD
PRODUCE FLASH FLOODING OF STREAMS AND LOW LYING AREAS.
PRECAUTIONARY/PREPAREDNESS ACTIONS…
A FLASH FLOOD WATCH MEANS THAT CONDITIONS MAY DEVELOP THAT LEAD
TO FLASH FLOODING. FLASH FLOODING IS A VERY DANGEROUS SITUATION.
YOU SHOULD MONITOR LATER FORECASTS AND BE PREPARED TO TAKE ACTION
SHOULD FLASH FLOOD WARNINGS BE ISSUED.