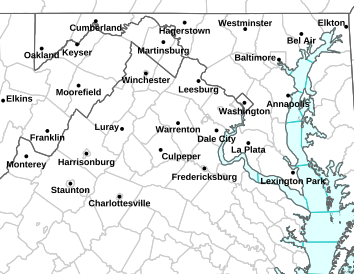 FLOOD WATCH
NATIONAL WEATHER SERVICE BALTIMORE MD/WASHINGTON DC
840 AM EDT WED MAY 8 2013
…FLOOD WATCH IN EFFECT THROUGH THIS EVENING…
MDZ501-502-VAZ025>031-036>040-050-051-055>057-501>504-WVZ050-055-
501>506-082045-
/O.NEW.KLWX.FA.A.0003.130508T1240Z-130509T0400Z/
/00000.0.ER.000000T0000Z.000000T0000Z.000000T0000Z.OO/
EXTREME WESTERN ALLEGANY-CENTRAL AND EASTERN ALLEGANY-AUGUSTA-
ROCKINGHAM-SHENANDOAH-FREDERICK VA-PAGE-WARREN-CLARKE-NELSON-
ALBEMARLE-GREENE-MADISON-RAPPAHANNOCK-ORANGE-CULPEPER-STAFFORD-
SPOTSYLVANIA-KING GEORGE-NORTHERN FAUQUIER-SOUTHERN FAUQUIER-
WESTERN HIGHLAND-EASTERN HIGHLAND-HAMPSHIRE-HARDY-WESTERN GRANT-
EASTERN GRANT-WESTERN MINERAL-EASTERN MINERAL-WESTERN PENDLETON-
EASTERN PENDLETON-
INCLUDING THE CITIES OF…FROSTBURG…CUMBERLAND…STAUNTON…
WAYNESBORO…HARRISONBURG…WINCHESTER…FRONT ROYAL…
CHARLOTTESVILLE…WASHINGTON…CULPEPER…FREDERICKSBURG…
WARRENTON…HIGHTOWN…MONTEREY…MOOREFIELD…BAYARD…
MOUNT STORM…PETERSBURG…ELK GARDEN…KEYSER…FORT ASHBY…
CIRCLEVILLE…FRANKLIN
840 AM EDT WED MAY 8 2013
…FLOOD WATCH IN EFFECT THROUGH THIS EVENING…
THE NATIONAL WEATHER SERVICE IN STERLING VIRGINIA HAS ISSUED A
* FLOOD WATCH FOR PORTIONS OF MUCH OF THE NORTH CENTRAL VIRGINA
FOOTHILLS AND PIEDMONT…THE HIGHLANDS OF THE EASTERN WEST
VIRGINIA PANHANDLE AND EXTREME WESTERN MARYLAND.
* THROUGH THIS EVENING
* SLOW MOVING LOW PRESSURE WILL REMAIN OVER THE REGION TODAY.
SCATTERED SHOWERS WITH MODERATE TO HEAVY RAIN ARE EXPECTED TO
DEVELOP AGAIN LATE THIS MORNING AND INTO THE EARLY AFTERNOON
HOURS. ANOTHER ONE TO TWO INCHES OF RAINFALL IS POSSIBLE
TODAY…WITH LOCALLY HIGHER AMOUNTS. SINCE THE GROUND IS ALREADY
SATURATED OVER MANY AREAS AND RIVERS ARE HIGH DUE TO YESTERDAYS
RAINFALL…THERE IS AN ENHANCED FLOODING POTENTIAL THROUGH THIS
EVENING.
* LOCALLY HEAVY RAINFALL MAY CAUSE SMALL STREAMS AND CREEKS TO
RISE OUT OF THEIR BANKS…OVERFLOWING LOW LYING ROADS. DO NOT
EVER DRIVE INTO FLOOD WATERS.
PRECAUTIONARY/PREPAREDNESS ACTIONS…
A FLOOD WATCH MEANS THERE IS A POTENTIAL FOR FLOODING BASED ON
CURRENT FORECASTS.
YOU SHOULD MONITOR LATER FORECASTS AND BE ALERT FOR POSSIBLE
FLOOD WARNINGS. THOSE LIVING IN AREAS PRONE TO FLOODING SHOULD BE
PREPARED TO TAKE ACTION SHOULD FLOODING DEVELOP.