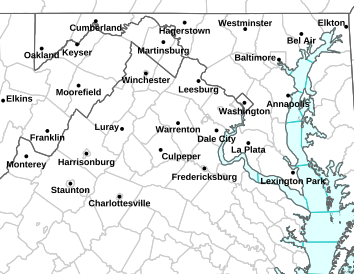 The previously issued WINTER STORM WATCH has now been upgraded to a WINTER STORM WARNING. Click here for that bulletin.
WINTER STORM WATCH (REPLACED – See above link)
URGENT – WINTER WEATHER MESSAGE
NATIONAL WEATHER SERVICE BALTIMORE MD/WASHINGTON DC
333 PM EDT SAT MAR 16 2013
EXTREME WESTERN ALLEGANY-CENTRAL AND EASTERN ALLEGANY-AUGUSTA-
ROCKINGHAM-SHENANDOAH-WESTERN HIGHLAND-EASTERN HIGHLAND-HAMPSHIRE-
HARDY-WESTERN GRANT-EASTERN GRANT-WESTERN MINERAL-EASTERN MINERAL-
WESTERN PENDLETON-EASTERN PENDLETON-
INCLUDING THE CITIES OF…FROSTBURG…CUMBERLAND…STAUNTON…
WAYNESBORO…HARRISONBURG…HIGHTOWN…MONTEREY…MOOREFIELD…
BAYARD…MOUNT STORM…PETERSBURG…ELK GARDEN…KEYSER…
FORT ASHBY…CIRCLEVILLE…FRANKLIN
333 PM EDT SAT MAR 16 2013
…WINTER STORM WATCH IN EFFECT FROM SUNDAY AFTERNOON THROUGH
MONDAY AFTERNOON…

THE NATIONAL WEATHER SERVICE IN BALTIMORE MD/WASHINGTON HAS
ISSUED A WINTER STORM WATCH…WHICH IS IN EFFECT FROM SUNDAY
AFTERNOON THROUGH MONDAY AFTERNOON.
* PRECIPITATION TYPE…SNOW…SLEET AND FREEZING RAIN.
* ACCUMULATIONS…POTENTIAL FOR AROUND 6 INCHES OF
SNOW…ESPECIALLY ABOVE 1500 FEET. A GLAZE OF ICE ACCUMULATION
FROM FREEZING RAIN IS POSSIBLE MONDAY ABOVE 1500 FEET.
* TIMING…SNOW WILL OVERSPREAD THE AREA SUNDAY AFTERNOON. THE
HEAVIEST SNOW IS EXPECTED SUNDAY NIGHT. SNOW WILL MIX WITH SLEET
AND FREEZING RAIN MONDAY BEFORE CHANGING OVER TO RAIN.
* TEMPERATURES…MID TO UPPER 30S SUNDAY AFTERNOON. TEMPERATURES
WILL DROP INTO THE LOWER TO MIDDLE 20S SUNDAY NIGHT BEFORE
SLOWLY RISING INTO THE LOWER AND MIDDLE 30S MONDAY.
* WINDS…LIGHT AND VARIABLE SUNDAY AFTERNOON BECOMING SOUTHEAST
AROUND 10 MPH SUNDAY NIGHT AND MONDAY…WITH GUSTS AROUND 20 MPH
ALONG THE RIDGE TOPS.
* IMPACTS…ROADS MAY BECOME SNOW COVERED AND SLIPPERY…MAKING
TRAVEL DIFFICULT…ESPECIALLY SUNDAY NIGHT THROUGH MONDAY
MORNING.
PRECAUTIONARY/PREPAREDNESS ACTIONS…
A WINTER STORM WATCH MEANS THERE IS A POTENTIAL FOR SIGNIFICANT
SNOW…SLEET…OR ICE ACCUMULATIONS THAT MAY IMPACT TRAVEL.
CONTINUE TO MONITOR THE LATEST FORECASTS.