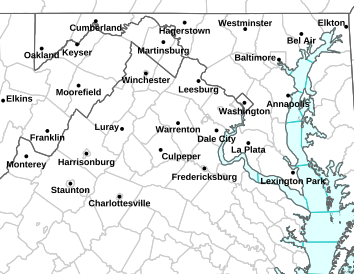 WINTER WEATHER ADVISORY
URGENT – WINTER WEATHER MESSAGE
NATIONAL WEATHER SERVICE BALTIMORE MD/WASHINGTON DC
918 PM EST FRI FEB 22 2013
WASHINGTON-FREDERICK MD-CARROLL-NORTHERN BALTIMORE-
EXTREME WESTERN ALLEGANY-CENTRAL AND EASTERN ALLEGANY-AUGUSTA-
ROCKINGHAM-SHENANDOAH-FREDERICK VA-PAGE-WARREN-CLARKE-NELSON-
ALBEMARLE-GREENE-MADISON-RAPPAHANNOCK-LOUDOUN-NORTHERN FAUQUIER-
WESTERN HIGHLAND-EASTERN HIGHLAND-HAMPSHIRE-MORGAN-BERKELEY-
JEFFERSON-HARDY-WESTERN GRANT-EASTERN GRANT-WESTERN MINERAL-
EASTERN MINERAL-WESTERN PENDLETON-EASTERN PENDLETON-
INCLUDING THE CITIES OF…HAGERSTOWN…FREDERICK…WESTMINSTER…
FROSTBURG…CUMBERLAND…STAUNTON…WAYNESBORO…HARRISONBURG…
WINCHESTER…FRONT ROYAL…CHARLOTTESVILLE…WASHINGTON…
LEESBURG…WARRENTON…HIGHTOWN…MONTEREY…MARTINSBURG…
CHARLES TOWN…MOOREFIELD…BAYARD…MOUNT STORM…PETERSBURG…
ELK GARDEN…KEYSER…FORT ASHBY…CIRCLEVILLE…FRANKLIN
918 PM EST FRI FEB 22 2013
…WINTER WEATHER ADVISORY REMAINS IN EFFECT UNTIL 10 AM EST
SATURDAY…
* PRECIPITATION TYPE…FREEZING RAIN AND FREEZING DRIZZLE.
* ACCUMULATIONS…A TRACE OF ICE.
* TIMING…OCCASIONAL LIGHT FREEZING RAIN THIS EVENING FOR
LOCATIONS EAST OF THE BLUE RIDGE. AREAS OF FREEZING DRIZZLE WILL
DEVELOP OVERNIGHT.
* TEMPERATURES…IN THE UPPER 20S TO LOWER 30S.
* WINDS…SOUTH 5 TO 10 MPH.
* IMPACTS…UNTREATED ROADS AND SIDEWALKS MAY BE SLIPPERY…
ESPECIALLY ACROSS ELEVATED SURFACES LIKE BRIDGES AND OVERPASSES.
PRECAUTIONARY/PREPAREDNESS ACTIONS…
A WINTER WEATHER ADVISORY MEANS THAT PERIODS OF FREEZING RAIN AND
FREEZING DRIZZLE WILL CAUSE TRAVEL DIFFICULTIES. BE PREPARED FOR
SLIPPERY ROADS…AND USE CAUTION WHILE DRIVING.