UPDATE Nelson County Life Magazine HERE
DON'T WANT TO READ THE FORECAST? SIT BACK AND
LISTEN TO OUR AUDIO VERSION BY CLICKING THE RED PLAY BUTTON BELOW!
(Mac users may need to have Safari open to see the play button if you are using Firefox browser)

Older version of audio player:


Photography By Henri Weems
For Nelson County Life Magazine ©2008
Sunrise Over Pilot Mountain
Nellysford, Virginia


Click the image above for the ski and slope conditions at Wintergreen Resort.
Weathercast by Tommy Stafford, Nelson County Life Magazine
Sunday's High Temp at NCL-Nelson County Life Magazine in the Rockfish Valley : 66.7 /
Sunday's High Temp at NCL-Wintergreen Nature Foundation on Devil's Knob @ Wintergreen Mountain : 54.5°
Before we take off today, want to send out a big thanks to Peter Agelasto, IV over at Bluewall Media in Beech Grove. Peter worked with us yesterday to get our podcast squared away. You will notice the different red player button up top. We're changing up the way some of our audio streams, so you'll be seeing some subtle changes over the next few weeks. Also want to let everyone know about Mendy Goodwin's opening of The Vineyard Coffee Shop inside the tasting room at Flying Fox. That's right at Chapel Hollow Road & Route 151 where you turn for Rockfish River Elementary School. You can read the entire story on what she's up to by clicking here.
What a big change in the air today! Sunday we reached the mid and upper 60's for afternoon highs and the mountain even making the mid 50's! Today will be even warmer with temperatures nearing the 70° mark. We'll see a repeat of the those warm temps again Tuesday before a system swings through that night into Wednesday dropping temps and ushering in gusty winds. We won't be headed back to the very cold weather like we saw last week, but certainly not 70° either!
By next weekend, we may actually be talking about snow once again! That's a long way off, but we are keeping an eye on it.
Finally, we kicked off our promotion on local musical artists last week. Each week we'll be selecting a local musical artist to highlight as we end the audio version of the weathercast. All of this week we'll be featuring music from Jan Smith and her latest CD 29 Dances. Lots more information about her music is down below.
The National Current Surface Map via wunderground

Over the next 24 hours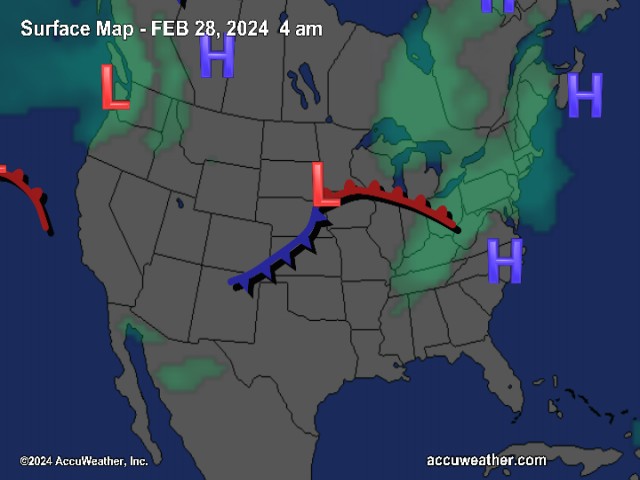 And for those of you keeping score at home check the detailed numbers at any of our reporting NCL-Weathernet Stations for real up to the minute live weather data and detailed information including highs, lows, wind speeds, rainfall and much, much more, simply use the handy drop down menu on the upper left hand side of your screen.
Your Nelson County Life custom area forecast including: Hickory Creek, Taylor Creek, Lovingston and Roseland.
Monday: Patchy fog early morning then mostly sunny & very warm.
* Highs Valley: 68-71°
*On the mountains: 57-60°
*Winds: SW 5-10 MPH
*OVERNIGHT: Partly cloudy early then mostly clear. Lows valley: 43-46° : Mountains: 42-45°
Tuesday: Partly sunny and continued warm. Increasing winds afternoon.
* Highs Valley: 67-70°
*On the mountains: 60-63°
*Winds: SW 10-15 MPH with occasional higher gusts in the afternoon
*OVERNIGHT: Becoming mostly cloudy with rain developing. Gusty winds to 35 MPH after midnight. Lows valley: 46-49° : Mountains: 40-43°
In the extended period: Wednesday look for morning showers then partly sunny in the afternoon with highs in the upper 50's valley and around 50° mountains. Thursday, rain developing again by afternoon into the evening, highs upper 40's valley & mid 40's mountains. A rain snow mix possible above 2000 feet. Rain continues Friday morning. Chances for rain and snow enter the forecast again by Sunday. Temps generally cooling to the 40's for highs and mid 20's for overnight lows by next weekend.
As promised, Jan Smith takes us out, with a cut from her latest CD 29 Dances. This one – actually a remake of Gorham Mountain from her older Tin Heart CD from a few years back.
Have a great Monday!
Know your Nelson.COM

Today's cut is Gorham Mountain from the CD 29 Dances.
Visit Jan's Homepage by clicking right here to learn more about her CD.
Louisville, Kentucky native Jan Smith writes songs rooted in vibrant imagery and sincere, stark emotion. The artists whose music she grew up with — Merle Haggard, Nina Simone, and Townes Van Zant among many others – influence her work, as does the traditional bluegrass music of her new home in the mountains of central Virginia.
On April 4, 2006, Landslide Records released "29 Dances," produced in Nashville by Bil VornDick (Alison Krauss, Ralph Stanley). The record features Johnny Hiland, Byron House (Sam Bush, Nickel Creek), Pat McInerney (Nanci Griffith), Randy Kohrs, David Talbot (the Grascals), Mark Fain (Ricky Skaggs), Robert Bowlin (Bill Monroe), Patty Mitchell, and Smith's partner, Jeff Vogelgesang.