UPDATE Nelson County Life Magazine HERE
Morning Low at NCL-Nelson County Life Magazine in the Rockfish Valley : 18.0°
Morning Low at NCL-Wintergreen Nature Foundation on Devil's Knob @ Wintergreen Mountain : 3.9°

Photography By Tommy Stafford
Nelson County Life Magazine ©2007
Winter Sunrise at Greenfield
Afton, Virginia


Click the image above for the ski and slope conditions at Wintergreen Resort.
DON'T WANT TO READ THE FORECAST? SIT BACK AND LISTEN TO OUR AUDIO VERSION BY CLICKING THE RED PLAY BUTTON BELOW!

Weathercast by Tommy Stafford, Nelson County Life Magazine
Quick reminder, if you want to check out the latest ski & slope conditions at Wintergreen Resort, simply slick on their logo up above.
This time of year has it's own beauty like the shot above from here in Greenfield. The clouds as the sun makes it's way up in the morning makes for a perfect picture!
Did your hat blow off yesterday and last night? The winds have been brutal over the past 36 hours and unfortunately we have one more day of it to go before they finally settle down somewhat Thursday afternoon. Still breezy, but not as gusty as we have seen. You might not pay as much attention to the wind if the temperatures were up, but with gusty winds blowing as high as 30-40 MPH at times, the wind chill vales have been at 0° or below. The wind woke us up here in Greenfield early Wednesday morning around 3AM when it started howling off of Devil's Knob. I spoke with folks up in Afton who said they had also had some wind damage. Overnight lows have been in the single digits for two nights in a row upon the mountains. NCL-Wintergreen Nature Foundation never topped the freezing mark Wednesday. Their high only made it to a balmy 19 degrees! Don't look for temps to make it above freezing Thursday either if you are in the mountains. It will be Friday before the mercury makes it above 32, but only to the upper 30's then.
By the weekend, temperatures warm to the low & mid 50's in the valley and upper 40's to low 50's mountains. We're even talking 60° by next Monday. But lots of cold to go through between now and then.
The National Current Surface Map via wunderground

Over the next 24 hours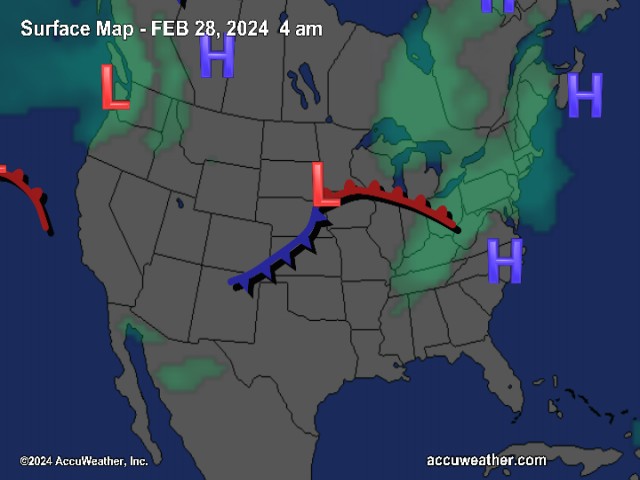 And for those of you keeping score at home check the detailed numbers at any of our reporting NCL-Weathernet Stations for real up to the minute live weather data and detailed information including highs, lows, wind speeds, rainfall and much, much more, simply use the handy drop down menu on the upper left hand side of your screen.
Your Nelson County Life custom area forecast including: Colleen, Crozet, Nellysford and Roseland.
Thursday: Sunny, continued cold & breezy Wind Chill near zero mountains.
* Highs Valley: 34-37°
*On the mountains: 22-25°
*Winds: NW 15-25 and gusty, decreasing in the afternoon toward dark.
Thursday night: Clear & cold again, less windy.
* Lows Valley: 15-18°
*On the mountains: 9-12°
*Winds: NW 5-10 MPH becoming SW after midnight
Friday: Sunny and milder.
* Highs Valley: 43-46°
*On the mountains: 37-40°
*Winds: SW 5-10 MPH
The weekend: Saturday , sunny & warmer with highs in the low 50's valley and upper 40's mountains. Sunday temps warm even more to mid 50's in the valley, near 50° mountains. By the start of next week look for even warmer weather with afternoon highs around 60° on Monday.
Right now the extended forecast period looks dry.
Breaking News, Breaking Weather we'll have it all here!
Have a great Thursday & bundle up!
Know your Nelson.COM